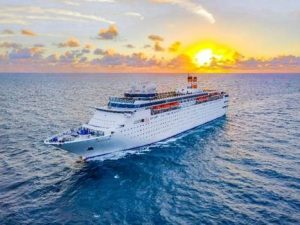 TLC and SiriusXM's Psychic Deborah Graham Will Help Cruisers
Connect with Their Soul Mate, Unlock Financial Success, and More!
WEST PALM BEACH, Fla. – February 6, 2020 – Looking for true love, money, or a rewarding career? Wishing to connect with loved ones on the other side? The search for travelers looking to unlock their soul's vibrations and more is about to begin with Bahamas Paradise Cruise Line's first-ever psychic-themed cruise called "Deborah Graham's Psychic Connection Cruise," starring Deborah Graham, star of TLC's "The Psychic Matchmaker" and SiriusXM Stars' "Psychic Connection with Deborah Graham." Starting at just $149 per person*, Graham's hosted cruise takes place aboard Grand Classica April 17-19.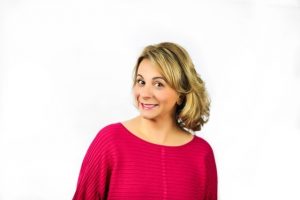 "I'm beyond excited to officially announce my first themed cruise with the award-winning Bahamas Paradise Cruise Line," said Graham. "Everyone who embarks on this journey with me will experience an extraordinary weekend filled with some of the most amazing and super-fun events, and I'm looking forward to helping people unlock their future, rekindle their past, and get the answers they need as we set sail to paradise!"
 As the star of her own TV and radio shows, Graham has more than 30 years of experience providing spiritual guidance to those seeking answers on love, family, the future, and more. She has touched thousands of lives across 130 countries around the world—serving as an intuitive relationship coach, reader, and all-around spiritualist. She is best known for her ability to accurately read clients through her energy vibrations, and now, at an unbeatable price, travelers can join Bahamas Paradise Cruise Line for a truly special sailing and experience Graham's super-intuitive ability for themselves.
In addition to the cruise line's award-winning offerings, including spacious staterooms and nightly live entertainment, travelers will each receive a free copy of Graham's book, "Psychic Deborah Graham's Guide to Attracting and Keeping Your True Love," and access to inspiring onboard events, including: 
Psychic Connection Show: a free live show where cruisers can ask Graham questions on a variety of topics, including love and career, as well as connect with loved ones on the other side.  
Psychic Connection Mixer: this free and interactive experience is perfect for cruisers looking to meet their soulmate, as Graham will help match guests with their twin-flame – who may just be sitting across the room! 
Psychic Connection Breakfast**: during this intimate dining experience, Graham will provide mini-readings. 
Private Readings: travelers who are at least 18 years or older and wish to have a private reading can reserve their spot now and save more than 60 percent, by visiting www.PsychicDeborahGraham.com/cruise. 
"This special event cruise is a wonderful addition to our Nassau itinerary, and we look forward to welcoming travelers aboard to experience this unique opportunity for themselves," said Oneil Khosa, CEO of Bahamas Paradise Cruise Line. "Deborah is truly gifted, and we believe she will help a lot of our guests understand their pasts while appreciating the present and looking forward to an even brighter future. We're excited to be a part of the journey!"
As the only cruise line with daily departures from West Palm Beach, Bahamas Paradise Cruise Line lets travelers cruise to either Grand Bahama Island or Nassau while sailing aboard Grand Celebration or Grand Classica. Travelers embarking on the cruise line's first-ever psychic cruise will have access to sprawling sun decks with unlimited stretches of sand and surf; al fresco dining; full-service spas; interactive kids' programs; and the popular Par-a-Dice Casino. The ship also features unique dining venues, including The Rock Grill, an interactive experience where guests can cook their own meats and veggies on a lava rock and Admiral's Steak & Seafood, with featured items such as Angus Beef Carpaccio and Peruvian Sea Bass.
To book this special psychic-themed cruise, travelers can contact their Preferred Travel Advisor, visit www.BahamasParadiseCruise.com, or call 888-530-2775 (English) / 888-530-2776 (Español). To reserve a private reading with Deborah Graham, visit www.PsychicDeborahGraham.com/cruise. Follow the company on Facebook, Twitter, and Instagram.
* Price is USD, per person, based on double occupancy. See website for details.
** Fee applies to this function, and space is limited.
ABOUT BAHAMAS PARADISE CRUISE LINE
Bahamas Paradise Cruise Line, the ultimate Bahamas getaway, is the only provider of two-night cruises to Grand Bahama Island and Nassau, and the originator of the unique Cruise & Stay program, letting travelers extend their Bahamas adventure with a distinctive resort stay. Recently named Best Short Cruise by Porthole Cruise Magazine's 2020 Editor-in-Chief Awards, Bahamas Paradise Cruise Line sets sail daily from West Palm Beach and operates two ships, Grand Celebration and Grand Classica – which recently earned Cruise Critic's 2019 Cruisers' Choice Award for Best Entertainment. The company is majority-owned by the family of former Norwegian Cruise Line President and CEO Kevin Sheehan. 
Media Contact:         
Hemsworth Communications
Adrianne Richardson/Ines Lei
(954) 716-7614 or [email protected]
###
This message was sent to [email protected].
Hemsworth Communications
1510 SE 17th Street, Suite 200A
Fort Lauderdale, FL 33316