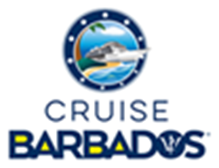 AIDAperla Says 'Thank You' To Barbados For
Hospitality Amid COVID-19 Pandemic
AIDAperla Displays 'Thank You BB' Message Upon Departure from Bridgetown Port;
Captain Boris Becker Shares Emotional Video Message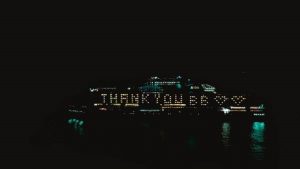 BARBADOS, W.I. – May 5, 2020 – On Friday, April 24, the Bridgetown Port was illuminated as AIDAperla said 'Thank You' to Barbados for the island's hospitality over the past month. The cruise ship arrived at the Bridgetown Port shortly after the Cruise Line International Association (CLIA) announced temporary suspension of cruise ship operations in March, amidst the COVID-19 pandemic, and remained there for several weeks. Before setting sail, AIDAperla's remaining onboard crew wanted to recognize Prime Minister the Hon. Mia Amor Mottley, as well as the entire Government and the Barbadian people who so warmly welcomed them during these difficult times. The crew staged a beautiful light display reading 'Thank You BB' while crew members shouted the words while waving from the deck. 
Cheryl Franklin, Director of Cruise at the BTMI, added that, "The warm welcome that the AIDAperla received was representative of the warmth and hospitality of the Barbadian people that we often illustrate in our brand messaging. It doesn't only extend to consumers, but also in our partner relations, which are critical in the cruise sector especially. The cruise lines have been in contact with me to thank our Prime Minister and wider Barbados for their leadership and assistance. They are especially grateful to us and we look forward to forging even stronger partnerships with them as a result." 
Facing the difficult challenges imposed on the cruising and tourism industries as COVID-19 emerged, AIDAperla's crew worked with the Bridgetown Port to complete complex operations to repatriate passengers and crew. Throughout their stay, the Port team continued to provide intensive operational support to the vessel and its captain and crew, while working closely with the Barbados Tourism Marketing Inc. (BTMI) and AIDA Cruises' parent company, Carnival Corporation.  
In addition to the ship's farewell light display, Captain Boris Becker, gave special thanks to the Barbados government, stakeholders, service providers and residents who welcomed the ship with open arms, in an emotional video message. The video is available at the official AIDA Facebook page or via the following YouTube link: https://www.youtube.com/watch?v=YR9U-CBZ_zI. 
With hundreds of ships still at sea following the shut down and rejection from other Ports, Barbados has been a place where the homeporting ships who call the island home have found safe haven, warmth and hospitality in the midst of the biggest humanitarian crisis facing the cruise industry.  
Senator Lisa Cummins, Chairman of the Barbados Port Inc. said, "This has been a proud moment for Barbados and a proud statement on who we are as a people. It reminds me of that song that says this little light of mine, I'm going to let it shine. We have let our light shine as a people and the AIDAperla lit up in return. This is who we are. I'm proud of my nation." 
For more information on cruise travel to Barbados, visit www.visitbarbados.org/plan-your-trip/cruises. Follow Barbados on Facebook at http://www.facebook.com/VisitBarbados, on Instagram @VisitBarbados and on Twitter @Barbados. Check out Barbados most recent YouTube video at www.youtube.com/watch?v=VBjUb3T_O8w. 
About Cruise Barbados
A jewel of an island set in crystal clear waters, Barbados offers a unique experience for both long-stay and short-trip visitors. With just 166 square miles, Barbados is filled with more attractions per square mile than any other island in the Caribbean. A hub of history, heritage and culture, Barbados is an increasingly popular port of call in the Southern Caribbean with more cruise ships choosing to begin and end their voyages here than ever before. Shore excursions can take cruisers into the heart of the historical city nearby, or to the ruggedness of the East Coast further away or to other signature attractions in between. Either way, cruisers can easily experience the island "in a nutshell" and estimate to be back to port in a matter of two to four hours. With nature trails, museums, historical locations, beautiful beaches, watersports, cultural parties and more, the island is an ideal destination for both adventure and relaxation seekers.
###
Media Contact:
Hemsworth Communications
Adrianne Richardson/Kayla Louttit
(954) 716-7614 or [email protected]
This message was sent to [email protected].
Hemsworth Communications
1510 SE 17th Street, Suite 200A
Fort Lauderdale, FL 33316