Award-Winning Firm Will Manage Corporate PR for National Brand, Deploy Launch Strategy to Introduce
Innovative Mold Detection Technology in Key Local Markets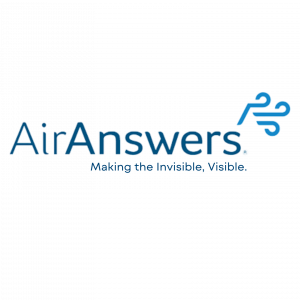 FORT LAUDERDALE, Fla. – (April 19, 2022) Hemsworth Communications, a leading integrated communications agency, today announced the addition of AirAnswers® to its global client roster. Effective immediately, Hemsworth is the PR agency-of-record for the brand, which is a leader in air quality testing with a revolutionary, first-of-its-kind mold and allergen monitoring system. The agency will drive key messaging development to cultivate a better understanding surrounding air quality standards for businesses and customers alike, rolling out the brand's first-ever mold detection product on both a regional and national scale later this spring.
"We are excited to continue to expand our work within this important industry at the intersection of public health and technology, as we believe there is an incredible opportunity to amplify this groundbreaking new product offering," said Samantha Jacobs, founder and president of Hemsworth Communications. "With heightened awareness of sanitization standards amid the ongoing COVID-19 pandemic, populations all over the world are more concerned about the cleanliness of the spaces where they reside than ever before."
The AirAnswers® patented technology consists of an air sampling device, as well as a testing kit, to measure current indoor air quality and conditions, with the ability to accurately detect the presence of mold and allergens real-time. Through ongoing partnerships with physicians, industrial hygienists, and the guidance of a scientific advisory board of eight medical specialists, AirAnswers® is the only current solution providing airborne mold and allergen testing to both residential and commercial consumers. AirAnswers® will launch its innovative mold sampling kit this spring, starting with a focused program in Florida, ahead of the state's most humid air conditions and the start of allergy season. Following its Florida launch, Hemsworth will roll out the AirAnswers® system to various other states plagued by mold issues, as well as segmented markets with a need for such a solution, including the cannabis space.
Over the years, Hemsworth has assembled an impressive roster of clients and while originally known for its expertise within travel and hospitality, the agency's Franchising/Business Services division continues to thrive, including within the franchising, home and business services, healthcare, technology and retail industries Working with other innovative leaders such as VIKAND, a leading expert in global medical operations and public health solutions for the maritime industry, and PuroClean, the national "Paramedics of Property Damage," Hemsworth will support AirAnswers® with an integrated program of B2B and B2C PR and thought leadership programming.
"The industry experts behind this incredible product are bringing a thoughtful, innovative approach to indoor air quality with quicker results for mold, COVID-19, mildew, and other harmful contaminants to indoor spaces everywhere," continued Jacobs.
For more information, visit HemsworthCommunications.com. Stay up-to-date on the latest Hemsworth news by following @HemsworthPR on Instagram or by liking the agency on Facebook at facebook.com/HemsworthCommunications.
About Hemsworth Communications
A dynamic, full-service agency, Hemsworth Communications is one of the fastest-growing, top-ranked agencies in the United States according to O'Dwyer's PR Report and in 2018, was named one of PR News' Top Places to Work, recognized for its unique, forward-thinking company culture. With three distinctive divisions – Travel/Tourism, Food/Wine/Spirits, and Franchising/Business Services – Hemsworth represents fresh, up-and-coming businesses as well as leading, renowned global brands. Services include brand communications strategy, media relations, promotions, guerrilla marketing, social media, thought leadership and event planning. Unlike traditional PR agencies, Hemsworth is dedicated to crafting customized communications programs that are infused with personal, passionate client service and positively contribute to each client's bottom line.
###
Media Contact:
Samantha Jacobs/Jillian Mushman
Hemsworth Communications
954-716-7614 or [email protected]