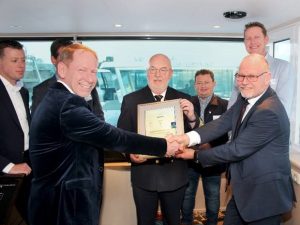 From left to right: Andre Slagter, Corporate Staff Captain, Rivertech; Otto Groen, Managing Director, Rivertech; Wade Korzan, Director European Operations, AmaWaterways; Captain Jan Tensen; George Stefan, Corporate Captain, Rivertech; Jan Fransen, Executive Director, Green Award Foundation; Richard Wubbeling, Corporate Fleet Captain, Rivertech
AmaWaterways' Award-Winning Vessel Recognized for Safety, Quality and Environmental Performance
CALABASAS, CA – (February 6, 2020) – With utmost commitment to preserving and protecting the world's rivers and the destinations it travels through, AmaWaterways today proudly announced that AmaKristina earned a Green Award certification recognizing a high standard of safety, quality and environmental performance. The first river cruise ship ever to receive the certification, AmaKristina was presented with her award during a special ceremony on January 30 in Arnhem, The Netherlands. Jan Fransen, executive director of the Green Award Foundation, presented the award plaque and a special Green Award flag to Wade Korzan, director of AmaWaterways' European operations, and representatives from Rivertech, the company providing technical services to the luxury river cruise line.
"As co-founder of AmaWaterways and godmother of AmaKristina, I am incredibly proud that she is the very first river cruise ship to receive a Green Award," said Kristin Karst, executive vice president of AmaWaterways and AmaKristina's namesake. "The responsible and respectful treatment of the environment is a subject that I am passionate about and receiving this award is another step in our ongoing efforts to encourage and support the technology and the people who are bringing positive change to all aspects of environmental management."
Launched in 1994, the Green Award program is a voluntary independent accreditation process for ocean vessels, inland barges and now – with the induction of AmaKristina – river cruise ships. To earn the award, ships are evaluated based on standards which are more far-reaching than the statutory requirements and encompass the environmental impact of its engines, fuel consumption, waste and maintenance, pollution prevention and more. A growing number of ports participate in the program, such as the Port of Amsterdam, and offer substantial benefits to certified ships to promote safer, cleaner navigation on the world's oceans and rivers and to advocate for an integrated approach for European inland waterways.
"AmaKristina was a celebration of innovation and inspired design when we first introduced her to our fleet in 2017, and she continues to embody our desire to continually improve our ships, enhance our guest's travels and preserve our planet," said Rudi Schreiner, president and co-founder of AmaWaterways. "Our teams are fully committed to finding new, inventive ways to reduce our environmental footprint and act as a true partner to the ports and communities we sail through."
The award comes at a special time for the 156-guest AmaKristina (pictured right), as 2020 marks her last sailing season on the legendary Rhine River before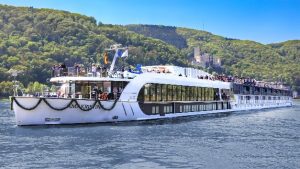 transferring over to the Rhone River. Due to increased demand for sailings through France, the award-winning vessel will embark on the Rhône River in March 2021 travelling through the romantic French countryside from Lyon to Avignon embracing the romance, cuisine and fine arts of the region with exclusive excursions and tours.
To book an AmaWaterways river cruise, contact your preferred Travel Advisor, call 1.800.626.0126 or visit AmaWaterways.com. Follow AmaWaterways on Facebook at Facebook.com/AmaWaterways, Instagram @AmaWaterways and Twitter @AmaWaterways.

About AmaWaterways
A family-owned company celebrating 18 years on the river, AmaWaterways offers unforgettable river cruises with 25 ships sailing Europe's Danube, Rhine, Moselle, Main, Rhône, Seine, Garonne, Dordogne, Dutch and Belgian Waterways and Douro Rivers, Southeast Asia's Mekong, Africa's Chobe River and Egypt's Nile River (2021).  Led by experienced river cruise co-founders Rudi Schreiner and Kristin Karst, the company is renowned for its innovative stateroom design featuring unique "twin balconies;" its wellness activities including a wide choice of included shore excursions featuring biking and hiking options for the active traveler; and its award-winning dining—including The Chef's Table specialty restaurant as well as complimentary fine wine, beer and soft drinks with lunch and dinner. Modern, spacious and tastefully decorated, each ship features onboard amenities such as hair and massage salons and a fitness room, and many have heated outdoor swimming pools with swim-up bars. AmaWaterways leads the river cruise industry in innovation highlighted with the launch of AmaMagna, which at twice the width of traditional river ships, offers a new dimension in luxury river cruising. The company also offers a variety of themed sailings and brand relationships, with sailings geared towards active travelers and families as well as group and charter options.
With the highest-rated ships in Europe according to the third edition of Berlitz: River Cruising in Europe & the USA, AmaWaterways has received countless honors and accolades including Cruise Critic's 2019 Editor's Pick Award for "Best River Cruise Line" and "Best for Active Cruisers," 2018 AFAR Reader's Choice Award for "Best River Cruise Line" and inclusion of AmaMagna in 2019 TIME "World's Greatest Places."
# # #
MEDIA CONTACTS:
Samantha Jacobs or Carter Long, Hemsworth Communications
(678) 631-9974 or [email protected]
This message was sent to [email protected]
Hemsworth Communications
1510 SE 17th Street, Suite 200A
Fort Lauderdale, FL 33316
Unsubscribe