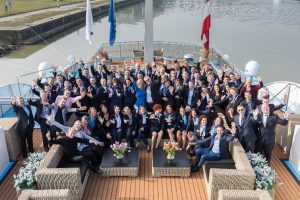 Past Guests Will be Celebrated on Select 2020 Sailings with Exclusive Booking Offers and Special Onboard Events
 CALABASAS, CA – October 14, 2019 – In response to high demand for its first-ever Loyalty Appreciation Month cruises this November, AmaWaterways today unveiled dates for 2020 Loyalty Appreciation Cruises on a selection of sailings from May through November. The 2020 Loyalty Appreciation Cruises will take past guests of the luxury river cruise line on a wide selection of itineraries — including those on the Mekong, the lower Danube, the legendary Rhine and the scenic Main and Moselle — on board its innovative ships, including the new AmaSiena (2020). Repeat guests, their traveling companions and those booking additional staterooms to travel with the past guest on the same departure will all be eligible to take advantage of AmaWaterways' exclusive loyalty savings and special events.
"We were pleased to see so much interest in our Loyalty Cruises this coming November and are thrilled to announce five new Loyalty Cruises with more choices of ships and destinations for 2020," said Rudi Schreiner, president and co-founder of AmaWaterways. "We hope by providing more advance notice to our past guests, it will give them the chance to plan ahead with friends and family to take advantage of these very special experiences."
Returning guests will be celebrated on the following seven-night 2020 Loyalty Appreciation Cruises:
Treasures of the Main & Rhine onboard AmaDante – May 14, 2020
Between Nuremberg, Germany and Amsterdam, Netherlands
Gems of Southeast Europe onboard AmaPrima – August 2, 2020
Between Giurgiu, Romania and Budapest, Hungary
The new Vineyards of the Rhine & Moselle onboard the new AmaSiena – August 12, 2020
Between Amsterdam, Netherlands and Luxembourg
Charms of the Mekong onboard AmaDara – October 26, 2020
Between Ho Chi Minh City, Vietnam and Siem Reap, Cambodia
Rhine & Moselle Splendors onboard the new AmaSiena – November 4, 2020
Between Luxembourg and Basel, Switzerland
Similar to the 2019 Loyalty Cruises this November, next year's designated cruises will provide returning guests with the choice of special bonus savings in the form of free airfare, dollars off or reduced 10 percent single supplement* – all combinable with the benefits of our past guest Privilege Rewards Program.  Onboard celebrations are planned to ensure special recognition to returning guests, treating them to itinerary-exclusive events and unique excursions in various ports of call.
"Each of our sailings are curated with love and care, but our Loyalty Cruises are especially exciting because we get the chance to show our appreciation to our loyal past guests, who have become a true part of our family," said Kristin Karst, executive vice president and co-founder of AmaWaterways. "We hope to surprise and delight those sailing with us on board our new 2020 Loyalty Appreciation Cruises – there are lots of wonderful things in store!"
*For terms and conditions and full details on AmaWaterways' Loyalty Appreciation Cruises, travel advisors and returning guests are invited to join the Facebook group or visit AmaWaterways.com/Loyalty/2020.
For more information, or to book an AmaWaterways river cruise contact your preferred Travel Advisor, call 1.800.626.0126 or visit AmaWaterways.com. Follow AmaWaterways on Facebook at Facebook.com/AmaWaterways, Instagram @AmaWaterways and Twitter @AmaWaterways.
About AmaWaterways
A family-owned company celebrating 17 years on the river, AmaWaterways offers unforgettable river cruises with 24 ships sailing Europe's Danube, Rhine, Moselle, Main, Rhône, Seine, Garonne, Dordogne, Dutch and Belgian Waterways and Douro Rivers, Southeast Asia's Mekong and Africa's Chobe River.  Led by experienced river cruise co-founders Rudi Schreiner and Kristin Karst, the company is renowned for its innovative stateroom design featuring unique "twin balconies"; its wellness activities including a wide choice of included shore excursions featuring biking and hiking options for the active traveler; and its award-winning dining—including The Chef's Table specialty restaurant as well as complimentary fine wine, beer and soft drinks with lunch and dinner. Modern, spacious and tastefully decorated, each ship features onboard amenities such as hair and massage salons and a fitness room, and many have heated outdoor swimming pools with swim-up bars. AmaWaterways leads the river cruise industry in innovation highlighted with the launch of AmaMagna, which at twice the width of traditional river ships, offers a new dimension in luxury river cruising. The company also offers a variety of themed sailings and brand relationships, with sailings geared towards active travelers and families as well as group and charter options.
With the highest-rated ships in Europe according to the third edition of Berlitz: River Cruising in Europe & the USA, AmaWaterways has received countless honors and accolades including Cruise Critic's Editor's Pick Award for "Best for Active Cruisers", 2018 AFAR Reader's Choice Award for "Best River Cruise Line" and inclusion of AmaMagna in 2019 TIME "World's Greatest Places."
MEDIA CONTACTS:
Samantha Jacobs / Carter Long, Hemsworth Communications
(678) 631-9974 or [email protected]
This message was sent to [email protected]
Hemsworth Communications
1510 SE 17th Street, Suite 200A
Fort Lauderdale, FL 33316