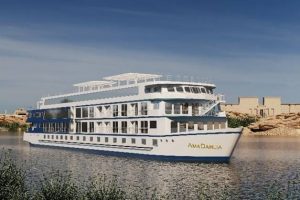 AmaDahlia Will Begin Sailing "Secrets of Egypt & the Nile" in September 2021 
CALABASAS, CA – March 5, 2020 – AmaWaterways today announced its 25th river cruise ship, the luxurious new AmaDahlia, is scheduled to set sail on Egypt's legendary Nile River beginning September 2021. The 11-night cruise and land adventure includes a seven-night round trip river cruise from Luxor and is paired with three nights pre- and one night post-cruise stays in historic Cairo at the prestigious five-star Four Seasons, Cairo at The First Residence. This immersive Secrets of Egypt & Nile itinerary will provide travelers a unique opportunity to experience the ancient wonders of Egypt, while embraced in the luxurious, warm and welcoming atmosphere AmaWaterways guests have come to know and love.  
"We are excited to be coming back to the legendary Nile and introducing a new river cruise experience in Egypt," said Rudi Schreiner, president and co-founder of AmaWaterways. "Everything about this new ship and curated itinerary reflects AmaWaterways' focus on delivering luxurious accommodations, delectable cuisine and enriching experiences designed to engage with local communities and historic sites."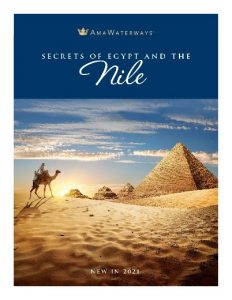 The newest addition to the AmaWaterways fleet, AmaDahlia will guide guests through the heart of Egypt as they experience the Nile's life-giving waters and find themselves surrounded by flourishing palm trees, fertile plantations and millennia-old attractions – many of which are designated UNESCO World Heritage sites. Guests will follow expert guides  to legendary locations like the Great Hypostyle Hall of Karnak, the beguiling Temple of Luxor, and the mystifying Valley of the Kings and Queens, as well as be treated to exclusive private access to the Tomb of Queen Nefertari and a Nubian village. While in Cairo, they come face-to-face with Egyptian treasures like the sole survivor of the Seven Wonders of the Ancient World – the 4,000-year-old Great Sphinx and three Pyramids of Giza; the Egyptian Museum, featuring the exquisite collections of King Tut; and a private tour of the principal workplace of the President of Egypt, the Abdeen Presidential Palace, considered one of the most luxurious palaces in the world. 
"Egypt is rich with culture and history and deserves its ranking as one of the most fascinating destinations in the world," said Kristin Karst, executive vice president and co-founder of the leading river cruise line. "We continuously search for new ways to expand our offerings, bringing new experiences to our loyal repeat guests as well as attracting new luxury travelers in search of adventure and exploration." 
Newly designed to accommodate only 68 guests, the stunning AmaDahlia will feature 34 luxurious staterooms, 24 of which are spacious balcony suites measuring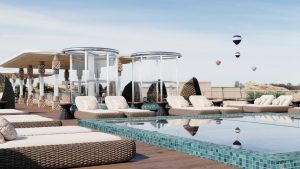 up to 430 sq. ft. Onboard amenities include a sun deck bar and swimming pool, fitness room, hair and nail salon, two massage rooms and two restaurants – The Main Restaurant and The Chef's Table, offering a delectable seven-course tasting menu. Guests will be treated to authentic nightly entertainment including a Belly Dance show, a Galabeya (a traditional Egyptian gown) party and a Darawish show. 
The river cruise, sailing round trip from Luxor, and Cairo program — with intra-Egypt flights between Cairo and Luxor — will operate seasonally from September through to May each year. To compliment this immersive 11-night cruise and land adventure, Secrets of Egypt & the Nile will be offered with optional extensions including pre-program, three nights in Dubai or four nights in Jordan (Amman and Petra) and post-program, four nights in Israel (Jerusalem). Guests are encouraged to book by June 30, 2020 to enjoy early booking rewards combinable with AmaWaterways Past Guest Privilege Rewards program for returning guests.  
For full details, or to book an AmaWaterways river cruise, contact your preferred Travel Advisor, call 1.800.626.0126 or visit AmaWaterways.com. Follow AmaWaterways on Facebook at Facebook.com/AmaWaterways, Instagram @AmaWaterways and Twitter @AmaWaterways.
*photos are artist renderings.
About AmaWaterways
A family-owned company celebrating 18 years on the river, AmaWaterways offers unforgettable river cruises with 25 ships sailing Europe's Danube, Rhine, Moselle, Main, Rhône, Seine, Garonne, Dordogne, Dutch and Belgian Waterways and Douro Rivers, Southeast Asia's Mekong, Africa's Chobe River and Egypt's Nile River (2021).  Led by experienced river cruise co-founders Rudi Schreiner and Kristin Karst, the company is renowned for its innovative stateroom design featuring unique "twin balconies;" its wellness activities including a wide choice of included shore excursions featuring biking and hiking options for the active traveler; and its award-winning dining—including The Chef's Table specialty restaurant as well as complimentary fine wine, beer and soft drinks with lunch and dinner. Modern, spacious and tastefully decorated, each ship features onboard amenities such as hair and massage salons and a fitness room, and many have heated outdoor swimming pools with swim-up bars. AmaWaterways leads the river cruise industry in innovation highlighted with the launch of AmaMagna, which at twice the width of traditional river ships, offers a new dimension in luxury river cruising. The company also offers a variety of themed sailings and brand relationships, with sailings geared towards active travelers and families as well as group and charter options.
With the highest-rated ships in Europe according to the third edition of Berlitz: River Cruising in Europe & the USA, AmaWaterways has received countless honors and accolades including Cruise Critic's 2019 Editor's Pick Award for "Best River Cruise Line" and "Best for Active Cruisers," 2018 AFAR Reader's Choice Award for "Best River Cruise Line" and inclusion of AmaMagna in 2019 TIME "World's Greatest Places."
###
MEDIA CONTACTS:
Samantha Jacobs / Carter Long, Hemsworth Communications
(678) 631-9974 or [email protected]
This message was sent to [email protected]
Hemsworth Communications
1510 SE 17th Street, Suite 200A
Fort Lauderdale, FL 33316