Innovative River Cruise Line Opens Reservations for Groundbreaking Experiences
On Board AmaMagdalena and AmaMelodia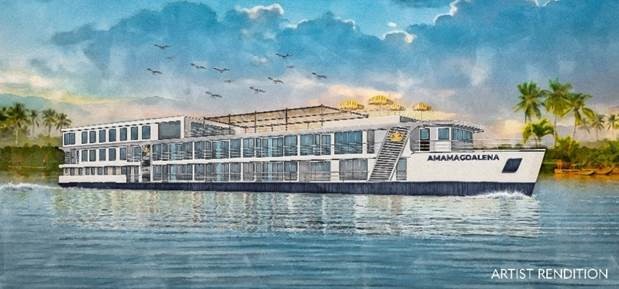 CALABASAS, Calif. – (March 6, 2023) – AmaWaterways, the first major river cruise line to explore the magnificent Magdalena River in Colombia, today announced details on two stunning, newly designed ships and mesmerizing itineraries debuting in 2024. As the demand for immersive cultural experiences continues to grow, AmaWaterways is now accepting reservations for its extraordinary program into the heart of Colombia, with unforgettable experiences awaiting on board the custom-built AmaMagdalena and AmaMelodia.
"We are absolutely thrilled to have two beautiful ships joining our growing fleet of 26 award-winning river cruise ships and share details on the new itineraries cruising between Cartagena and Barranquilla along the Magdalena River," Rudi Schreiner, co-founder and president of AmaWaterways, said. "After visiting and falling in love with this region, we are so excited to now offer our guests the opportunity to discover Colombia's vibrant culture, unique traditions and natural beauty."
"Everything, from the design of our two stunning ships to the immersive curated itineraries, reflects our pioneering spirit and mission to provide our guests with top-of-the-line accommodations, warm and welcoming services, locally inspired cuisine and enriching experiences engaging with local communities along this fascinating river," Kristin Karst, co-founder and executive vice president of AmaWaterways, said. "We are extremely grateful for our travel advisor partners and loyal guests who continue to support us and are as excited as we are to discover this new continent for river cruising."
Unveiling Two New Ships – AmaMagdalena and AmaMelodia
AmaWaterways announced the debut of two newly designed ships, AmaMagdalena, which is launching March 30, 2024, and AmaMelodia, which begins sailing June 19, 2024. Prices for seven-night cruises start at $3,599 per person based on double occupancy.*
Specially designed to maximize the picturesque views along the Magdalena River, the intimate AmaMagdalena welcomes 60 guests while the stunning AmaMelodia, welcomes 64 guests. Both newly designed ships offer extraordinary river cruise experiences with luxury accommodations and sweeping views. The spacious amenity-filled staterooms are between 237 and 516-square-feet and all feature AmaWaterways signature twin balcony design, with both a French balcony and an outside balcony. In addition, guests can relax and unwind in the ship's rejuvenating sun deck pool, enjoy a massage or work out in the fitness room.
Two Immersive Itineraries – Magic of Colombia and Wanders of Colombia
Starting in spring 2024, guests will have the choice between two seven-night itineraries, Magic of Colombia and Wonders of Colombia. Sailing between Cartagena and Barranquilla, both itineraries provide curated experiences and unforgettable excursions. Highlights on these two itineraries include:
Uncovering the soul and spirit of the "Land of a Thousand Rhythms" at a special Carnaval celebration in Barranquilla featuring vibrant live performances reserved exclusively for AmaWaterways guests.
Exploring the country's most fascinating cities through historical walking tours in destinations including Mompox, a UNESCO Site preserved in colonial charm, where guests will be welcomed by an exclusive jazz performance.
Birdwatching tours will captivate guests with more than 1,900 species of birds including the Cianeguo hummingbirds and the Chauna chavaria – only found in the Colombia region.
Visiting Palenque, historically named the first "free city" in the Americas, where guests will enjoy dancing to world renowned musical styles such as cumbia and vallenato during a Drum Rhythms and Freedom Historical tour.
Riding an authentic paola through the town of Calamar.
Witnessing the natural beauty of the great Magdalena basin, which harbors many species of flora and fauna not found anywhere else on the planet.
Pre- and Post-Cruise Land Packages – Medellín, Cartagena and Panama City
While in Colombia, travelers have the opportunity to make the most of their time and extend their journey with AmaWaterways optional pre-cruise land packages in Medellín and Cartagena, and post-cruise land package in Panama City, Panama.
In Medellín, guests can start their journey with a three-night stay in Colombia's second largest city. Guests will enjoy indulging in the refined flavors of Medellín's famous coffee and cuisine during a Coffee Region Tour and Tasting, as well as discover its unique heritage with friendly guides and residents from diverse backgrounds who live beyond the riverbanks. Combining innovation and history into one beautiful destination, travelers will witness the incredible transformation that the city has undergone while visiting neighborhoods such as Comuna 13. 
AmaWaterways two-night, pre-cruise land package in the thriving city of Cartagena takes guests for a deep dive into the city's royal history and heritage. Travelers will be inspired by the city that has withstood the test of time and the plundering of pirates through a walled city walking tour, and amazed by the excursions to the Gold Museum, Caribbean Naval Museum and San Felipe Castle.
Travelers seeking a post-cruise land package can venture to the beautiful isthmus where North and South America meet in Panama City, Panama. The add-on invites guests to extend their river cruise experience by three nights while discovering the lively atmosphere of Amador Causeway, the historic buildings of Panama La Vieja and the mesmerizing Panama Canal. Plus, travelers can delve into the tropical rainforest of the Chagres National Park, where they can delight in the breathtaking scenery of the jungle and learn more about the indigenous Emberá people.
Whether travelers arrive in Cartagena for the Wonders of Colombia itinerary or Barranquilla for the Magic of Colombia, they will be warmly welcomed by AmaWaterways extraordinary crew and a dedicated Cruise Manager. During their adventures, they will learn about Colombia's fascinating culture; taste the exquisite, locally sourced cuisine inspired by the Colombian Caribbean coast at every meal; and enjoy nightly onboard entertainment. 
"We celebrate that AmaWaterways chose the Magdalena River to launch a river cruise, the first of this kind in the history of Colombia's tourism industry," Arturo Bravo, deputy minister of tourism, said. "Once the trips start in 2024, little towns across the watercourse will be able to show international travelers their immense beauty and natural and cultural diversity."
"Besides the immediate benefits these meaningful trips will have in our territories' social and economic development, it is worth mentioning that AmaWaterways is looking to source their ships with products made in Colombia," Carmen Caballero, president of ProColombia, said. "This means that we also have an opportunity to match our diversified exportable offer and make it part of the productive tourist chain. In short, great news for Colombia."
Exclusive to travel advisors, details about Colombia itineraries can be found on this link to the recent Webinar Wednesday. Travel advisors who wish to share more information about this new destination with their clients can direct them to the Sip & Sail: Experience the Magic of Colombia with AmaWaterways on YouTube.
*To book an AmaWaterways river cruise for a client, call 1-800-626-0126 or visit AmaWaterways.com. Follow AmaWaterways on Facebook at Facebook.com/AmaWaterways, Instagram @AmaWaterways, Twitter @AmaWaterways, and YouTube at YouTube.com/AmaWaterways. 
# # #
MEDIA NOTE: Hi-res image can be found HERE.
About AmaWaterways
Family-owned and operated for 20 years, AmaWaterways offers unparalleled river cruise experiences with 28 custom-designed ships sailing Europe's Danube, Douro, Rhine, Moselle, Main, Rhône, Saône, Seine, Garonne and Dordogne Rivers, and Dutch and Belgian Waterways; Southeast Asia's Mekong River; Africa's Chobe River; Egypt's Nile River and Colombia's Magdalena River (2024). Co-founded by pioneering river cruise executives Rudi Schreiner, Kristin Karst and Jimmy Murphy, the company is renowned for its warm and welcoming crew; innovative and sustainable ship design; wellness activities (including a wide choice of included small group shore excursions featuring biking and hiking options); and award-winning, locally sourced cuisine paired with complimentary fine wine. Modern, spacious and tastefully decorated, most AmaWaterways ships welcome an average of just 150 guests and feature onboard amenities such as a stunning Main Lounge, specialty Chef's Table restaurant, hair and massage salons, Sun Deck walking track, and heated outdoor swimming pools with swim-up bars. AmaWaterways leads the river cruise industry in innovation, highlighted by the launch of the revolutionary AmaMagna, and the introduction of the history-making Seven River Journey itineraries. The company also offers a variety of themed sailings and brand relationships, with sailings geared towards active travelers and families, as well as group and charter options.
About ProColombia
ProColombia is the government entity in charge of promoting international tourism and foreign direct investment in Colombia, non-mining energy exports and the country brand. Through its national and international network of offices, it offers Colombian companies support and comprehensive advice through services or instruments focused on encouraging the design and execution of their internationalization strategies, as well as facilitating the generation and development of business opportunities.
MEDIA CONTACT: 
Becca Maroney or Lily Dyrsten
203-807-3450 or [email protected]
PROCOLOMBIA, Colombia's Tourism Board Press Contact:
Catalina Sánchez Montoya [email protected]
For more information about Colombia, visit Colombia.travel/en