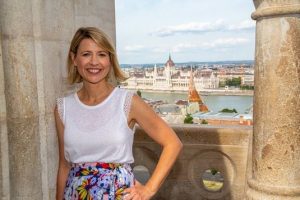 Godmother of AmaMagna and Two-Time Emmy Winner to Host Special 7-Night Taste of Bordeaux Sailing Departing August 6, 2020.
CALABASAS, CA – December 16, 2019 – AmaWaterways today proudly announced the continued collaboration with renowned travel expert Samantha Brown, host of PBS's two-time Emmy winning (Outstanding Host and Outstanding Travel/Adventure Program) series, "Samantha Brown's Places to Love." Returning for a third season on Saturday, January 11 (check local schedule for exact date and times), Samantha will take viewers to thirteen destinations, both in the U.S. and abroad, uncovering a deeper connection to travel by highlighting the people who are changing, challenging and strengthening the places they call home.
"We are thrilled to support 'Places to Love' for a third season," said Kristin Karst, executive vice-president and co-founder of AmaWaterways. "Samantha shares many values with our company – most notable through 'Places to Love,' where she discovers the emotional heart of travel through the people who are changing, challenging and strengthening a destination. This past summer, we were thrilled to have Samantha officially christen AmaWaterways' new ship on the Danube, AmaMagna. She is a perfect fit as Godmother for this revolutionary ship that is challenging ideas of what river cruising can offer people in search of personalized travel experiences."
Brown christened AmaWaterways newest ship, AmaMagna, on July 10, 2019 on the Danube just prior to filming the premiere season three episode in Budapest. She was captivated by the city's vitality and energy and learns why Budapest is called the "city of spas" during a dip at the famous Széchenyi Thermal Bath, one of the largest in Europe. The trip continues with a stop at the Michelin-rated Stand restaurant to sample their elevated take on traditional Hungarian Goulash before visiting the esteemed Franz Liszt Music Academy for a chat with renowned violinist Joshua Bell. Pursuing a musical theme, Samantha then enjoys skyline views atop the Aria Hotel Budapest, a hotel dedicated to music and musicians, before visiting Dohány Street Synagogue, the world's second oldest synagogue for a moving meeting with Chief Rabbi Róbert Frölich to learn about the rich Jewish history in this beautiful city.
"People often tell me that I have the best job in the world," says Brown, "and it's true, but shooting season three of 'Places to Love' has been especially rewarding. I'm really excited to transport viewers all over the globe – from the glorious cities along the Danube to my home state of New Hampshire, and introduce them to the people and places that reveal the soul of each destination."
In subsequent episodes of season three, Samantha explores Vienna, Auckland, The Florida Keys & Key West, Phoenix, New Hampshire, Miami, Sonoma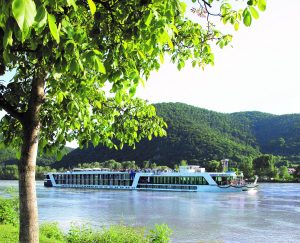 County, the British Virgin Islands, Dallas, the Southern Finger Lakes of NY, and Maine.
This summer, viewers will have an exclusive opportunity to travel with Samantha Brown, courtesy of AmaWaterways. Travelers can join Samantha for an ultimate French experience as she discovers a "Taste of Bordeaux" aboard AmaWaterways' AmaDolce (pictured right), August 6-13. During this special cruise, Samantha will host dinners and share her insider tips and stories during engaging presentations.
For more information, or to book the Samantha Brown hosted Bordeaux river cruise, contact your preferred Travel Advisor, call 1.800.626.0126 or visit AmaWaterways.com/Samantha-Brown-2020. Follow AmaWaterways on Facebook at Facebook.com/AmaWaterways, Instagram @AmaWaterways and Twitter @AmaWaterways.
About AmaWaterways:
A family-owned company celebrating 17 years on the river, AmaWaterways offers unforgettable river cruises with 24 ships sailing Europe's Danube, Rhine, Moselle, Main, Rhône, Seine, Garonne, Dordogne, Dutch and Belgian Waterways and Douro Rivers, Southeast Asia's Mekong and Africa's Chobe River.  Led by experienced river cruise co-founders Rudi Schreiner and Kristin Karst, the company is renowned for its innovative stateroom design featuring unique "twin balconies"; its wellness activities including a wide choice of included shore excursions featuring biking and hiking options for the active traveler; and its award-winning dining—including The Chef's Table specialty restaurant as well as complimentary fine wine, beer and soft drinks with lunch and dinner. Modern, spacious and tastefully decorated, each ship features onboard amenities such as hair and massage salons and a fitness room, and many have heated outdoor swimming pools with swim-up bars. AmaWaterways leads the river cruise industry in innovation highlighted with the launch of AmaMagna, which at twice the width of traditional river ships, offers a new dimension in luxury river cruising. The company also offers a variety of themed sailings and brand relationships, with sailings geared towards active travelers and families as well as group and charter options.
With the highest-rated ships in Europe according to the third edition of Berlitz: River Cruising in Europe & the USA, AmaWaterways has received countless honors and accolades including Cruise Critic's Editor's Pick Award for "Best for Active Cruisers" and 2018 AFAR Reader's Choice Award for "Best River Cruise Line" and inclusion of AmaMagna in 2019 TIME "World's Greatest Places."
About Samantha Brown:
Known for her warm, engaging personality and her ability to convey the true character of the people and places she visits throughout the world, Samantha has been inspiring wanderlust since her television journey first began with Travel Channel's "Great Hotels." Since then, her career has taken her to over 250 cities in 74 countries and 44 of the United States, winning her two Emmys in the process. A natural extension of her years on the road, in 2011, Samantha debuted her own stylish and practical luggage line on HSN, the Home Shopping Network. Designed from her travel expert's perspective, blending style and utility, the line instantly became a top "customer pick" and was one of the most successful brand launches for the year. In 2018, Samantha and "Places to Love" were nominated for three Emmys, and won two, picking up awards in the categories of Outstanding Host for a Lifestyle, Children's or Special Class Program and Outstanding Travel and Adventure Program.
Follow Samantha via her website, https://samantha-brown.com; on Instagram @samanthabrowntravels;  Facebook at www.facebook.com/RealSamanthaBrown/;  and @samanthabrown on Twitter.
This message was sent to [email protected]
Hemsworth Communications
1510 SE 17th Street, Suite 200A
Fort Lauderdale, FL 33316
Hemsworth Communications
1510 SE 17th Street, Suite 200A
Fort Lauderdale, FL 33316