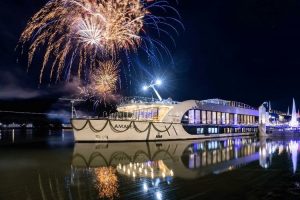 AmaLea Selected by Thousands of Readers and Online Fans to Win 2019 Readers' Choice Award
CALABASAS, CA – (November 13, 2019) – AmaWaterways today proudly announced that AmaLea has been awarded "Best River Ship" by Porthole Cruise Magazine's 2019 Readers' Choice Awards. Award winners were determined by thousands of readers and online fans of the magazine, who voted for their favorites in 51 cruise-related categories.
"To win this award for the third consecutive year from Porthole Cruise Magazine readers means a great deal to everyone at AmaWaterways," said Kristin Karst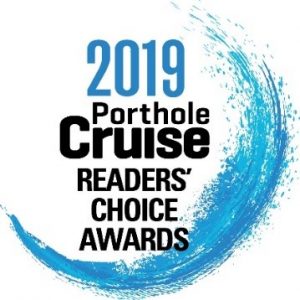 executive vice president and co-founder of AmaWaterways. "We always have strived to create a comfortable and luxurious environment onboard our ships and that involves two aspects: the hardware – the design and décor – and the software – our teams onboard. We are exceptionally proud of our crew and the heartfelt, personalized service that they deliver that consistently exceeds our guests' expectations."
This year marked the 21st edition of Porthole Cruise Magazine's Annual Readers' Choice Awards. Considered the world's leading cruise-travel magazine, its readers represent a collection of cruise aficionados, cruise experts and cruise tastemakers. AmaLea joins sister ship AmaKristina and AmaCerto, whom both also won "Best River Ship" in the 2017 and 2018 Readers' Choice Awards, respectively.
"I always look forward to seeing the results of our Readers' Choice Awards because our readers are discerning travelers who have stunningly high standards for every part of the cruise experience," said Bill Panoff, publisher and editor-in-chief of Porthole Cruise Magazine. "For AmaLea to be voted the Best River Ship in the 2019 Readers' Choice Awards really demonstrates the masterful way that AmaWaterways gives their guests the very best of the best on board and on shore."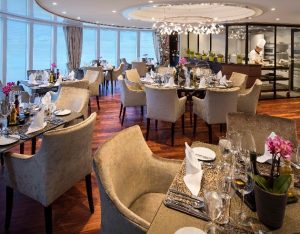 The vibrant 154-passenger AmaLea features many innovations that AmaWaterways has brought to the river cruise industry, including twin balconies, connecting staterooms for families, a fleet of complimentary bicycles and a comprehensive Wellness Program on board, and The Chef's Table, an intimate restaurant with a wine-pairing menu at no additional cost (pictured left). For 2020, AmaLea  sails seven-night cruises on the Danube including the Romantic Danube and Melodies of the Danube itineraries, which take guests through timeless architecture and art in the magnificent capitals of Budapest, Bratislava and Vienna with pre and post-cruise land program in Prague. In addition, during the holiday season, travelers can experience timeless European traditions and enjoy the Iconic Christmas Markets and Christmas Markets on the Danube itineraries on board the award-winning ship.
For full details, or to book an AmaWaterways river cruise for a client, call 1.800.626.0126 or visit the Travel Advisor Portal on AmaWaterways.com. Follow AmaWaterways on Facebook at Facebook.com/AmaWaterways, Instagram @AmaWaterways and Twitter @AmaWaterways.
About AmaWaterways
A family-owned company celebrating 17 years on the river, AmaWaterways offers unforgettable river cruises with 24 ships sailing Europe's Danube, Rhine, Moselle, Main, Rhône, Seine, Garonne, Dordogne, Dutch and Belgian Waterways and Douro Rivers, Southeast Asia's Mekong and Africa's Chobe River.  Led by experienced river cruise co-founders Rudi Schreiner and Kristin Karst, the company is renowned for its innovative stateroom design featuring unique "twin balconies"; its wellness activities including a wide choice of included shore excursions featuring biking and hiking options for the active traveler; and its award-winning dining—including The Chef's Table specialty restaurant as well as complimentary fine wine, beer and soft drinks with lunch and dinner. Modern, spacious and tastefully decorated, each ship features onboard amenities such as hair and massage salons and a fitness room, and many have heated outdoor swimming pools with swim-up bars. AmaWaterways leads the river cruise industry in innovation highlighted with the launch of AmaMagna, which at twice the width of traditional river ships, offers a new dimension in luxury river cruising. The company also offers a variety of themed sailings and brand relationships, with sailings geared towards active travelers and families as well as group and charter options.
With the highest-rated ships in Europe according to the third edition of Berlitz: River Cruising in Europe & the USA, AmaWaterways has received countless honors and accolades including Cruise Critic's Editor's Pick Award for "Best for Active Cruisers" and 2018 AFAR Reader's Choice Award for "Best River Cruise Line" and inclusion of AmaMagna in 2019 TIME "World's Greatest Places."
# # #
MEDIA CONTACT:
Samantha Jacobs/Carter Long, Hemsworth Communications
(678) 631-9974 or [email protected]
This message was sent to [email protected]
Hemsworth Communications
1510 SE 17th Street, Suite 200A
Fort Lauderdale, FL 33316