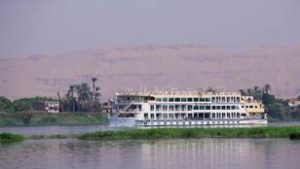 Luxury River Cruise Line Welcomes First Guests Onboard Its Stunning New Ship for a Sailing Filled with Egyptian Culture, Regional Cuisine and Exclusive Experiences 
CALABASAS, Calif. – (September 9, 2021) – Award-winning luxury river cruise line AmaWaterways celebrated the launch of its newest ship – AmaDahlia – on the Nile River on September 6, sailing the Secrets of Egypt & The Nile itinerary. During the festivities, co-founders Rudi Schreiner and Kristin Karst surprised the ship's first guests by joining them for a cocktail hour at the five-star Four Seasons Hotel Cairo At The First Residence where all guests enjoyed their four-day pre-cruise land packages. Guests then boarded the ship in Luxor where they were greeted by local musicians and an Egyptian whirling dervish performance before exploring the stunning AmaDahlia and embarking on an unforgettable 7-night river cruise experience. (Click HERE for a ship tour YouTube video.)
"I am absolutely delighted to have our wonderful new AmaDahlia sailing the Nile River," said Kristin Karst, executive vice president and co-founder of AmaWaterways. "It was truly such a joy to be with our guests as together we discovered the beautiful setting on board, reflecting the local culture and distinctive art of the region. Egypt has a very special place in my heart, and I am so excited to have many more guests experience the beauty of AmaDahlia and the unparalleled experiences that this itinerary offers."
In addition to having the river cruise line's co-founders present during the ship's inaugural sailing, guests also had the opportunity to interact with AmaWaterways' Egyptian partner, Ahmed Atef El Wassief, president of Wings for Tourism Investment – an integrated travel services company known for their dedication to hospitality and professionalism and close collaboration with international partners.
"We are so appreciative of our Egyptian partners, who helped us launch AmaDahlia on time to start her inaugural season as planned this September," said Rudi Schreiner, president and co-founder of AmaWaterways. "Their local experience has been critical throughout all the design and construction period and we look forward to continuing to work together to share the iconic wonders of Egypt with our guests."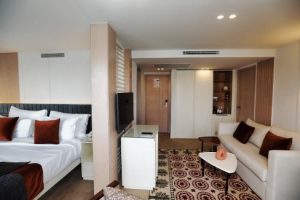 Featuring 36 staterooms including 16 magnificent suites between 370 and 430 sq. ft., the luxurious 72-passenger AmaDahlia offers an intimate atmosphere with an abundance of space for guests to relax and unwind after a day of awe-inspiring discovery. Designed to reflect the culture of the region, AmaDahlia welcomes guests aboard with vibrant colors and patterns, along with inviting public spaces to take in the stunning views of the Nile River. The ship boasts a wealth of amenities including a swimming pool and bar on the Sun Deck, as well as delectable locally sourced cuisine at the Main Restaurant and The Chef's Al Fresco Restaurant located on an open deck affording spectacular views. During their cruise, guests are pampered by the gracious Egyptian crew while discovering the marvels of ancient Egyptian history and breathtaking landscapes along the Nile River.
AmaDahlia's immersive 11-night Secrets of Egypt & The Nile itinerary invites guests to explore ancient civilization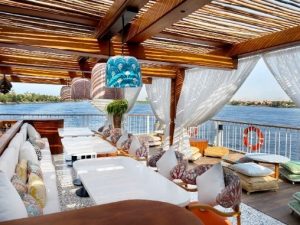 with authentic, small group-guided shore excursions led by Egyptologists. The river cruise operates seasonally from September through June each year, sailing round trip from Luxor to Aswan with intra-Egypt flights between Cairo and Luxor. Days are spent discovering remarkable landmarks like the Temple of Luxor and Valley of Kings and Queens and coming face-to-face with wonders like the Great Sphinx and the Pyramids of Giza. When arriving back onboard, guests are treated to local entertainment and informative sessions led by expertly trained Egyptologists, who provide insider knowledge about the many mysteries and secrets that have shaped Egypt.
The 11-night cruise and land itinerary includes three nights in Cairo pre-cruise and one-night in Cairo post-cruise, where guests stay in the Four Seasons Hotel and enjoy an exclusive private tour and special farewell lunch at the Abdeen Presidential Palace. To complement this immersive cruise and land adventure, Secrets of Egypt & the Nile is offered with optional extensions including pre-program, three nights in Dubai or four nights in Jordan (Amman and Petra) and post-program, four nights in Israel (Jerusalem).
Currently, AmaWaterways welcomes guests who are fully vaccinated against COVID-19. For entry into Egypt, travelers must present a printed negative PCR test and complete and carry with them a Egyptian Health Declaration Form (please refer to AmaWaterways Travel Entry Requirements and check specific airline requirements).
For more information, or to book an AmaWaterways river cruise for a client, call 1.800.626.0126 or visit the Travel Advisor Portal at AmaWaterways.com. Follow AmaWaterways on Facebook at Facebook.com/AmaWaterways, Instagram @AmaWaterways, Twitter @AmaWaterways and YouTube at YouTube.com/AmaWaterways.
MEDIA NOTE: Hi-res images of AmaDahlia can be found on Dropbox HERE.
About AmaWaterways
Family-owned and -operated for more than 19 years, AmaWaterways offers unparalleled river cruise experiences with 26 custom-designed ships sailing Europe's Danube, Douro, Rhine, Moselle, Main, Rhône, Saône, Seine, Garonne and Dordogne Rivers, and Dutch and Belgian Waterways; Southeast Asia's Mekong River; Africa's Chobe River; Egypt's Nile River and Colombia's Magdalena River (2023).Co-founded and led by pioneering river cruise executives Rudi Schreiner and Kristin Karst, the company is renowned for its extraordinarily warm and welcoming crew; innovative and sustainable  ship design; its wellness activities including a wide choice of included small group shore excursions featuring biking and hiking options; and its award-winning, locally sourced cuisine with complimentary fine wine. Modern, spacious and tastefully decorated, most ships welcome an average of just 150 guests and feature onboard amenities such as a stunning Main Lounge, specialty Chef's Table restaurant, hair and massage salons, a Sun Deck walking track with heated outdoor swimming pools with swim-up bars. AmaWaterways leads the river cruise industry in innovation highlighted with the launch of the revolutionary AmaMagna, and the introduction of the history-making Seven River Journey itineraries. The company also offers a variety of themed sailings and brand relationships, with sailings geared towards active travelers and families as well as group and charter options.
With the highest-rated ships in Europe according to the third edition of Berlitz: River Cruising in Europe & the USA, AmaWaterways has received countless honors and accolades including Travel + Leisure's 2020 World's Best Award for "Best River Cruise Line" and Departures' 2020 Legend Award for "Best Luxury Cruising Experiences This Year." In addition, 20 ships in AmaWaterways' European fleet have received the prestigious Green Award certification for industry-leading safety, quality and environmental performance.
# # #
MEDIA CONTACTS:
Kayla Atwater/ Ella Chancellor
Hemsworth Communications
954-716-7614 or [email protected]