Travel Advisors and Guests Get a Taste During Virtual "Sip & Sail" Event on May 21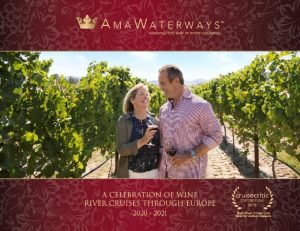 Calabasas, CA – (Thursday, May 14, 2020) – AmaWaterways, the luxury river cruise line known for curating incredible epicurean experiences, today launched its new e-brochure "A Celebration of Wine River Cruises Through Europe", detailing more than 60 exclusive wine-themed departures planned for its upcoming 2021 season. Three all-new itineraries will showcase the famed vineyards and historic sights of Europe, including AmaWaterways' first journey into France's Burgundy region.
Specially designed to further immerse guests into the history of Europe's renowned wine regions, each Celebration of Wine River Cruise is hosted by a qualified North American wine expert, who brings hand-selected wines on board to serve during a special meal and tastings. Some wines come from the expert's own winery and other varieties are sourced from wineries located along the river cruise itinerary. Welcoming between 102 and 196 guests, the wine-themed river cruises provide a unique and delicious dimension to already enticing itineraries – at no additional cost.
"When we launched our first hosted wine cruises in 2010, we simply wanted to share our appreciation of wine and showcase the enjoyment of both New World and Old World varietals through interesting excursions and fun wine tastings.  The response we have received has been remarkable, and each year we have added more departures with interesting wine experts representing vineyards from across the country," said Kristin Karst, AmaWaterways' executive vice president and co-founder. "Whether you are a wine lover, a knowledgeable connoisseur or simply enjoy a sip here and there, our intimate Celebration of Wine River Cruises provide an added dimension to the river cruise experience. We look forward to welcoming guests on more than the 60 wine cruises on 19 itineraries planned for 2021!"
Catering to the growing demand for its French itineraries, AmaWaterways will debut two new itineraries in 2021 both offering select Celebration of Wine River Cruise departures: 
Marking AmaWaterways' first entrance in the Burgundy region of France, the Essence of Burgundy & Provence itinerary showcases traditional French wine and cuisine in one delectable river cruise. Guests will uncover the Roman history of Chalon-sur-Saône and delight in charming Tournus with its towering Romanesque abbey and historic apothecary shop. This wine cruise will explore French châteaux from Burgundy to Provence, inviting guests to taste their way through the French culinary capital of Lyon. Guests may opt to join a scenic cruise to Mâcon to enjoy a tasting of Mâconnais wines, a visit to a local French cooking school in Valence, a guided hike from the ship to the Monastery at Mount Pipet and many other food, wine and wellness focused excursions.
Onboard Impressions of the Seine & Paris, guests will discover the most renowned Parisian destinations as well as sites memorialized by famous Impressionist painters along France's Seine River. Sailing onboard AmaDante from Paris to Le Havre (or reverse) guests are immersed in the best of Northern France, including quaint towns and Normandy's historic hubs. Beyond idyllic scenery at every turn, guests will enjoy traditional culinary treasures including Norman chocolate, cheese, apple-based Calvados and local cider. Highlight pre- or post-cruise are three nights in St. Malo with a visit to the magical island monastery of Mont St. Michel.
Also new for 2021, Rhine Castles & Swiss Alps itinerary will captivate guests sailing the legendary Rhine river, contoured by vineyard-clad hills and castles. The seven-night cruise explores the allure of France's Alsace region in its welcoming capital, Strasbourg, and in Riquewihr, a small town known for its cobbled streets of quaint tasting rooms and wine shops. Additional highlights include Breisach, rising above the vineyards of the Rhine, and Freiburg, one of Germany's sunniest cities and gateway to the Black Forest. In these fabled towns lost in time, guests will taste local flavors and touch history up close with guided hikes and bike rides. From Amsterdam's colorful canals to the majestic Swiss Alps, this wine cruise is a journey into the heart of each destination.
For a unique and interactive firsthand look into the epicurean wine cruise journey, join AmaWaterways' virtual "Sip & Sail" on May 21 at 3pm PST on a Facebook Live. Karst will be joined by several guests including wine educator, award-winning author, and television host, Leslie Sbrocco who will serve as the virtual Wine Host, guiding guests through wine tastings and sharing of memorable experiences and culinary delights waiting to be discovered along the Celebration of Wine River Cruise on the Danube River. Visit Facebook.com/AmaWaterways for details on the event.
To view "A Celebration of Wine River Cruises Through Europe" e-brochure, visit www.amawaterways.com/OnlineBrochures/2020_2021_Wine/Wine_2020_2021_USD.pdf. To book any AmaWaterways river cruise, contact your preferred Travel Advisor, call 1.800.626.0126 or visit AmaWaterways.com. Follow AmaWaterways on Facebook at Facebook.com/AmaWaterways, Instagram @AmaWaterways and Twitter @AmaWaterways.
About AmaWaterways
A family-owned company celebrating 18 years on the river, AmaWaterways offers unforgettable river cruises with 25 ships sailing Europe's Danube, Rhine, Moselle, Main, Rhône, Saône (2021), Seine, Garonne, Dordogne, Dutch and Belgian Waterways and Douro Rivers, Southeast Asia's Mekong, Africa's Chobe River and Egypt's Nile River (2021).  Led by experienced river cruise co-founders Rudi Schreiner and Kristin Karst, the company is renowned for its innovative stateroom design featuring unique "twin balconies;" its wellness activities including a wide choice of included shore excursions featuring biking and hiking options for the active traveler; and its award-winning dining—including The Chef's Table specialty restaurant as well as complimentary fine wine, beer and soft drinks with lunch and dinner. Modern, spacious and tastefully decorated, each ship features onboard amenities such as hair and massage salons and a fitness room, and many have heated outdoor swimming pools with swim-up bars. AmaWaterways leads the river cruise industry in innovation highlighted with the launch of AmaMagna, which at twice the width of traditional river ships, offers a new dimension in luxury river cruising. The company also offers a variety of themed sailings and brand relationships, with sailings geared towards active travelers and families as well as group and charter options.
With the highest-rated ships in Europe according to the third edition of Berlitz: River Cruising in Europe & the USA, AmaWaterways has received countless honors and accolades including Cruise Critic's 2019 Editor's Pick Award for "Best River Cruise Line" and "Best for Active Cruisers," 2018 AFAR Reader's Choice Award for "Best River Cruise Line" and inclusion of AmaMagna in 2019 TIME "World's Greatest Places."
# # #
MEDIA CONTACTS:
Samantha Jacobs or Carter Long, Hemsworth Communications
(678) 631-9974 or [email protected]
This message was sent to [email protected].
Hemsworth Communications
1510 SE 17th Street, Suite 200A
Fort Lauderdale, FL 33316