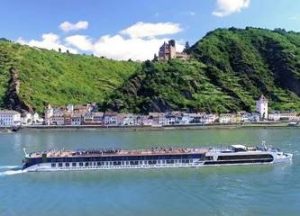 (Photo: AmaWaterways sailing the Rhine River)
CALABASAS, CA – (September 25, 2019) – AmaWaterways—acclaimed luxury river cruise line and leader in specialty Wine Cruises—will offer 67 Wine Cruises during the 2020 cruise season, including two new itineraries showcasing the famed vineyards and historic sights of France, Germany, Luxembourg, Switzerland, and the Netherlands. Hosted by notable North American wine experts, certified sommeliers, and vineyard owners, the specialty wine-themed sailings offer guests onboard lectures and tastings to complement the extensive array of included shore excursions.
"This has been a record-breaking year for AmaWaterways, and our specialty Wine Cruise program continues to evolve and flourish," said Kristin Karst, AmaWaterways' executive vice president and co-founder. "As demand for these sailings grows, our focus is to partner with engaging hosts and craft new wine-themed experiences that encourage our guests to discover the most beautiful wine-growing regions in the world."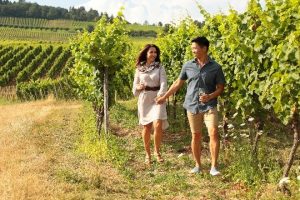 AmaWaterways' Specialty Wine Cruises immerse guests in the vibrant terroir of some of the world's most prestigious wine capitals. In 2020, it will debut Treasures of the Main & Rhine, taking guests on a seven-night sailing between Nuremberg, Germany, and Amsterdam—showcasing the best of the Main and Rhine rivers. Itinerary highlights include a visit to Würzburg, set in the middle of Germany's largest wine-producing region; sampling Hornla pastry, a regional favorite whose recipe dates back to 1427; touring a local bakery to learn the art of pretzel making; and wine-tasting with a local Rüdesheim vintner. Another new itinerary is Vineyards of the Rhine & Moselle, which provides wine enthusiasts with a seven-night journey between Luxembourg and Amsterdam, melding culinary and vinicultural adventure. Guests will enjoy soaring gondola rides over Rüdesheim's vineyards, delectable samples of Reibekuchen—German potato pancakes—and Kölsch beer found exclusively in Cologne, and a Bernkastel winery visit and tasting.
Guests looking for an enhanced wine experience through these two new itineraries can join wine hosts Susanne Sapier, owner of Vineyard Grant James, on the August 6 Treasures of the Main & Rhine sailing; Dan McDonnal and Alix Bosch, co-owners of De Tierra Vineyards, on the April 2 Vineyards of the Rhine & Moselle sailing; and Cindy and Nicholas Palumbo, co-owners of Palumbo Family Vineyards, on the October 14 Vineyards of Rhine & Moselle sailing.
Featuring seminars, wine-paired dinners, tasting events, private cellar tours, and visits to iconic vineyards, each specialty Wine Cruise is hosted by hand-selected North American wine aficionados who share their expertise and insights with guests—offering unique experiences that blend Europe's old-world palate with North America's new-world taste. For the 2020 cruise season, AmaWaterways partners with an esteemed group of hosts from across the US including:
Frank Ostini, Hitching Post Winery (March 26 Rhine & Moselle Splendors) and Kathy Joseph, Fiddlehead Cellars (March 30 Romantic Danube); two wineries showcased in the iconic movie Sideways
Paul Wagner, renowned wine expert, author, and recipient of the 2018 Award of Merit from the American Wine Society (April 9 Taste of Bordeaux)
Jody Bogle, co-owner of Bogle Vineyards & Winery (August 20 Taste of Bordeaux)
Roman Roth, Wolffer Estate Vineyard (July 30 Colors of Provence)
Wilson Family, returning favorite hosts from Wilson Creek Winery (November 1 Manga on the Danube on board the double-width AmaMagna)
For full details on all 67 specialty Wine Cruises and hosts visit https://www.amawaterways.ca/explore/wine-hosts/2020, or to book any AmaWaterways river cruise, contact your preferred Travel Advisor, call 1.800.626.0126 or visit AmaWaterways.com. Follow AmaWaterways on Facebook at Facebook.com/AmaWaterways, Instagram @AmaWaterways and Twitter @AmaWaterways.
About AmaWaterways:
A family-owned company celebrating 17 years on the river, AmaWaterways offers unforgettable river cruises with 24 ships sailing Europe's Danube, Rhine, Moselle, Main, Rhône, Seine, Garonne, Dordogne, Dutch and Belgian Waterways and Douro Rivers, Southeast Asia's Mekong and Africa's Chobe River.  Led by experienced river cruise co-founders Rudi Schreiner and Kristin Karst, the company is renowned for its innovative stateroom design featuring unique "twin balconies"; its wellness activities including a wide choice of included shore excursions featuring biking and hiking options for the active traveler; and its award-winning dining—including The Chef's Table specialty restaurant as well as complimentary fine wine, beer and soft drinks with lunch and dinner. Modern, spacious and tastefully decorated, each ship features onboard amenities such as hair and massage salons and a fitness room, and many have heated outdoor swimming pools with swim-up bars. AmaWaterways leads the river cruise industry in innovation highlighted with the launch of AmaMagna, which at twice the width of traditional river ships, offers a new dimension in luxury river cruising. The company also offers a variety of themed sailings and brand relationships, with sailings geared towards active travelers and families as well as group and charter options.
With the highest-rated ships in Europe according to the third edition of Berlitz: River Cruising in Europe & the USA, AmaWaterways has received countless honors and accolades including Cruise Critic's Editor's Pick Award for "Best for Active Cruisers", 2018 AFAR Reader's Choice Award for "Best River Cruise Line" and inclusion of AmaMagna in 2019 TIME "World's Greatest Places."
# # #
MEDIA CONTACT:
Wagstaff
(323) 871-1151 or [email protected]
Hemsworth Communications
(678) 631-9974 or [email protected]
This message was sent to [email protected]
Hemsworth Communications
1510 SE 17th Street, Suite 200A
Fort Lauderdale, FL 33316