Travel Advisors Have Opportunity to Enhance Earning Potential with Luxury River Cruise Line's Extended Europe Season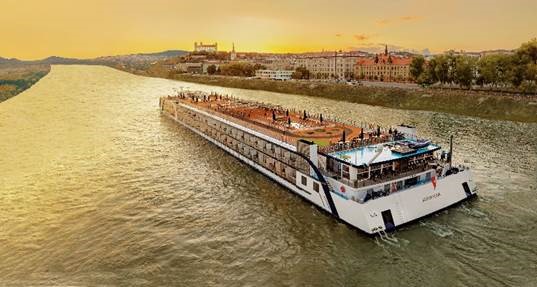 CALABASAS, Calif. – (February 27, 2023) – Award-winning luxury river cruise line AmaWaterways today announced a record level of reservations taken during the month of January and reminds travel advisors of the new sales opportunities available as a result of the early start to the season in February 2024 with additional departure dates of its popular Rhine and Danube season. River cruising in February offers travelers an unparalleled opportunity to experience the beauty of Europe during this romantic and less crowded time and also provides travel advisors with new river cruise options for clients looking to take advantage of lower airfares to Europe. 
"We are excited to see the demand for river cruising coming back so strong and are delighted to share that we will be launching our 2024 season in Europe with special cruises on the Rhine and Danube rivers starting February 11, giving our guests the opportunity to enjoy Europe during the month of love," said Kristin Karst, executive vice president and co-founder of AmaWaterways. "The end of winter is one of the most exquisite times to visit Europe. Airfares are lower and with fewer tourists, there is more space to truly embrace the magic of these regions that feature great museums and art galleries plus winter carnivals celebrated in many parts of Germany." 
On February 11, 2024, the AmaWaterways flagship AmaMagna will set sail along the Danube River through the heart of the continent, cruising from Budapest, Hungary to Vilshofen, Germany. Reminiscent of the romance of Old World Europe, the Magna on the Danube itinerary takes travelers through grand European cities like Vienna, Bratislava and Budapest to indulge in seven nights of splendor. Guests can look forward to epicurean experiences with AmaMagna's four restaurants as well as tasty events on shore like an apricot brandy and chocolate tasting in Dürnstein and an exclusive wine festival in Spitz. In addition, travelers celebrating the month of love will enjoy exploring less crowded cities and the opportunities to sneak away to Budapest's thermal spas or Vienna's beautiful ice-skating rinks. Onboard the state-of-the-art ship, guests can relax in the heated Sun Deck pool and whirlpool, participate in various exercise and relaxation classes led by AmaWaterways' dedicated Wellness Host, play a round of pickleball at the ship's new onboard court, enjoy a soothing onboard massage or salon service at the spacious Zen Wellness Studio, and much more. Travelers also have the opportunity to extend their river cruise experience with pre- or post-cruise land packages in Budapest or Prague fully escorted by AmaWaterways' Cruise Managers.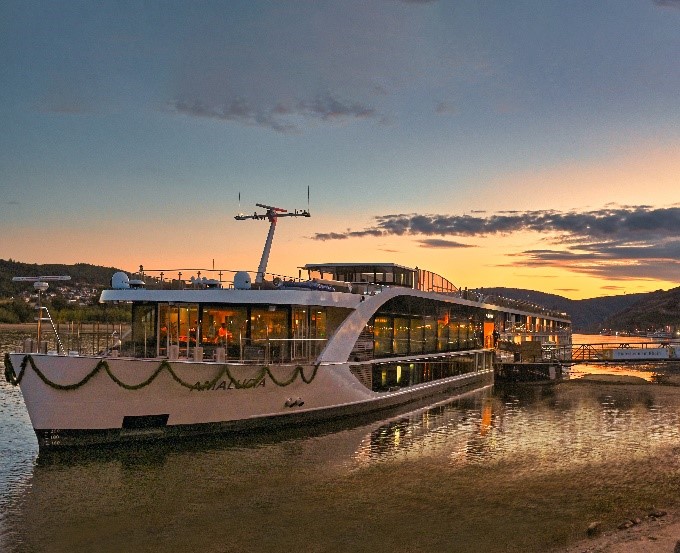 Travelers dreaming of a romantic rendezvous on the Rhine River can enjoy a seven-night escape aboard AmaWaterways' award-winning ship, AmaLucia, in February. The Captivating Rhine and Enchanting Rhine itineraries will sail between Amsterdam and Basel starting February 11, 2024. Throughout the picturesque voyage from Amsterdam's colorful canals to the majestic Swiss Alps, guests will be enamored by views of vineyard-clad hills, charming fabled towns and local flavors such as Rüdesheimer coffee and Kölsch beer. Both itineraries allow guests to extend their journeys through pre- and post-cruise land packages in Lake Lucerne, Zurich and Amsterdam. 
"We introduced our first-ever Christmas Market River Cruises over 15 years ago and many had their doubts about Europe being an attractive winter river cruising destination for North Americans. However, our holiday itineraries have become some of our most sought out experiences," said Rudi Schreiner, president and co-founder of AmaWaterways. "As a leading innovator in the river cruise industry, we are proud to offer travelers unexpected opportunities to fully immerse themselves in a destination and next February, we are pleased to present the chance to experience Europe in yet another unique way."
With the extended 2024 season, travel advisors have additional opportunities to boost their earnings and when reserved by March 31, 2023, clients can take advantage of Early Booking Rewards with 5% cruise savings on balcony staterooms and suites on select 2024 Europe, Asia and Egypt sailings. 
To book an AmaWaterways river cruise for a client, call 1-800-626-0126 or visit AmaWaterways.com. Follow AmaWaterways on Facebook at Facebook.com/AmaWaterways, Instagram @AmaWaterways, Twitter @AmaWaterways, and YouTube at YouTube.com/AmaWaterways. 
# # #
MEDIA NOTE: Hi-res image can be found HERE.
About AmaWaterways
Family-owned and operated for 20 years, AmaWaterways offers unparalleled river cruise experiences with 26 custom-designed ships sailing Europe's Danube, Douro, Rhine, Moselle, Main, Rhône, Saône, Seine, Garonne and Dordogne Rivers, and Dutch and Belgian Waterways; Southeast Asia's Mekong River; Africa's Chobe River; Egypt's Nile River and Colombia's Magdalena River (2024). Co-founded by pioneering river cruise executives Rudi Schreiner, Kristin Karst and Jimmy Murphy, the company is renowned for its warm and welcoming crew; innovative and sustainable ship design; wellness activities (including a wide choice of included small group shore excursions featuring biking and hiking options); and award-winning, locally sourced cuisine paired with complimentary fine wine. Modern, spacious and tastefully decorated, most AmaWaterways ships welcome an average of just 150 guests and feature onboard amenities such as a stunning Main Lounge, specialty Chef's Table restaurant, hair and massage salons, Sun Deck walking track, and heated outdoor swimming pools with swim-up bars. AmaWaterways leads the river cruise industry in innovation, highlighted by the launch of the revolutionary AmaMagna, and the introduction of the history-making Seven River Journey itineraries. The company also offers a variety of themed sailings and brand relationships, with sailings geared towards active travelers and families, as well as group and charter options.
With the highest-rated ships in Europe according to Insight Guide: River Cruising in Europe & the USA, AmaWaterways has received countless honors and accolades including Virtuoso's 2022 Luminaries, Legends and Leaders Award for "Best River Cruise Line" and the American Society of Travel Agents (ASTA) 2022 "River Cruise Line Partner of the Year" (seven years running). In addition, 20 ships in AmaWaterways' European fleet have received the prestigious Green Award certification for industry-leading safety, quality and environmental performance.
MEDIA CONTACT: 
Becca Maroney
203-807-3450 or [email protected]