Leading River Cruise Company Marks Earth Day by Announcing New Efforts to ''Invest in Our Planet''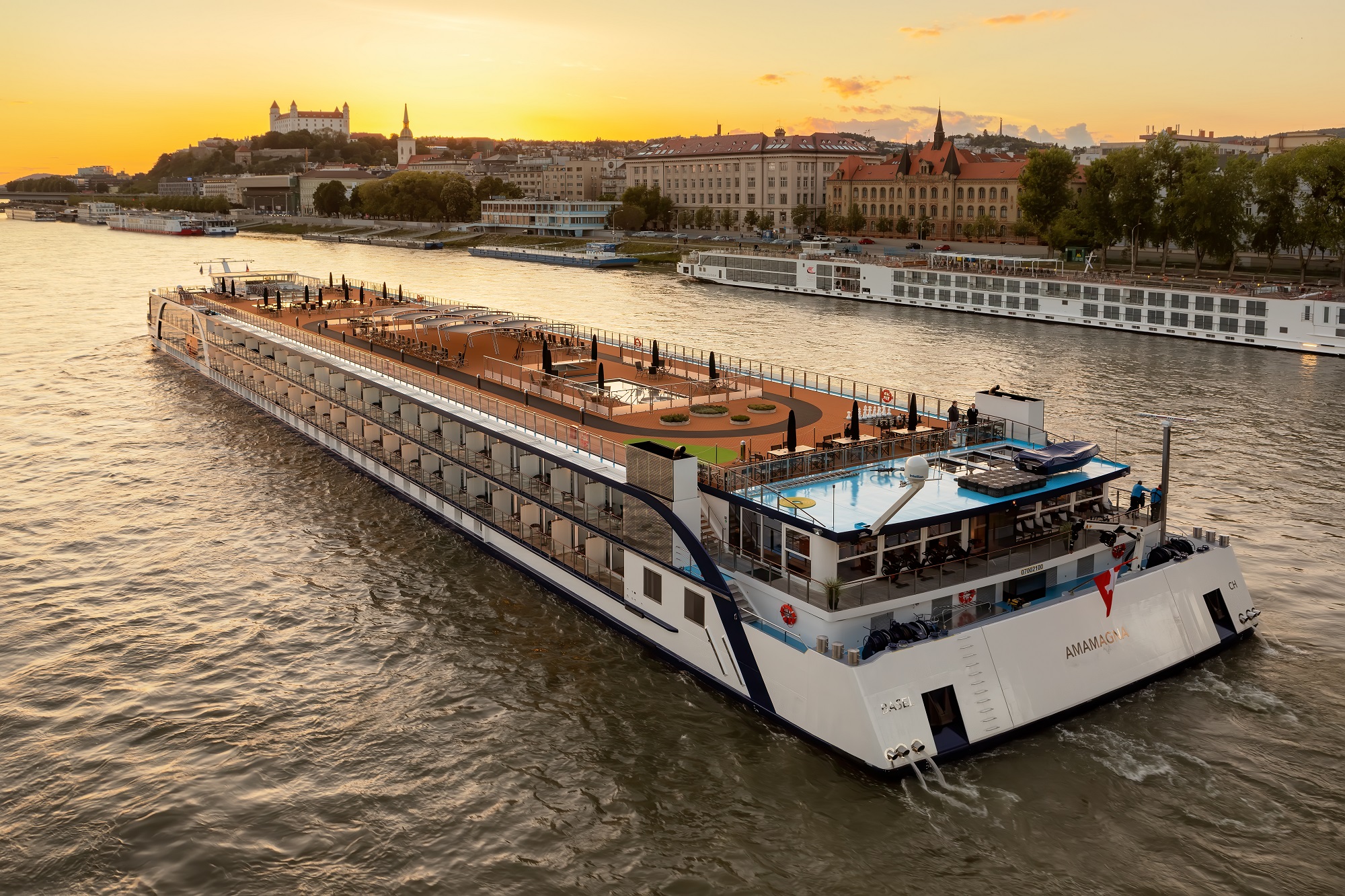 CALABASAS, Calif. – (April 18, 2023) – Award-winning river cruise line AmaWaterways today shared details of its continued efforts to explore new tools designed to enhance the sustainability of river cruising by minimizing fuel consumption. As a leading industry innovator, AmaWaterways is committed to finding new ways to reduce its environmental footprint including the use of solar panels on board its ships, testing navigation assistance tools to optimize fuel consumption, the reduction of paper on board through the MyAmaCruise app and tackling the important issue of food waste. 
''Sustainability is the top and ever-present responsibility of every company in the travel industry,'' Rudi Schreiner, co-founder and president of AmaWaterways, said. ''Each of our ships and every itinerary we operate is thoughtfully designed to minimize fuel consumption, but the impact we have on the local communities is also of utmost importance to us. We are currently building our two newest ships in Colombia and are proud to be working hand in hand with local architects, designers and suppliers to ensure we are not only properly incorporating and honoring this beautiful destination's natural resources and culture but also enhancing the lives of the local residents along the Magdalena River as many of these communities will be opening up to international visitors for the first time." 
In 2019, the AmaWaterways AmaKristina, was the first river cruise ship in the industry to receive the prestigious Green Award, which recognizes ships in Europe for their quality, safety and environmental performance. Since then, another 19 river cruise ships in the AmaWaterways European fleet have earned the Green Award certification.
This year, the innovative AmaMagna will welcome a brand-new feature: solar panels on the awnings of select staterooms, which will reduce fuel consumption related to heating and cooling of staterooms. A new River Track Pilot navigation system is also being tested on several ships to further optimize fuel use based on riverbed configuration and current conditions. Additionally, AmaWaterways is tackling the growing concern on food waste and has replaced breakfast and lunch buffets with full service a la carte menus, which is expected to reduce food waste by up to 30% while providing a higher level of service for guests. 
While operating sustainable, environmentally friendly ships is fundamental to AmaWaterways, both Zambezi Queen and AmaMagna go above and beyond with eco-friendly features. Zambezi Queen, which explores the Chobe River in Africa, uses a five-stage water purification plant, employing river water in the showers and tap aboard. The ship's water jet propulsion system replaces a conventional system, ensuring there is no damage to the riverbed. Throughout the night, the ship operates on battery power and only low-emission generators run throughout the day. AmaMagna operates on a 10-engine diesel/electronic hybrid system, a first for the river cruise industry, that allows for less fuel usage and reduces noise levels. Even though the revolutionary ship is twice the width of traditional river cruise ships, this new configuration of the engines is capable of reducing fuel consumption by up to 20% depending on river conditions. 
Since its creation more than 20 years ago, AmaWaterways has always focused on connecting with the communities visited and making a positive impact through employment opportunities, as well as using local service providers whenever possible. AmaWaterways is also the proud sponsor of the ODA Free Village English School in Siem Reap, Cambodia, established in 2011, as well as a financial support to Kliptown Youth Program in Johannesburg, South Africa, offering academic tutoring and arts programs to help enable local youth to rise out of poverty. 
"From the design of our ships to the green measures we've taken on board and shoreside, AmaWaterways continues to explore new ways to enhance our efforts in sustainable tourism," Kristin Karst, co-founder and executive vice-president of AmaWaterways, said. "It has always been essential to us to protect the waterways we sail upon and enhance the communities we visit through collaboration on developing tourism projects, like our weekly Oktoberfest in Vilshofen, Germany or our exclusive wine event in Spitz, Austria. We are proud of our Green Awards and we will keep building each new ship and itinerary with sustainability and community enrichment in mind." 
To book an AmaWaterways river cruise for a client, call 1-800-626-0126 or visit AmaWaterways.com. Follow AmaWaterways on Facebook at Facebook.com/AmaWaterways, Instagram @AmaWaterways, Twitter @AmaWaterways, and YouTube at YouTube.com/AmaWaterways. 
# # #
MEDIA NOTE: Hi-res images can be found HERE.
About AmaWaterways
Family-owned and operated for more than 20 years, AmaWaterways offers unparalleled river cruise experiences with 28 custom-designed ships sailing Europe's Danube, Douro, Rhine, Moselle, Main, Rhône, Saône, Seine, Garonne and Dordogne Rivers, and Dutch and Belgian Waterways; Southeast Asia's Mekong River; Africa's Chobe River; Egypt's Nile River and Colombia's Magdalena River (2024). Co-founded by pioneering river cruise executives Rudi Schreiner, Kristin Karst and Jimmy Murphy, the company is renowned for its warm and welcoming crew; innovative and sustainable ship design; wellness activities (including a wide choice of included small group shore excursions featuring biking and hiking options); and award-winning, locally sourced cuisine paired with complimentary fine wine. Modern, spacious and tastefully decorated, most AmaWaterways ships welcome an average of just 150 guests and feature onboard amenities such as a stunning Main Lounge, specialty Chef's Table restaurant, hair and massage salons, Sun Deck walking track, and heated outdoor swimming pools with swim-up bars. AmaWaterways leads the river cruise industry in innovation, highlighted by the launch of the revolutionary AmaMagna, and the introduction of the history-making Seven River Journey itineraries. The company also offers a variety of themed sailings and brand relationships, with sailings geared towards active travelers and families, as well as group and charter options. 
MEDIA CONTACT:
Becca Maroney or Lily Dyrsten
203-807-3450 or [email protected]