AMAWATERWAYS INTRODUCES NEW OFFER AND EXTENDS BOOKING DEADLINE ON MOST POPULAR OFFERS FOR SELECT 2021/22 RIVER CRUISES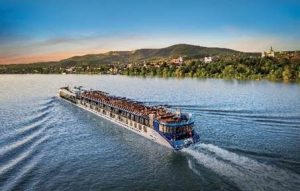 The Luxury River Cruise Line Extends Booking Deadline Through the End of 2020 on Free Roundtrip Airfare and Early Booking Rewards
CALABASAS, CA – (October 13, 2020) – For travelers yearning for unforgettable vacations, leading river cruise line AmaWaterways today announced a new Solo Traveler offer and the extension of special offers for travel in 2021 and 2022. Guests can book with confidence before December 31, 2020 and take advantage of incredible savings, including Free Roundtrip Airfare* for select 2021 European river cruises and a 5 percent Early Booking Reward* for highly sought-after 2022 Europe, Mekong and Egypt itineraries.
"We are thrilled to extend these special offers through the end of the year, providing guests with more time to plan and save on their future river cruise vacations," said Kristin Karst, executive vice president and co-founder of AmaWaterways. "With many celebrations and special events postponed this year, an AmaWaterways river cruise with loved ones makes the perfect holiday gift that keeps on giving, with memories that will be cherished for a lifetime!"
2021 Offers
AmaWaterways' limited-time offers are now available on a variety of curated itineraries and beautifully appointed ships, including the line's newest additions, AmaSiena and AmaLucia. Whether choosing complimentary flights with the Free Roundtrip Airfare* or the $2,999 per person Upgrade to Business Class*, both offers give guests added convenience of one-stop shopping and peace of mind by booking air, exclusive airport transfers* and river cruise through one trusted source. Guests also have the option of Free Companion Air* on an additional selection of 2021 sailings.
Newly announced for solo travelers, AmaWaterways is pleased to offer for a limited time a reduced 25 percent single supplement** on spacious balcony staterooms, available on select 2021 sailings through its Solo Travelers Special.
2022 Offers
The 2022 Early Booking Reward allows guest to save 5 percent on select Europe and Mekong river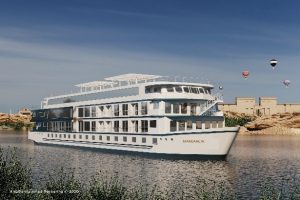 cruises, including those onboard the revolutionary AmaMagna. In September 2021, AmaWaterways will debut the luxurious AmaDahlia (pictured right) on the Nile river, and now guests who book a 2022 Egypt river cruise can receive a 5 percent cruise savings on balcony staterooms and suites on select sailings.
Additional offers, including Enhanced Group Savings and Holiday Triple Savings, are available on select 2021 and 2022 sailings.
Finally, for those travelers choosing to book before December 31, 2020, AmaWaterways is giving additional flexibility with its limited time special Travel Waiver Plus* program. Guests who purchase the Travel Waiver Plus can book with added peace of mind that they may cancel their river cruise vacation for any reason up to 24-hours in advance of their AmaWaterways' booked services.
*Offers are valid on select sailings with reservations made through December 31, 2020. ** Not combinable with other retail offers and not applicable on certain stateroom categories. Other conditions apply. Check the website for full details.
To view a full list of AmaWaterways' offers, visit AmaWaterways.com/Special-Offers. To book an AmaWaterways river cruise, contact your preferred Travel Advisor, visit AmaWaterways.com or call 1.800.626.0126. Follow AmaWaterways on Facebook at Facebook.com/AmaWaterways, Instagram @AmaWaterways, Twitter @AmaWaterways, and YouTube at YouTube.com/AmaWaterways.
About AmaWaterways
A family-owned company celebrating 18 years on the river, AmaWaterways offers unforgettable river cruises with 25 ships sailing Europe's Danube, Rhine, Moselle, Main, Rhône, Saône (2021), Seine, Garonne, Dordogne, Dutch and Belgian Waterways and Douro Rivers, Asia's Mekong and Africa's Chobe and Nile Rivers (2021). Led by experienced river cruise co-founders Rudi Schreiner and Kristin Karst, the company is renowned for its innovative stateroom design featuring unique "twin balconies;" its wellness activities including a wide choice of included shore excursions featuring biking and hiking options for the active traveler; and its award-winning dining—including The Chef's Table specialty restaurant as well as complimentary fine wine, beer and soft drinks with lunch and dinner. Modern, spacious and tastefully decorated, each ship features onboard amenities such as hair and massage salons and a fitness room, and many have heated outdoor swimming pools with swim-up bars. AmaWaterways leads the river cruise industry in innovation highlighted with the launch of AmaMagna, which at twice the width of traditional river ships, offers a new dimension in luxury river cruising. The company also offers a variety of themed sailings and brand relationships, with sailings geared towards active travelers and families as well as group and charter options.
With the highest-rated ships in Europe according to the third edition of Berlitz: River Cruising in Europe & the USA, AmaWaterways has received countless honors and accolades including Cruise Critic's 2019 Editor's Pick Award for "Best River Cruise Line" and "Best for Active Cruisers," 2018 AFAR Reader's Choice Award for "Best River Cruise Line" and inclusion of AmaMagna in 2019 TIME "World's Greatest Places." In addition, 18 river cruise ships in its European fleet have earned the Green Award certification, recognized for industry-leading safety, quality and environmental performance.
# # #
MEDIA CONTACTS:
Samantha Jacobs or Carter Long, Hemsworth Communications
(678) 631-9974 or [email protected]
This message was sent to [email protected]
Hemsworth Communications
1510 SE 17th Street, Suite 200A
Fort Lauderdale, FL 33316