Leading River Cruise Company Prepares to Debut 24th Ship, AmaSiena; Year Ahead to Feature Unique Itineraries and New Land Extensions,
Providing Unforgettable River Cruise Vacations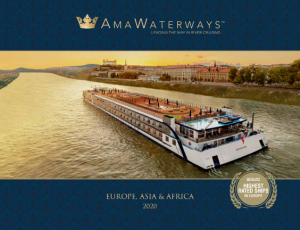 CALABASAS, CA – (August 20, 2019) – Highly acclaimed, award-winning luxury river cruise line AmaWaterways today launched its 2020 Europe, Asia & Africa Extensive Brochure. Following a record-breaking year in 2019, the company continues to innovate with another new ship, AmaSiena, along with the addition of unique itineraries and new land extensions – including an itinerary specifically curated for the revolutionary AmaMagna.
"We are always looking to innovate and add new offerings and experiences to surpass the expectations of our guests, and 2020 will be yet another amazing year," said Kristin Karst, executive vice president and co-founder of AmaWaterways. "With a new ship, new itineraries and a continued focus on personalizing our guest experience, our loyal returning guests and first-time river cruisers have even more ways to explore the fascinating regions along some of the most iconic rivers in Europe, South East Asia and Africa!"
New Ship, AmaSiena, Launching July 2020
AmaWaterways will expand its fleet with the addition of its 24th ship arriving in July 2020, the elegant 156-passenger AmaSiena. Set to sail along the legendary Rhine, breathtaking Moselle and peaceful Main rivers, AmaSiena will be a warm, inviting ship offering plenty of space for guests to unwind. Sister ship to AmaMora (2019) AmaLea (2018) and AmaKristina (2017), AmaSiena will feature AmaWaterways' signature twin-balcony staterooms, a choice of dining venues including the intimate Chef's Table Restaurant, a Sun Deck walking track, a pool with swim-up bar and a fitness room.  As part of AmaWaterways' popular Wellness Program, guests will also be able to join group exercise classes – including morning stretches, core strengthening and resistance band workouts – led by a professionally trained onboard Wellness Host.
"The diversity of countries and iconic cities visited during our Danube and Rhine itineraries attract many first-time river cruisers and I am pleased we have another beautiful new ship, AmaSiena, launching in 2020 to keep up with the growing demand," said Rudi Schreiner president and co-founder of AmaWaterways. "Destinations like Portugal, Bordeaux and Vietnam and Cambodia are particularly appealing to past guests who appreciate the cruise experience as well as the pre- and post-cruise land programs we offer. Launching a new ship on the Douro last year has helped us better meet their travel wishes in 2020."
Three New Itineraries, Including Sailings on the Revolutionary AmaMagna
In 2020, AmaWaterways will offer new opportunities for travelers to explore the historical landmarks, breathtaking sceneries and culinary delights along some of the most beautiful rivers in Europe with the addition of three new itineraries, including:
A seven-night Magna on the Danube itinerary specifically designed for the revolutionary AmaMagna, which made her anticipated debut in 2019. This beautifully curated itinerary will indulge guests' passion for awe-inspiring architecture, timeless music, stunning landscapes and culinary excellence. Unique aspects of this itinerary include daytime cruising through the Danube Bend, an included excursion at Schönbrunn Palace and Gardens in Vienna and an exclusive wine festival in Spitz, Austria (pictured right). In addition, AmaMagna will offer four departures to the lower Danube sailing between Budapest, Hungary and Giurgiu, Romania with a land program extension to Bucharest and Istanbul.
A seven-night Treasures of the Main & Rhine itinerary on board AmaDante and the new AmaSiena sailing from Nuremberg to Amsterdam taking guests through storybook scenery and iconic landmarks as well as through the locks of Main-Danube Canal. This new itinerary will be perfectly packaged with an optional three-night pre-cruise land program in Prague, the "Golden City of a Hundred Spires."
A Vineyards of the Rhine & Moselle itinerary on board AmaDante and AmaSiena sailing from Amsterdam to Luxemburg. Guests can add a two-night stay in Amsterdam before embarking on a seven-night cruise through the UNESCO-designated Rhine and vineyard-clad Moselle valleys. Other scenic stops include the charming villages of Rüdesheim, Cochem and Bernkastel before ending the cruise with an optional three-night extension in Paris, the "City of Lights."
To meet the growing demand for its popular Specialty Wine Cruises, AmaWaterways has announced more than 65 hosted wine-themed cruises for 2020, including sailings on the new Magna on the Danube, Treasures of the Main & Rhine and Vineyards of the Rhine & Moselle itineraries. On all these special cruises, guests will enjoy onboard lectures and wine tastings led by celebrated wine experts and shore excursions with engaging epicurean experiences allowing guests to forge a deep personal connection with the distinctive flavors of Europe.
New Land Extensions Offering Further Personalization of River Cruising
Furthering its commitment to giving guests the opportunity to personalize their luxury river cruise vacation, AmaWaterways will yet again enhance its pre- and post-cruise land programs in 2020, offering truly immersive experiences escorted by AmaWaterways' Cruise Managers and including accommodations in top-rated hotels. New 2020 land extensions include:
Istanbul, Turkey – Those on board the Gems of Southeast Europe and Grand Danube itineraries will now have the choice of a new three-night land extension in Istanbul, Turkey as an alternative to a four-night land extension in Bucharest and Brasov. The new extension in Istanbul takes guests through the cultural landscape highlighting the most iconic spots and the history behind the city, as well as a tour of the legendary Topkapi Palace.
Nice, France – On the Colors of Provence and Spain itinerary, a new three-night land extension in Nice, France will also be offered as an alternative to a three-night land extension in Barcelona. With the Nice extension, guests can explore the French Riviera, including visits to the stunning Aix-en-Provence, Monaco and Monte Carlo.
Bangkok, Thailand – Available on both the Riches of the Mekong and Charms of the Mekong itineraries, travelers will also be able to take advantage of a new three-night land extension in Bangkok, Thailand. After discovering Vietnam and Cambodia, this unforgettable land program in Thailand's capital, allows guests to discover architectural riches from the Grand Palace and Temple of the Emerald Buddha, as well as incredible museums and colorful markets.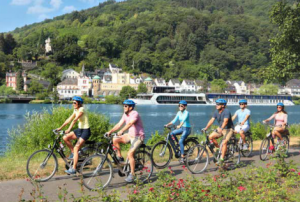 Choose Up to $2,000 Savings Per Stateroom or Free Air for Booking Early
Travelers wishing to get the itinerary, ship, stateroom category, and departure date of their choice are encouraged to book their 2020 river cruise vacations now for a savings of up to $2,000 per stateroom on select departures. AmaWaterways is also offering free roundtrip airfare to Europe on select 2020 sailings. Both offers* are combinable with Past Guest Savings and must be booked by September 30, 2019.
To view or download AmaWaterways' 2020 Extensive Brochure visit AmaWaterways.com. To request a copy of the new 193-page brochure, contact your preferred Travel Advisor, order online or call 1.800.626.0126.
Follow AmaWaterways on Facebook at Facebook.com/AmaWaterways, Instagram @AmaWaterways and Twitter @AmaWaterways.
*see website for full terms & conditions.
About AmaWaterways 
A family-owned company celebrating 17 years on the river, AmaWaterways offers unforgettable river cruises with 24 ships sailing Europe's Danube, Rhine, Moselle, Main, Rhône, Seine, Garonne, Dordogne, Dutch and Belgian Waterways and Douro Rivers, Southeast Asia's Mekong and Africa's Chobe River.  Led by experienced river cruise co-founders Rudi Schreiner and Kristin Karst, the company is renowned for its innovative stateroom design featuring unique "twin balconies"; its wellness activities including a wide choice of included shore excursions featuring biking and hiking options for the active traveler; and its award-winning dining—including The Chef's Table specialty restaurant as well as complimentary fine wine, beer and soft drinks with lunch and dinner. Modern, spacious and tastefully decorated, each ship features onboard amenities such as hair and massage salons and a fitness room, and many have heated outdoor swimming pools with swim-up bars. AmaWaterways leads the river cruise industry in innovation highlighted with the launch of AmaMagna – at twice the width of traditional river ships, this revolutionary ship offers a new dimension in luxury river cruising. The company also offers a variety of themed sailings and brand relationships, with sailings geared towards active travelers and families as well as group and charter options.
With the highest-rated ships in Europe according to the third edition of Berlitz: River Cruising in Europe & the USA, AmaWaterways has received countless honors and accolades including Cruise Critic's Editor's Pick Award for "Best for Active Cruisers" and 2018 AFAR Reader's Choice Award for "Best River Cruise Line."  
# # #
MEDIA CONTACT:
Samantha Jacobs/Carter Long, Hemsworth Communications
(678) 631-9974 or [email protected]
This message was sent to [email protected]
Hemsworth Communications
1510 SE 17th Street, Suite 200A
Fort Lauderdale, FL 33316