Top-Booked River Cruises Itineraries Include France, Portugal, Egypt's Fascinating Nile River and Celebrations Like Floriade in The Netherlands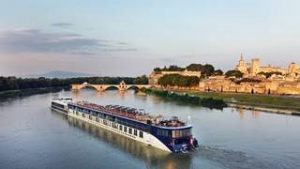 Calabasas, Ca. – (March 18, 2022) – AmaWaterways is welcoming the arrival of its 2022 European season with strong reservations and easing of entry requirements signaling a rebound of international travel. The extraordinary AmaMagna on the Danube River became the first of its 21-ship European fleet to start the spring season on March 6th in Budapest. The launch of the new season in Europe continues from March 17th onward with five ships dedicated to the popular Tulip Time cruises, five ships cruising the scenic rivers of France and another ten ships welcoming guests on the Rhine, Moselle, Danube and Douro rivers. With an average of fewer than 150 guests on board, an abundance of personal space and a personalized way of experiencing some of the world's most fascinating destinations, AmaWaterways is experiencing a strong growth in demand from both returning guests and travelers new to river cruising.
"After missing many celebrations with family and friends over the past two years, there is incredible pent-up demand, with travelers anxious to pack their bags and start fulfilling their travel 'must do' list," said Kristin Karst, executive vice president and co-founder of AmaWaterways. "A desire to step away from the day-to-day and reconnect with the world is driving demand for longer cruises, itineraries that include exclusive events and those that take guests to more exotic destinations like on our 11-night Secrets of Egypt & The Nile cruise and land itinerary, our Mekong River cruises or our Africa Safaris & Wildlife cruises."
Highlights of AmaWaterways' 2022 European season include:
An Excursion to Floriade on Nine Different River Cruise Itineraries
A highlight this year for all guests embarking or disembarking their river cruise in Amsterdam is a visit to the once-in-a-decade horticultural event, Floriade Expo. The flourishing city district of Almere will host The Netherlands' largest public event with the theme "Growing Green Cities." This expo features stunning gardens, innovative sustainable gardening exhibits, live entertainment and food stalls while encouraging visitors to "explore, touch and change" as part of their journey through Floriade.
Between April 14 and October 9, 2022, AmaWaterways guests have the opportunity to visit Floriade as a complimentary excursion on several distinctive river cruise itineraries sailing along the Rhine and Dutch and Belgian Waterways, including:
Immersive Experiences in France and Portugal
River cruising in France has added appeal this year with five ships on four rivers and turnaround days on Thursdays contributing to the ease of combining itineraries for longer more immersive stays exploring the diverse food, wine and culture of the different regions. In high demand is the award-winning AmaKristina, the only twin-balcony ship in France, cruising for her first full season on the Rhône River between Lyon and Avignon. Also extremely popular are Portugal cruises on board AmaDouro and sister ship AmaVida, which kick off the Douro River sailings on March 26th.
Discovery of Egypt's Nile River On Board AmaWaterways' Newest River Cruise Ship
A unique experience for 2022 is the Secrets of Egypt & The Nile itinerary on board AmaDahlia, which debuted this past fall. Guests travel through the heart of Egypt as they experience the Nile's life-giving waters and discover the ancient treasures that line its banks. Guided by our Egyptologists, guests visit legendary locations like the Great Hypostyle Hall of Karnak, the beguiling Temple of Luxor, and the mystifying Valley of the Kings and Queens, as well the exclusive private access to the Tomb of Queen Nefertari and a fascinating Nubian village. While in Cairo staying at the luxurious Four Seasons Cairo at the First Residence, they come face-to-face with Egyptian treasures like the sole survivor of the Seven Wonders of the Ancient World – the 4,000-year-old Great Sphinx and three Pyramids of Giza; the Egyptian Museum, featuring the exquisite collections of King Tut; and a private tour and lunch at the Abdeen Presidential Palace, considered one of the most luxurious palaces in the world.
Unforgettable Journeys with Ancestry® Heritage River Cruises, Wine River Cruises and More
AmaWaterways' 2022 season includes unforgettable journeys on 15 rivers in 31 destinations for returning guests and new-to-river cruisers seeking an intimate, luxurious escape. Whether looking to celebrate the festive holiday season with family and friends, embark on an extended journey to celebrate one of life's milestone events, discover more about one's personal heritage during a genealogist hosted Rhine cruise with Ancestry.com, or indulge a new found interest during one of 60 Celebration of Wine cruises, AmaWaterways' 2022 program features a variety of options to suit all types of travelers.
With a focus on flexibility, innovation and customer care, AmaWaterways was one of the few river cruise lines to successfully sail Europe's iconic rivers until the completion of the 2021 Christmas Markets cruises. The luxury line has continued to display unwavering loyalty to its guests, and important travel advisor partners who have supported the company since it was founded 20 years ago.
"Whether traveling solo, as a couple or with a group of family and friends, our crew can hardly wait to welcome new and returning guests on board this year as we mark our 20 years on the rivers," said Karst. "An AmaWaterways river cruise offers endless opportunities for guests to re-connect while exploring dream destinations with convenience and peace of mind!"
For more information or to book an AmaWaterways river cruise for a client, visit AmaWaterways.com or call 1.800.626.0126. Follow AmaWaterways on Facebook at Facebook.com/AmaWaterways, Instagram @AmaWaterways, Twitter @AmaWaterways, and YouTube at YouTube.com/AmaWaterways.
MEDIA NOTE: Hi-res versions of the images in this release can be found HERE.
About AmaWaterways
Family-owned and operated for almost 20 years, AmaWaterways offers unparalleled river cruise experiences with 26 custom-designed ships sailing Europe's Danube, Douro, Rhine, Moselle, Main, Rhône, Saône, Seine, Garonne and Dordogne Rivers, and Dutch and Belgian Waterways; Southeast Asia's Mekong River; Africa's Chobe River; Egypt's Nile River and Colombia's Magdalena River (2024).Co-founded and led by pioneering river cruise executives Rudi Schreiner and Kristin Karst, the company is renowned for its extraordinarily warm and welcoming crew; innovative and sustainable ship design; its wellness activities including a wide choice of included small group shore excursions featuring biking and hiking options; and its award-winning, locally sourced cuisine with complimentary fine wine. Modern, spacious and tastefully decorated, most ships welcome an average of just 150 guests and feature onboard amenities such as a stunning Main Lounge, specialty Chef's Table restaurant, hair and massage salons, a Sun Deck walking track with heated outdoor swimming pools with swim-up bars. AmaWaterways leads the river cruise industry in innovation highlighted with the launch of the revolutionary AmaMagna, and the introduction of the history-making Seven River Journey itineraries. The company also offers a variety of themed sailings and brand relationships, with sailings geared towards active travelers and families as well as group and charter options.
With the highest-rated ships in Europe according to the third edition of Berlitz: River Cruising in Europe & the USA, AmaWaterways has received countless honors and accolades including Travel + Leisure's 2020 World's Best Award for "Best River Cruise Line" and Departures' 2020 Legend Award for "Best Luxury Cruising Experiences This Year." In addition, 20 ships in AmaWaterways' European fleet have received the prestigious Green Award certification for industry-leading safety, quality and environmental performance.
# # #
MEDIA CONTACT:
Hemsworth Communications
(954) 716-7614 or [email protected]