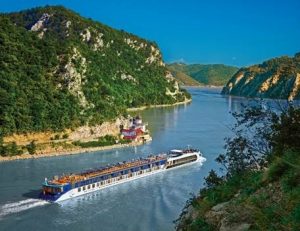 AMAWATERWAYS NAMED 'BEST RIVER CRUISE LINE' IN PORTHOLE CRUISE MAGAZINE'S 2020 READERS' CHOICE AWARDS
Avid Cruisers Recognize Luxury River Cruise Line Unwavering Dedication to Guests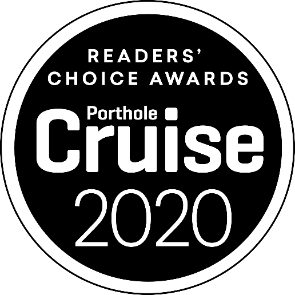 CALABASAS, CA – (November 12, 2020) – AmaWaterways today proudly announced it received the award for "Best River Cruise Line" in Porthole Cruise Magazine's 2020 Readers' Choice Awards. Recognized for unparalleled guest experiences, the award-winning company was distinguished by Porthole Cruise readers as the leader in the river cruise industry. Despite travel restrictions that resulted in the suspension of the regular 2020 season, AmaWaterways has been applauded for its proactive guest communication, flexibility in rescheduling disrupted trips, engagement with guests and travel advisors through interactive, virtual Cruise Nights and "Sip & Sail" events hosted by company executives as well as more than 50 inspirational YouTube videos designed for those planning or dreaming of their next river cruise vacation.
"We are incredibly honored to be named Best River Cruise Line by the passionate and knowledgeable readers of Porthole Cruise Magazine," said Kristin Karst, executive vice president and co-founder of AmaWaterways. "Our goal is always to curate personal experiences that create cherished memories for our guests that last a lifetime, and our friendly crew are devoted to ensuring that each person who sails with AmaWaterways receives outstanding service, delicious cuisine and expert knowledge of the fascinating countries we sail through. We are thrilled to see the love that we pour into each river cruise being recognized with this award and we can't wait to welcome our guests back onboard in 2021 to create new memories with us!"  
While the past year has delivered unexpected challenges for the travel industry, AmaWaterways' position as a strong, family-owned and debt-free company has allowed it to continue looking ahead and creating innovative and in-demand river cruise experiences for its guests. As the only U.S.-based river cruise line to successfully complete a special series of European sailings with enhanced healthy and safety measures in place during 2020, AmaWaterways is uniquely prepared to deliver safe and enriching experiences once travel restrictions are lifted and the regular river cruise season resumes next year.
Elegantly appointed ships, unparalleled service and luxurious amenities will continue to distinguish AmaWaterways in 2021 as the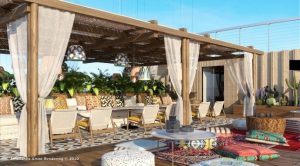 leading river cruise line debuts three new ships. Sister ships AmaLucia and AmaSiena will join the Green Award-Certified European fleet sailing the Rhine, Main and Moselle rivers and will feature connecting staterooms, generous personal space and onboard restaurants serving regionally sourced cuisine. The newly designed AmaDahlia will mark the award-winning line's return to the Nile when she debuts in September 2021 sailing the 11-night The Secrets of Egypt & the Nile itinerary. Designed to accommodate 68 guests, this intimate ship will boast a wealth of amenities including a heated sun deck swimming pool, outdoor dining venue (rendering picture right) and The Chef's Table specialty restaurant.
In its 22nd year, the annual Porthole Cruise Readers' Choice Awards recognize top cruise lines, ships and destinations in numerous cruise-related categories. Each year, thousands of readers and online fans vote for their favorites in each category, and winners are announced in the November/December issue of the publication. Although this year has looked different for the travel industry, Porthole Cruise readers were able to stay informed on the latest happenings and regulations and made decisions based on a variety of factors, including how companies adapted and dealt with the pandemic and communication efforts throughout the suspended sailing season.
"Every year I get a renewed appreciation for the Readers' Choice Awards as our readers continue to prove themselves discerning travelers with stunningly high standards," says Bill Panoff, editor-in-chief of Porthole Cruise Magazine. "For AmaWaterways to be voted the Best River Cruise Line in the 2020 Readers' Choice Awards speaks volumes about the AmaWaterways onboard experience and the ability of the line to exceed our readers' expectations."
MEDIA NOTE: High-res versions of the images in this release can be found HERE.
To book an AmaWaterways river cruise, contact your preferred Travel Advisor, visit AmaWaterways.com or call 1.800.626.0126. Follow AmaWaterways on Facebook at Facebook.com/AmaWaterways, Instagram @AmaWaterways, Twitter @AmaWaterways, and YouTube at YouTube.com/AmaWaterways.
About AmaWaterways
A family-owned company celebrating 18 years on the river, AmaWaterways offers unforgettable river cruises with 25 ships sailing Europe's Danube, Rhine, Moselle, Main, Rhône, Saône (2021), Seine, Garonne, Dordogne, Dutch and Belgian Waterways and Douro Rivers, Asia's Mekong and Africa's Chobe and Nile Rivers (2021).  Led by experienced river cruise co-founders Rudi Schreiner and Kristin Karst, the company is renowned for its innovative stateroom design featuring unique "twin balconies;" its wellness activities including a wide choice of included shore excursions featuring biking and hiking options for the active traveler; and its award-winning dining—including The Chef's Table specialty restaurant as well as complimentary fine wine, beer and soft drinks with lunch and dinner. Modern, spacious and tastefully decorated, each ship features onboard amenities such as hair and massage salons and a fitness room, and many have heated outdoor swimming pools with swim-up bars. AmaWaterways leads the river cruise industry in innovation highlighted with the launch of AmaMagna, which at twice the width of traditional river ships, offers a new dimension in luxury river cruising. The company also offers a variety of themed sailings and brand relationships, with sailings geared towards active travelers and families as well as group and charter options.
With the highest-rated ships in Europe according to the third edition of Berlitz: River Cruising in Europe & the USA, AmaWaterways has received countless honors and accolades including Cruise Critic's 2019 Editor's Pick Award for "Best River Cruise Line" and "Best for Active Cruisers," 2018 AFAR Reader's Choice Award for "Best River Cruise Line" and inclusion of AmaMagna in 2019 TIME "World's Greatest Places." In addition, 18 river cruise ships in its European fleet have earned the Green Award certification, recognized for industry-leading safety, quality and environmental performance.
# # #
MEDIA CONTACTS:
Samantha Jacobs or Carter Long, Hemsworth Communications
(678) 631-9974 or [email protected]
This message was sent to [email protected]
Hemsworth Communications
1510 SE 17th Street, Suite 200A
Fort Lauderdale, FL 33316