Starting December 2023, Travelers Can Discover the Hidden Treasures
of The Magdalena River Aboard an All-Suite, Eco-Friendly River Cruise Ship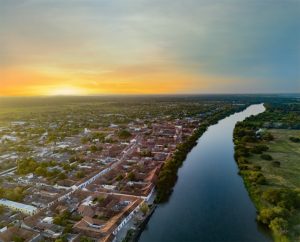 CALABASAS, Calif. – (July 8, 2021) – Luxury river cruise innovator AmaWaterways today announced a groundbreaking partnership with Metropolitan Touring, South America's leading tour operator, to introduce a new river cruise experience in Colombia. Becoming the first luxury river cruise line to sail the Magdalena River, this alliance brings together the remarkable in-depth destination expertise of Metropolitan Touring and the industry's leading team of river cruise experts at AmaWaterways.
Starting in December 2023, guests will be immersed in unique experiences on shore as well as on board a new custom-built, all-suite, eco-friendly river cruise ship. The new ship and cruise program will incorporate years of design experience from AmaWaterways President and Co-Founder Rudi Schreiner — affectionately known as the 'Godfather of River Cruising' — plus Metropolitan Touring's decades of expertise in expedition cruising in the Galápagos Islands.
"Not since my early university days of exploring the Amazon River have I felt the excitement of discovering a new destination that is so rich in biodiversity and culture, as I found on the Magdalena River in Colombia," Schreiner said. "I'm absolutely captivated by the rich history, wildlife and friendly welcome that awaits our guests when our intimate, all-suite ship sets sail in December 2023."
"Colombia has always been a country close to my heart and every trip I've made to the Magdalena over many years has been full of amazing, life-affirming experiences that touched my soul," Metropolitan Touring CEO Paulina Burbano de Lara said. "Finding the right partner to develop the first-ever eco-friendly river cruise experience for Colombia was therefore of utmost importance to me and our company. We know that Rudi, Kristin and all the AmaWaterways team share our passion for the River Magdalena and we're delighted that together we will create innovative and enriching experiences for guests."
Guests will be able to choose between two seven-night itineraries with pre- and post-cruise land programs exploring the magnificent Magdalena River and delving into Colombia's vibrant cultural and natural heritage.  Accompanied by a skilled team, which will include a wellness manager on-board, river cruise travelers on the Magdalena River will enjoy in-depth connections with local nature, wildlife, culture, flavors and people, as well as activities such as kayaking, hiking and birdwatching.
"Drawing on each company's expertise, AmaWaterways and Metropolitan Touring have together created a unique river cruise and land program that will immerse travelers in the beauty of the "River of a Thousand Rhythms," Metropolitan Touring Colombia General Manager Camilo Calderon said. "Our guests will enjoy the modern comforts of an upscale river cruise ship with exclusive experiences and unparalleled service, hallmarks of both companies, to the very heart of Colombia's soul."
"It is incredibly exciting to be able to launch a new river cruise destination like Colombia, with such a colorful history and artistic background," Kristin Karst, executive vice president and co-founder of AmaWaterways, said. "We are celebrating 19 years of creating authentic river cruise experiences in Europe, Asia, Africa and now, with our world-recognized destination partner, Metropolitan Touring, we will be able to offer our guests an opportunity to explore a fourth continent while discovering the hidden gems of Colombia along the majestic Magdalena River."
Specific itineraries are currently being developed with more details anticipated in the coming weeks.
To learn more about AmaWaterways, contact your preferred Travel Advisor or visit AmaWaterways.com/Colombia. Follow AmaWaterways on Facebook at Facebook.com/AmaWaterways, Instagram @AmaWaterways, Twitter @AmaWaterways, and YouTube at YouTube.com/AmaWaterways.
To learn more about Metropolitan Touring, visit www.metropolitan-touring.com/colombia/rio-magdalena. Follow Metropolitan Touring on Facebook, Instagram and YouTube.
# # #
MEDIA NOTE: A hi-res version of the image in this release can be found here.
About AmaWaterways
A family-owned company celebrating 19 years on the river, AmaWaterways offers unforgettable river cruises with 25 ships sailing Europe's Danube, Rhine, Moselle, Main, Rhône, Saône (2021), Seine, Garonne, Dordogne, Dutch and Belgian Waterways and Douro Rivers, Southeast Asia's Mekong, Africa's Chobe River and Egypt's Nile River (2021).  Led by experienced river cruise co-founders Rudi Schreiner and Kristin Karst, the company is renowned for its innovative stateroom design featuring unique "twin balconies;" its wellness activities including a wide choice of included shore excursions featuring biking and hiking options for the active traveler; and its award-winning dining—including The Chef's Table specialty restaurant as well as complimentary fine wine, beer and soft drinks with lunch and dinner. Modern, spacious and tastefully decorated, each ship features onboard amenities such as hair and massage salons and a fitness room, and many have heated outdoor swimming pools with swim-up bars. AmaWaterways leads the river cruise industry in innovation highlighted with the launch of AmaMagna, which at twice the width of traditional river ships, offers a new dimension in luxury river cruising. The company also offers a variety of themed sailings and brand relationships, with sailings geared towards active travelers and families as well as group and charter options.
With the highest-rated ships in Europe according to the third edition of Berlitz: River Cruising in Europe & the USA, AmaWaterways has received countless honors and accolades including Cruise Critic's 2019 Editor's Pick Award for "Best River Cruise Line" and "Best for Active Cruisers," 2018 AFAR Reader's Choice Award for "Best River Cruise Line" and inclusion of AmaMagna in 2019 TIME "World's Greatest Places."
About Metropolitan Touring
Founded in 1953 by a group of young and visionary entrepreneurs, Metropolitan Touring has become Ecuador and South America's leading tour operator. The company creates sustainable, authentic experiences for explorers across Ecuador, Peru and Colombia. In the Galápagos Islands, it owns and operates three expedition vessels: Yacht La Pinta, Yacht Isabela II, and the Santa Cruz II, plus the award-winning Finch Bay Galapagos Hotel. On Ecuador's mainland, the boutique Casa Gangotena in the heart of the capital Quito's historic center, and Mashpi Lodge, a luxury cocoon in the forests to the northwest of Quito, form part of the company's portfolio. Both properties have been recognized over the last decade as among the finest in South America, winning multiple awards including Trip Advisor's Travelers' Choice, Travel and Leisure's World Best Awards, Condé Nast Traveler's Readers' Choice Awards, and multiple World Travel Awards accolades.
Metropolitan Touring constantly seeks out new and captivating experiences for curious travelers in Latin America's iconic destinations, focusing in particular on Colombia with its stunning natural and cultural diversity. In 2017, Metropolitan Touring became a carbon neutral company, offsetting all its emissions by protecting biodiverse and endangered forests in the Andean Chocó bioregion, declared a UNESCO Biosphere Reserve in 2018.
AMAWATERWAYS MEDIA CONTACTS:
Kayla Atwater / Carmen Arce
Hemsworth Communications
954-716-7614 or [email protected]
METROPOLITAN TOURING U.S. MEDIA CONTACT
Andrea Schnoor
Andrea Schnoor Communications
310-878-4812
[email protected]
Nina Derham
Director – PR & Operations, Bird Travel PR
+44 7779 168 038
[email protected]