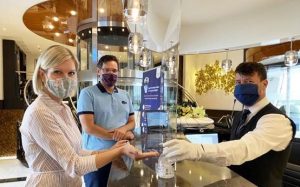 With Enhanced Health and Safety Protocols in Place, Company Becomes First U.S.-Based River Cruise Operator to Resume European Sailings 
CALABASAS, CA – July 21, 2020 – Luxury river cruise line AmaWaterways continues to lead the way in river cruising, announcing today it has resumed operations in Europe with a series of charter sailings onboard AmaKristina in Germany with local guests.  As the first U.S.-based river cruise line to resume sailings, the company continues to pioneer innovation in river cruising, warmly welcoming guests while implementing the newly enhanced health and safety protocols on board its award-winning ships. 
"As the proud Godmother of our award-winning AmaKristina, I am honored that she was our very first river cruise ship to set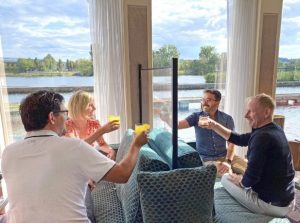 sail in Europe this summer," said Kristin Karst, executive vice president and co-founder of AmaWaterways. "Although many countries continue to have travel restrictions in place, we have begun operating a series of sailings for European guests, in collaboration with an established German tour operator, e-hoi.  With these sailings, we have been able to put into practice and perfect our enhanced health and safety protocols while demonstrating that travelers can enjoy our unforgettable river cruise vacations with peace of mind." 
AmaWaterways' new procedures reflect the in-depth recommendations contained within the EU Healthy Gateways guidelines, the Centers for Disease Control (CDC), the World Health Organization (WHO), IG RiverCruise and other official authorities. The health and safety protocols are aimed to protect guests' and crew members' wellbeing while delivering the warm and friendly experience for which AmaWaterways is known. Based on current regulations, pre-boarding health questionnaires are required, and guests and crew are both subject to daily temperature checks. The crew has received in-depth updated training and each ship will have a designated Public Health Officer overseeing the application of these specific protocols.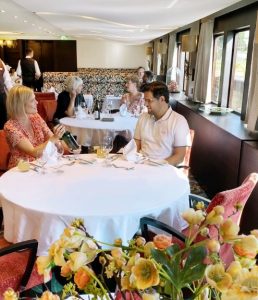 While AmaWaterways' state-of-the-art ships are spacious in their own right — normally accommodating just 150 guests — current regulations limit all river cruise ships to a maximum of 100 guests on board.  Crews are required to wear face coverings at all times while guests must wear them only while moving around the ship. With capacity currently capped, the spacious Main restaurant and the included specialty restaurant, The Chef's Table, easily accommodate the safe distances now required. New room service options have also been added. In addition, AmaWaterways has incorporated creative ways to accommodate social distancing not only in its lounge areas, with plexiglass dividers, but also with personal portable Quietvox commentary systems to allow guests to hear guides while social distancing during the included small-group shore excursions – many of which involve outdoor hiking and biking tours. Furthermore, AmaWaterways' ships have been designed with fan coil individual air cooling and heating units, which eliminate any recirculation of air in staterooms or in public areas; and nearly all staterooms include fresh air balconies, letting guests relax there or on the ships' spacious Sun Decks as they enjoy stunning views along the river. 
"Since we started AmaWaterways 18 years ago, we've been passionate about creating luxurious, authentic and inspiring river cruises for every traveler," continued Karst. "The personal connections and warm service experienced during an AmaWaterways river cruise remain as important as ever to us, and the new health and safety protocols just add additional peace of mind for our guests while on board." 
CLICK HERE to download hi-res images. 
*Media Note: On Tuesday, August 4, AmaWaterways co-owners will host a virtual press conference for media to provide an update on the status of its operations and the outlook for the future of river cruising. In addition to a short summary of health and safety protocols, the session will also include a Q&A where journalists can ask questions in real time. For more information or to RSVP, please email [email protected].                                                                                       
For more information on health and safety protocols, visit  www.amawaterways.com/protocols. To book an AmaWaterways river cruise, contact your preferred Travel Advisor, visit AmaWaterways.com or call 1.800.626.0126. Follow AmaWaterways on Facebook at Facebook.com/AmaWaterways, Instagram @AmaWaterways and Twitter @AmaWaterways. 
###
About AmaWaterways
A family-owned company celebrating 18 years on the river, AmaWaterways offers unforgettable river cruises with 25 ships sailing Europe's Danube, Rhine, Moselle, Main, Rhône, Saône (2021), Seine, Garonne, Dordogne, Dutch and Belgian Waterways and Douro Rivers, Asia's Mekong and Africa's Chobe and Nile Rivers (2021).  Led by experienced river cruise co-founders Rudi Schreiner and Kristin Karst, the company is renowned for its innovative stateroom design featuring unique "twin balconies;" its wellness activities including a wide choice of included shore excursions featuring biking and hiking options for the active traveler; and its award-winning dining—including The Chef's Table specialty restaurant as well as complimentary fine wine, beer and soft drinks with lunch and dinner. Modern, spacious and tastefully decorated, each ship features onboard amenities such as hair and massage salons and a fitness room, and many have heated outdoor swimming pools with swim-up bars. AmaWaterways leads the river cruise industry in innovation highlighted with the launch of AmaMagna, which at twice the width of traditional river ships, offers a new dimension in luxury river cruising. The company also offers a variety of themed sailings and brand relationships, with sailings geared towards active travelers and families as well as group and charter options.
With the highest-rated ships in Europe according to the third edition of Berlitz: River Cruising in Europe & the USA, AmaWaterways has received countless honors and accolades including Cruise Critic's 2019 Editor's Pick Award for "Best River Cruise Line" and "Best for Active Cruisers," 2018 AFAR Reader's Choice Award for "Best River Cruise Line" and inclusion of AmaMagna in 2019 TIME "World's Greatest Places." In addition, 18 river cruise ships in its European fleet have earned the Green Award certification, recognized for industry-leading safety, quality and environmental performance.
MEDIA CONTACTS:
Samantha Jacobs / Carter Long, Hemsworth Communications
(678) 631-9974 or [email protected]
This message was sent to [email protected]
Hemsworth Communications
1510 SE 17th Street, Suite 200A
Fort Lauderdale, FL 33316