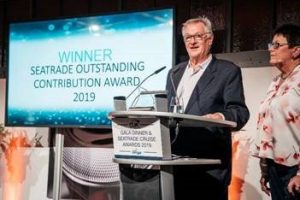 (Rudi Schreiner, president & co-founder, AmaWaterways accepts award from Mary Bond, group director, Seatrade Cruise)
"Godfather of River Cruising" Receives Global Cruise Award for Innovation and Trendsetting
CALABASAS, CA – September 16, 2019 – AmaWaterways today proudly announced that president and co-founder Rudi Schreiner, affectionately known as the "godfather of river cruising," received the esteemed Outstanding Contribution Award from Seatrade Cruise. The award celebrates Schreiner's long-standing history of innovating the river cruising industry, most recently with the revolutionary AmaMagna, which is twice the width of traditional river cruise ships. Schreiner accepted the award in Hamburg, Germany at the CLIA Germany Gala Dinner during SeaTrade Europe on September 11, 2019.
"I am honored to be recognized by Seatrade Cruise for my contributions to the river cruise industry, which I've had the pleasure of working in for more than 25 years," said Schreiner. "I continue to be inspired to explore new ways to propel the river cruise industry with smart design and dedicated people like those in our AmaWaterways family."
Now in its 13th year, the Seatrade Cruise Awards recognize the best of international cruise industry success, ambition and innovation. Seatrade Cruise's Personality Awards are selected by Seatrade, in addition to seven industry awards chosen by a panel of industry experts.
"Known for innovating and being a trend setter in the river cruise sector, AmaWaterways started from a single vessel in 2002, and now boasts a fleet of 24," said Mary Bond, group director of Seatrade Cruise. "Heading up a family-run business along with his wife, Kristin Karst, their strategy is based on creating a product that they would enjoy themselves. Rudi is a multi-talented person and an architect who creates the General Arrangements and cabin designs of all newbuilds."
Throughout the years, Schreiner's passion and creativity has helped shape what is today one of the most thriving segments of travel – river cruising.. Since its founding in 2002, the company has introduced many new innovations and trends under Schreiner's leadership – including the most recent addition to the fleet, the revolutionary AmaMagna. Launched in May 2019, AmaMagna features a total of 98 elegantly appointed staterooms, the majority of which are spacious, full balcony suites measuring between 355 and 710 sq. ft. At twice the width of traditional river cruise ships, she offers various culinary options, including two new dining venues: Jimmy's Wine Bar Restaurant and the Al Fresco Restaurant, with retractable ceiling and side windows for guests to indulge in the views of the picturesque Danube while discovering a new vegetable-forward menu.
For more information, or to book an AmaWaterways river cruise for a client, call 1.800.626.0126 or visit the Travel Advisor Portal at AmaWaterways.com. Follow AmaWaterways on Facebook at Facebook.com/AmaWaterways, Instagram @AmaWaterways and Twitter @AmaWaterways.
About AmaWaterways
A family-owned company celebrating 17 years on the river, AmaWaterways offers unforgettable river cruises with 24 ships sailing Europe's Danube, Rhine, Moselle, Main, Rhône, Seine, Garonne, Dordogne, Dutch and Belgian Waterways and Douro Rivers, Southeast Asia's Mekong and Africa's Chobe River.  Led by experienced river cruise co-founders Rudi Schreiner and Kristin Karst, the company is renowned for its innovative stateroom design featuring unique "twin balconies"; its wellness activities including a wide choice of included shore excursions featuring biking and hiking options for the active traveler; and its award-winning dining—including The Chef's Table specialty restaurant as well as complimentary fine wine, beer and soft drinks with lunch and dinner. Modern, spacious and tastefully decorated, each ship features onboard amenities such as hair and massage salons and a fitness room, and many have heated outdoor swimming pools with swim-up bars. AmaWaterways leads the river cruise industry in innovation highlighted with the launch of AmaMagna, which at twice the width of traditional river ships, offers a new dimension in luxury river cruising. The company also offers a variety of themed sailings and brand relationships, with sailings geared towards active travelers and families as well as group and charter options.
With the highest-rated ships in Europe according to the third edition of Berlitz: River Cruising in Europe & the USA, AmaWaterways has received countless honors and accolades including Cruise Critic's Editor's Pick Award for "Best for Active Cruisers", 2018 AFAR Reader's Choice Award for "Best River Cruise Line" and inclusion of AmaMagna in 2019 TIME "World's Greatest Places."
MEDIA CONTACTS:
Samantha Jacobs / Carter Long, Hemsworth Communications
(678) 631-9974 or [email protected]
This message was sent to [email protected]
Hemsworth Communications
1510 SE 17th Street, Suite 200A
Fort Lauderdale, FL 33316