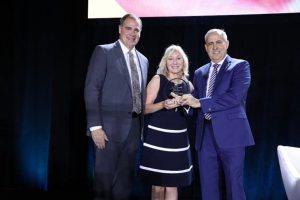 (Pictured left to right: Zane Kerby, president & CEO ASTA; Diane Horan, director, strategic partner networks, AmaWaterways;
Alex Pinelo, vice president, sales AmaWaterways)
CALABASAS, CA – September 9, 2019 – AmaWaterways today proudly announced it was named the American Society of Travel Advisors' (ASTA) 2019 Supplier Partner of the Year for the second year in a row and Cruise Line Partner of the Year at the Global Convention in Fort Lauderdale, Fla. The awards were accepted on behalf of AmaWaterways by Alex Pinelo, vice president, sales and Diane Horan, director, strategic partner networks.
"We are deeply honored to be recognized by one of the travel industry's most important and iconic organizations for the second year in a row," said Kristin Karst, executive vice president and co-founder of AmaWaterways. "This is one of the biggest awards in our company history, and we could not have earned this achievement without the enthusiasm and dedication of our team, and their commitment to our guests and travel advisor partners."
As one of the travel industry's premier organizations, ASTA strives to promote excellence within the trade. Each year, the ASTA Global Convention Awards recognize individuals and organizations who make lasting contributions to the industry. Awards are voted on by ASTA members – representing 80 percent of all travel sold in the United States through the travel agency distribution channel.
This year marks the second consecutive year that AmaWaterways received the Supplier Partner of the Year award, an exceptional honor recognizing a supplier company who has shown outstanding support and commitment to ASTA and the travel advisor community. In addition, AmaWaterways was named Cruise Line Partner of the Year, demonstrating a willingness and desire to partner with agencies and reward their travel advisor sales force accordingly.
"Congratulations to AmaWaterways for winning the ASTA Supplier Partner of the Year for the second year in a row and the 2019 ASTA Cruise Line Partner of the Year! Being so recognized by the ASTA membership speaks volumes about how positively our members perceive AmaWaterways' product and sales support," said Zane Kerby, president and CEO of ASTA.  "We are proud of the strong partnerships that AmaWaterways has built with ASTA and its members across the country."
For full details, or to book an AmaWaterways river cruise for a client, call 1.800.626.0126 or visit the Travel Advisor Portal at AmaWaterways.com. Follow AmaWaterways on Facebook at Facebook.com/AmaWaterways, Instagram @AmaWaterways and Twitter @AmaWaterways.
About AmaWaterways
A family-owned company celebrating 17 years on the river, AmaWaterways offers unforgettable river cruises with 24 ships sailing Europe's Danube, Rhine, Moselle, Main, Rhône, Seine, Garonne, Dordogne, Dutch and Belgian Waterways and Douro Rivers, Southeast Asia's Mekong and Africa's Chobe River.  Led by experienced river cruise co-founders Rudi Schreiner and Kristin Karst, the company is renowned for its innovative stateroom design featuring unique "twin balconies"; its wellness activities including a wide choice of included shore excursions featuring biking and hiking options for the active traveler; and its award-winning dining—including The Chef's Table specialty restaurant as well as complimentary fine wine, beer and soft drinks with lunch and dinner. Modern, spacious and tastefully decorated, each ship features onboard amenities such as hair and massage salons and a fitness room, and many have heated outdoor swimming pools with swim-up bars. AmaWaterways leads the river cruise industry in innovation highlighted with the launch of AmaMagna, which at twice the width of traditional river ships, offers a new dimension in luxury river cruising. The company also offers a variety of themed sailings and brand relationships, with sailings geared towards active travelers and families as well as group and charter options.
With the highest-rated ships in Europe according to the third edition of Berlitz: River Cruising in Europe & the USA, AmaWaterways has received countless honors and accolades including Cruise Critic's Editor's Pick Award for "Best for Active Cruisers", 2018 AFAR Reader's Choice Award for "Best River Cruise Line" and inclusion of AmaMagna in 2019 TIME "World's Greatest Places."
MEDIA CONTACTS:
Samantha Jacobs / Carter Long, Hemsworth Communications
(678) 631-9974 or [email protected]
This message was sent to [email protected]
Hemsworth Communications
1510 SE 17th Street, Suite 200A
Fort Lauderdale, FL 33316