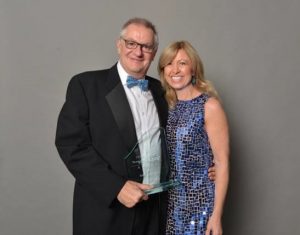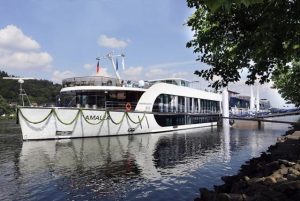 Travel Advisors Vote AmaWaterways #1 in Four of Seven River Cruise Categories
CALABASAS, CA – June 19, 2019 – AmaWaterways proudly announced today that the company has received four TravelAge West 2019 WAVE awards, recognized as the Best River Cruise Line with Highest Guest Satisfaction, Best Onboard Dining (River Cruise), Best River Cruise Line for Families and Best New Ship (River Cruise) for AmaLea. Rudi Schreiner, president and co-founder, and Kristin Karst, executive vice president and co-founder, attended an awards ceremony and gala dinner on June 13 in Marina del Ray, California, where they accepted the accolades on behalf of the AmaFamily, which spans team members across four offices and 23 ships.
"We are honored to be voted number one in multiple river cruise categories by the travel advisor community, who continues to play a key role in AmaWaterways' success," said Karst. "This year has already been incredibly rewarding, from the launch of three new ships – including the innovative AmaMagna – to our first-ever Loyalty Appreciation Month that will take place in November of this year.  We look forward to continue delivering the best river cruise experience to our guests throughout the remainder of 2019 and beyond."
Travel advisors in the 15 Western states, along with TravelAge West readers, voted on the best-of-the-best from the Editor's Pick, a list carefully researched and chosen by the publication's editor-in-chief and editorial team. That list was curated from product analysis, on-site visits, a survey of a select group of travel advisors and online research. Honorees were recognized across 74 categories, including cruise, hotel and resort, airline, tour operators and more.
A family-owned company, AmaWaterways has earned a reputation for transforming the river cruise industry by introducing many innovative firsts in the areas of ship design, wellness, active travel, multigenerational travel, brand partnerships and more. The company is known for creating authentic and experiential shore excursions, as well as providing award-winning food, wine and guest service. A banner year already for AmaWaterways, the company has introduced three new ships to its award-winning fleet – a record-breaking achievement since the company's inception in 2002 – including the revolutionary AmaMagna, which is twice the width of traditional European river cruise ships.
For full details on the Loyalty Appreciation Month, visit AmaWaterways.com/LoyaltyEvent. To book an AmaWaterways river cruise, contact your preferred Travel Advisor, call 1.888.626.0994 or visit AmaWaterways.com. Follow AmaWaterways on Facebook at Facebook.com/AmaWaterways, Instagram @AmaWaterways and Twitter @AmaWaterways.
About AmaWaterways
A family-owned company celebrating 17 years on the river, AmaWaterways offers unforgettable river cruises with 23 ships sailing Europe's Danube, Rhine, Moselle, Main, Rhône, Seine, Garonne, Dordogne, Dutch and Belgian Waterways and Douro Rivers, Southeast Asia's Mekong and Africa's Chobe River.  Led by experienced river cruise co-founders Rudi Schreiner and Kristin Karst, the company is renowned for its innovative stateroom design featuring unique "twin balconies"; its wellness activities including a wide choice of included shore excursions featuring biking and hiking options for the active traveler; and its award-winning dining—including The Chef's Table specialty restaurant as well as complimentary fine wine, beer and soft drinks with lunch and dinner. Modern, spacious and tastefully decorated, each ship features onboard amenities such as hair and massage salons and a fitness room, and many have heated outdoor swimming pools with swim-up bars. AmaWaterways leads the river cruise industry in innovation highlighted with the launch of AmaMagna, which at twice the width of traditional river ships, offers a new dimension in luxury river cruising. The company also offers a variety of themed sailings and brand relationships, with sailings geared towards active travelers and families as well as group and charter options.
With the highest-rated ships in Europe according to the third edition of Berlitz: River Cruising in Europe & the USA, AmaWaterways has received countless honors and accolades including Cruise Critic's Editor's Pick Award for "Best for Active Cruisers" and 2018 AFAR Reader's Choice Award for "Best River Cruise Line."
# # #
MEDIA CONTACT:
Samantha Jacobs / Kayla Louttit, Hemsworth Communications
(678) 631-9974 or [email protected]
 This message was sent to [email protected]
Hemsworth Communications
1510 SE 17th Street, Suite 200A
Fort Lauderdale, FL 33316