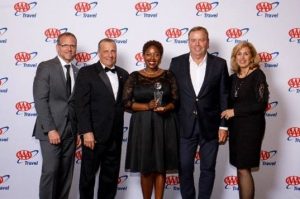 (Photo left – from l-r): Scott Campbell, Manager Cruise Relations, AAA National; Bryan Shilling, Managing Director Travel Products and Services, AAA National; Jazzmine Douse, National Account Manager, AmaWaterways; Gary Murphy, Vice President of Sales and Co-Owner, AmaWaterways; Paula Twidale, Vice President, AAA National
(Photo right – from l-r): Sandra Gardiner, Director, National Accounts for Canada, AmaWaterways; Patricia Marques, CAA National; Sonia
Maslovskaya, Global Trade Marketing Manager, AmaWaterways; Cathy McManaman, CAA National; Peter Van Hezewyk, CAA Travel Task Force Chair and Jane Supino, CAA National
CALABASAS, CA – (November 19, 2019) – AmaWaterways today proudly announced it was named "2019 Best in Member Services" by the American Automobile Association (AAA) during the annual AAA Travel Conference held October 20-22. In a separate event held earlier the same month in Ottawa, Canada, the Canadian Automobile Association (CAA) awarded AmaWaterways "2019 Partner of the Year" in the river cruise category for the third consecutive year.
"To be recognized by these prestigious organizations for providing their members exceptional service and support means a great deal to our entire organization," said Gary Murphy, senior vice president of sales and co-owner of AmaWaterways. "We are proud of the partnership we've built with the AAA and CAA clubs, and we are devoted to continuing that level of service, always looking for innovative ways to deliver the best product to their members and the best support to the valued AAA and CAA travel advisors who assist members in booking their dream river cruise vacations."
Each year, AAA and CAA Travel asks stakeholders from across the U.S. and Canada to rank preferred travel partners on multiple criteria. These awards honor the best companies in the travel industry and their commitment to providing AAA and CAA travel advisors and members with exceptional travel products and services.
"We are proud to present AAA Travel's Partner of the Year Awards to some of the top companies in the travel industry. AAA is intentionally selective of our preferred partners whose products and services reflect our brand, and these companies offer exceptional value to our members," said Paula Twidale, AAA national vice president. 
This year's AAA Travel National Conference was held in Seattle, Washington with speakers including AmaMagna's Godmother and award-winning travel host Samantha Brown. The theme of the event, "Travel: Transforming the Member Experience," focused on how AAA continues to evolve its travel offerings along with changing consumer expectations, as the association recently reached a record-high 60 million members.
Now in its 10th year, CAA's National Conference recognizes the organization's top travel partners, based on the collective experience of CAA's several hundred travel advisors. Of the awards, Jeff Walker, CAA national chief strategy officer said: "CAA is committed to providing the best service to our members. These awards recognize CAA partners who share this devotion and commitment to providing exceptional experiences for our members."
For full details, or to book an AmaWaterways river cruise for a client, call 1.800.626.0126 or visit the Travel Advisor Portal on AmaWaterways.com. Follow AmaWaterways on Facebook at Facebook.com/AmaWaterways, Instagram @AmaWaterways and Twitter @AmaWaterways.
###
About AmaWaterways
A family-owned company celebrating 17 years on the river, AmaWaterways offers unforgettable river cruises with 24 ships sailing Europe's Danube, Rhine, Moselle, Main, Rhône, Seine, Garonne, Dordogne, Dutch and Belgian Waterways and Douro Rivers, Southeast Asia's Mekong and Africa's Chobe River.  Led by experienced river cruise co-founders Rudi Schreiner and Kristin Karst, the company is renowned for its innovative stateroom design featuring unique "twin balconies"; its wellness activities including a wide choice of included shore excursions featuring biking and hiking options for the active traveler; and its award-winning dining—including The Chef's Table specialty restaurant as well as complimentary fine wine, beer and soft drinks with lunch and dinner. Modern, spacious and tastefully decorated, each ship features onboard amenities such as hair and massage salons and a fitness room, and many have heated outdoor swimming pools with swim-up bars. AmaWaterways leads the river cruise industry in innovation highlighted with the launch of AmaMagna, which at twice the width of traditional river ships, offers a new dimension in luxury river cruising. The company also offers a variety of themed sailings and brand relationships, with sailings geared towards active travelers and families as well as group and charter options.
With the highest-rated ships in Europe according to the third edition of Berlitz: River Cruising in Europe & the USA, AmaWaterways has received countless honors and accolades including Cruise Critic's Editor's Pick Award for "Best for Active Cruisers", 2018 AFAR Reader's Choice Award for "Best River Cruise Line" and inclusion of AmaMagna in 2019 TIME "World's Greatest Places."
MEDIA CONTACTS:
Samantha Jacobs / Carter Long, Hemsworth Communications
(678) 631-9974 or [email protected]
This message was sent to [email protected]
Hemsworth Communications
1510 SE 17th Street, Suite 200A
Fort Lauderdale, FL 33316