Leading River Cruise Line Offered Travel Advisors Exclusive Experiences and Three Executive Hosted Immersive FAM Sailings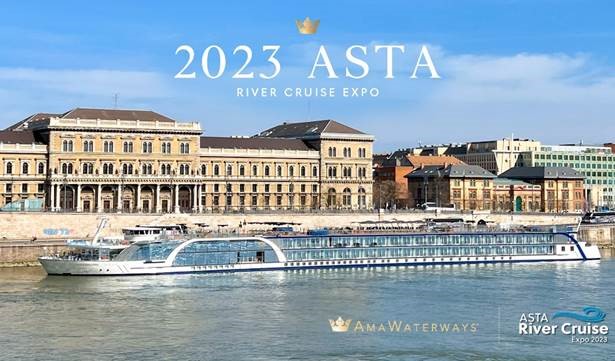 CALABASAS, Calif. – (March 27, 2023) – Luxury river cruise line AmaWaterways welcomed more than 550 travel advisors aboard three of its award-winning ships during the 2023 ASTA River Cruise Expo held in Budapest, Hungary March 15-18, 2023. AmaWaterways is on a continuous mission to offer travel advisors valuable first-hand experiences to expand their knowledge and grow their river cruise sales. Throughout the three-day event, AmaWaterways Co-Founder and Executive Vice President Kristin Karst participated in informative panel discussions and, along with other company sales and marketing executives, hosted exclusive experiences on board three of its innovative river cruise ships, AmaVerde, AmaViola and AmaMagna. AmaWaterways also offered three immersive FAM sailings following the industry event. 
A video showcasing highlights of the 2023 ASTA River Cruise Expo can be found here. 
"More and more travelers want to discover the seamless experience of exploring Europe while only unpacking once," Karst said. "The ASTA River Cruise Expo is a wonderful opportunity for travel professionals to learn from industry leaders how they can benefit from this fast-growing trend. Most of the travel advisors who attended this event are new to river cruising, and being able to go from ship to ship allows them to discover and understand brand and product differentiators in only three days.

 

"We were proud to showcase three of our beautiful ships during this year's Expo as it is important to us that our travel advisors are able to explore our award-winning ships and see for themselves why we have been leading the way in river cruising for over 20 years. We are looking forward to welcoming even more of our valued travel partners next year in Amsterdam for another great ASTA River Cruise Expo."
Karst hosted a special Wellness Expo on board AmaMagna where travel advisors were invited to participate in a game of pickleball on the new full-size court, as well as enjoy champagne yoga or a dance class guided by AmaWaterways Wellness Hosts. Karst also shared details about mesmerizing, new AmaWaterways itineraries in Colombia debuting in 2024, introducing special guest Camilo Restrepo, president and founder of AGENdA Agencia de Arquitectura and architect of newly designed sister ships, AmaMagdalena and AmaMelodia. Restrepo was contracted by AmaWaterways to ensure the ships embody the essence of the country, while honoring the beautiful destinations and their natural resources.
In addition to the informative presentations and insightful discussions, Alex Pinelo, senior vice president of sales; Janet Bava, chief marketing officer; and Karst hosted travel advisors on board AmaVerde and AmaMagna for special dining events during the Expo to further showcase the river cruise line's exceptional cuisine, luxurious amenities and personalized customer service. Aboard AmaMagna, 10 river cruises were given away during a much-anticipated event, attended by more than 400 travel advisors.
Prior to the start of this year's Expo, Signature Travel Network chartered AmaMagna and Gifted Travel Network chartered AmaVerde, underlining the river cruise line's strong relationship with its travel partners. Post-Expo, AmaWaterways invited all travel advisors to experience unforgettable journeys on three FAM cruises hosted by AmaWaterways executives: Diane Horan, director of strategic partner networks, and Jazzmine Douse, director of national accounts, on board AmaMagna; Bava on AmaViola; and Pinelo on AmaVerde. Restrepo also joined Bava on the AmaViola Marketing Immersion FAM and hosted two dinners offering travel advisors a more in-depth look at the vision shaping the industry's first-ever river cruise down the Magdalena River.
"Supporting the continuous education needs of our travel advisors and empowering them with the sales and marketing tools to grow their river cruise business has always been a major focus for AmaWaterways," Pinelo said. "We accomplish this through many innovative ways including our AmaAcademy courses, our weekly Webinar Wednesday series, and in-person learning during FAM sailings hosted by our sales and marketing executives.

 

"We want our relationship with travel advisors to always grow stronger, and we continue to invest in their business. Advisors who attended the ASTA River Cruise Expo, as well as one of our three post-Expo FAMs, will have gained confidence and expertise in what sets AmaWaterways apart and will be able to extend exclusive offers to their clients upon their return."
During the seven-night Magna on the Danube itinerary, Horan and Douse shared their insights and sales expertise with travel advisors as they sailed from Budapest, Hungary to Vilshofen, Germany and marveled at awe-inspiring architecture, breathtaking landscapes, culinary delights and the ship's luxurious amenities. Pinelo welcomed travel advisors on the Gems of Southeast Europe itinerary to witness the breathtaking beauty that the Lower Danube River has to offer while learning valuable sales tactics to market more than 30 different AmaWaterways itineraries in Europe, South America, Asia and Africa.
Sailing from Budapest to Vilshofen on the Melodies of the Danube itinerary, Bava and AmaViola godmother Jackie Friedman hosted a Marketing Immersion FAM with four onboard sessions focused on elevating travel advisors' business plans through digital marketing and effective use of social media tools to attract new clients through engaging content. The valuable support continues post-cruise with a scheduled series of touch points, ensuring travel advisors benefit from the connections made on board and stay committed to growing their river cruise sales with AmaWaterways.
Travel advisors who could not attend the post-Expo FAMs are invited to apply for AmaWaterways upcoming Seminars on the Rivers hosted by Business Development Managers. Further details are available on the Travel Advisor Portal:
Melodies of the Danube, AmaVerde, Apr 3, 2023 (Host: Columba Calicchio)
Europe's Rivers & Castles, AmaPrima, Apr 4, 2023 (Host: Jennifer Maddox)
Colors of Provence, AmaKristina, Apr 6, 2023 (Host: Matthew Ogden)
Gems of Southeast Europe, AmaMagna, Apr 9, 2023 (Host: Deborah Robinson) 
To book an AmaWaterways river cruise for a client, call 1-800-626-0126 or visit AmaWaterways.com. Follow AmaWaterways on Facebook at Facebook.com/AmaWaterways, Instagram @AmaWaterways, Twitter @AmaWaterways, and YouTube at YouTube.com/AmaWaterways. 
# # #
MEDIA NOTE: Hi-res images can be found HERE.
About AmaWaterways
Family-owned and operated for more than 20 years, AmaWaterways offers unparalleled river cruise experiences with 28 custom-designed ships sailing Europe's Danube, Douro, Rhine, Moselle, Main, Rhône, Saône, Seine, Garonne and Dordogne Rivers, and Dutch and Belgian Waterways; Southeast Asia's Mekong River; Africa's Chobe River; Egypt's Nile River and Colombia's Magdalena River (2024). Co-founded by pioneering river cruise executives Rudi Schreiner, Kristin Karst and Jimmy Murphy, the company is renowned for its warm and welcoming crew; innovative and sustainable ship design; wellness activities (including a wide choice of included small group shore excursions featuring biking and hiking options); and award-winning, locally sourced cuisine paired with complimentary fine wine. Modern, spacious and tastefully decorated, most AmaWaterways ships welcome an average of just 150 guests and feature onboard amenities such as a stunning Main Lounge, specialty Chef's Table restaurant, hair and massage salons, Sun Deck walking track, and heated outdoor swimming pools with swim-up bars. AmaWaterways leads the river cruise industry in innovation, highlighted by the launch of the revolutionary AmaMagna, and the introduction of the history-making Seven River Journey itineraries. The company also offers a variety of themed sailings and brand relationships, with sailings geared towards active travelers and families, as well as group and charter options.

About ASTA
Rebranded in 2018 as the American Society of Travel Advisors, ASTA is the leading global advocate for travel advisors, the travel industry and the traveling public. Its members represent 80 percent of all travel sold in the United States through the travel agency distribution channel. Together with hundreds of internationally based members, ASTA's history of industry advocacy traces back to its founding in 1931 when it launched with the mission to facilitate the business of selling travel through effective representation, shared knowledge and the enhancement of professionalism. For more information about the Society, visit our mission statement.
MEDIA CONTACT:
Becca Maroney or Lily Dyrsten
203-807-3450 or [email protected]