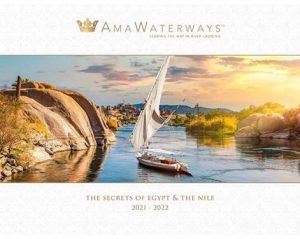 Award-Winning Luxury River Cruise Line to Begin Welcoming Travelers in Egypt in Fall 2021;
A Virtual Sip & Sail Cocktail Hour on Egypt Will be Hosted Thursday, June 4th, for Insider Tips
CALABASAS, CA – (June 1, 2020) – AmaWaterways today released its 2021/2022 The Secrets of Egypt & The Nile e-brochure, detailing the unparalleled journey that awaits travelers ready to discover ancient splendors along the world's longest river. The new e-brochure provides a comprehensive look at the immersive 11-night river cruise and land adventure that guests can embark on beginning in September 2021. Complemented by authentic, small group-guided shore excursions and pre- and post-land programs, the newly designed AmaDahlia becomes the 25th addition to AmaWaterways' luxury river cruise fleet.
"River cruising is an excellent way to experience a destination, especially Egypt, where one of the oldest civilizations in the world began along the banks of the Nile River," said Kristin Karst, executive vice president and co-founder of AmaWaterways. "I distinctly remember my first trip to Egypt – learning so much about its fascinating history, relishing in the magical sunsets and being mesmerized by the spectacular colors on display in the local markets. I cannot wait to return and for our guests to meet the welcoming Egyptian people who so proudly share their stories."
With 17 departures planned for the 2021 season and 38 in 2022, The Secrets of Egypt & The Nile itinerary will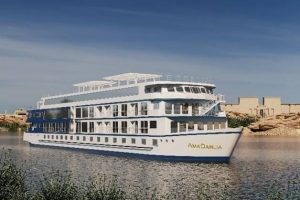 take guests on a seven-night roundtrip from Luxor cruise where they will uncover the storied treasures that have shaped the country's past and influence its future. In true AmaWaterways tradition, travelers will enjoy excellent cuisine, warm service and elegantly appointed accommodations onboard the intimate 68-guest AmaDahlia, which features two restaurants, 18 staterooms and 16 suites, four of which will be panorama suites at the front of the ship. Most accommodations will boast AmaWaterways' signature twin balconies, featuring both a French and outside balcony, allowing guests to marvel at the region's romantic desert hills, lush oases and ancient colonnaded temples.
Accompanying the river cruise journey, guests will spend three nights pre-cruise and one-night post-cruise at the five-star Four Seasons Hotel Cairo at The First Residence, providing a truly luxurious and unforgettable experience that will showcase Egypt's most iconic wonders along with its hidden treasures. Highlights of AmaWaterways' carefully curated The Secrets of Egypt & The Nile itinerary include:
A visit to the exquisite Egyptian Museum, home to a unique collection of pharaonic art including mummies and the priceless treasures of Tutankhamen
A tour of the monuments at the UNESCO-designated ancient capital of Memphis, including the statue of Ramses II, Step Pyramid of King Zoser, the Great Pyramids and Sphinx of Giza
A visit to the Valley of the Kings and Queens, home to the mummified remains of more than 30 queens and princesses, including exclusive access to the tomb of Queen Nefertari
An optional excursion to the more than 3,000-year-old Temples of Abu Simbel, dedicated to Ramses II, one Egypt's greatest pharaohs
An exclusive visit to a Nubian village with lunch and a sunset sail in Aswan on a traditional felucca, a wooden sailboat commonly used in Egypt
A special private farewell lunch at the Abdeen Presidential Palace, considered one of the most luxurious palaces in the world
A taste of traditional, locally sourced Egyptian cuisine at The Main Restaurant and The Chef's Table, with a delectable seven-course tasting menu each evening on board; plus, lunch at the famous Naguib Mahfouz Café in the Khan El Khalili bazaar and the historic Mena House Hotel
For guests interested in extending their time in the region, the new e-brochure provides details on three optional land programs led by AmaWaterways' knowledgeable Cruise Managers. This includes three pre-cruise nights in Dubai or four nights in Jordan (Amman and Petra) and post-cruise, four nights in Israel (Jerusalem).
As part of AmaWaterways' recently launched virtual Sip & Sail Cocktail Hour, travelers can gain insider tips and information on The Secrets of Egypt & The Nile itinerary on Thursday, June 4, at 4 p.m. PDT (7 p.m. EST). Hosted by Karst and the river cruise line's resident Egypt expert, Todd Ney, the interactive event will be broadcasted on Facebook Live at Facebook.com/AmaWaterways and on YouTube at YouTube.com/AmaWaterways.
The Secrets of Egypt & The Nile will operate seasonally from September through to May each year.
To view or download AmaWaterways' 2021/2022 Egypt brochure, visit AmaWaterways.com/River-Cruise-Brochures. To book an AmaWaterways river cruise, contact your preferred Travel Advisor, call 1.800.626.0126 or visit AmaWaterways.com. Follow AmaWaterways on Facebook at Facebook.com/AmaWaterways, Instagram @AmaWaterways and Twitter @AmaWaterways.

About AmaWaterways
A family-owned company celebrating 18 years on the river, AmaWaterways offers unforgettable river cruises with 25 ships sailing Europe's Danube, Rhine, Moselle, Main, Rhône, Saône (2021), Seine, Garonne, Dordogne, Dutch and Belgian Waterways and Douro Rivers, Southeast Asia's Mekong, Africa's Chobe River and Egypt's Nile River (2021).  Led by experienced river cruise co-founders Rudi Schreiner and Kristin Karst, the company is renowned for its innovative stateroom design featuring unique "twin balconies;" its wellness activities including a wide choice of included shore excursions featuring biking and hiking options for the active traveler; and its award-winning dining—including The Chef's Table specialty restaurant as well as complimentary fine wine, beer and soft drinks with lunch and dinner. Modern, spacious and tastefully decorated, each ship features onboard amenities such as hair and massage salons and a fitness room, and many have heated outdoor swimming pools with swim-up bars. AmaWaterways leads the river cruise industry in innovation highlighted with the launch of AmaMagna, which at twice the width of traditional river ships, offers a new dimension in luxury river cruising. The company also offers a variety of themed sailings and brand relationships, with sailings geared towards active travelers and families as well as group and charter options.
With the highest-rated ships in Europe according to the third edition of Berlitz: River Cruising in Europe & the USA, AmaWaterways has received countless honors and accolades including Cruise Critic's 2019 Editor's Pick Award for "Best River Cruise Line" and "Best for Active Cruisers," 2018 AFAR Reader's Choice Award for "Best River Cruise Line" and inclusion of AmaMagna in 2019 TIME "World's Greatest Places."
# # #
MEDIA CONTACTS:
Samantha Jacobs or Carter Long, Hemsworth Communications
(678) 631-9974 or [email protected]
This message was sent to [email protected]
Hemsworth Communications
1510 SE 17th Street, Suite 200A
Fort Lauderdale, FL 33316