AmaWaterways Executives and Valued Partners Celebrate with Godmother Debbie Fiorino of World Travel Holdings in Lahnstein, Germany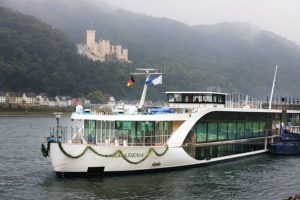 CALABASAS, Calif. – (August 31, 2021) – Award-winning luxury river cruise line AmaWaterways celebrated the christening of its newest ship, AmaSiena, with a joyful ceremony in Lahnstein, Germany on Sunday, August 29, 2021. AmaWaterways Co-Founders, President Rudi Schreiner and Executive Vice President Kristin Karst joined Godmother Debbie Fiorino, senior vice president and COO of Owned Brands for World Travel Holdings, for a day of festivities officially commemorating the company's newest edition to its fleet of 26 industry-leading river cruise ships.
"The christening ceremony for AmaSiena celebrates our much-anticipated return to the rivers and it is particularly meaningful to have esteemed travel industry leader Debbie Fiorino act as her proud Godmother," said Karst. "We continue to be inspired by the resiliency, passion and commitment of the travel advisor community and we are so proud to share this christening with the travel advisors and guests that joined us for this special event as well as our dedicated crew members who create the cherished vacation memories for our guests."
Following a long-standing tradition associated with ship christenings dating back thousands of years, Captain Ronald Schuegard assisted as Godmother Fiorino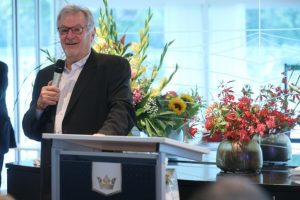 broke a champagne bottle against AmaSiena's hull, signifying good luck on the journeys ahead. While overlooking a spectacular backdrop of the beautiful town of Lahnstein, guests, media and travel partners enjoyed the ceremonies that continued into the afternoon with a celebratory toast and lunch.
"Being part of the travel industry has allowed me to discover so much of the world and AmaWaterways has taken me to many of these amazing places, traveling along iconic rivers visiting spectacular cities and discovering amazing towns like Lahnstein, where we celebrated the christening of AmaSiena," said Fiorino. "I am honored to act as her Godmother as we celebrate a safe return to the rivers and the promise of a bright future ahead."
Sister ship to AmaLucia, AmaMora, AmaLea and AmaKristina, AmaSiena features 78 spacious staterooms, the majority of which boast AmaWaterways' signature twin balconies, offering panoramic views from both a French and an outside balcony. Guests can enjoy gourmet dining onboard at the Main Restaurant and The Chef's Table, as well as a new al fresco area in the Main Lounge that is perfect for casual dining from a bistro-style menu. Hand-selected regional wines and beer are offered during each meal, and guests are invited to savor a complimentary daily Sip & Sail cocktail hour as well.
Wellness enthusiasts are invited to join the ship's dedicated Wellness Host for guided group fitness classes and hiking and biking tours, while those looking to relax can enjoy massage and hair salon services. In addition, AmaSiena features an inviting Main Lounge with spacious seating areas and a heated pool and swim-up bar perfect for enjoying the stunning views along the river while soaking up the sun.
AmaSiena will sail a variety of seven-night itineraries on the Rhine river including the Enchanting Rhine, Captivating Rhine and festive Christmas Markets on the Rhine. Starting in 2022, she will also sail the Dutch and Belgium Waterways on the Best of Holland & Belgium itinerary.
To get an inside look at AmaSiena's christening, view the online video on the AmaWaterways YouTube channel HERE.
For full details, or to book an AmaWaterways river cruise for a client, call 1-800-626-0126 or visit the Travel Advisor Portal at AmaWaterways.com. Follow AmaWaterways on Facebook at Facebook.com/AmaWaterways, Instagram @AmaWaterways, Twitter @AmaWaterways and YouTube at YouTube.com/AmaWaterways.
MEDIA NOTE: Hi-res versions of the images in this release can be found HERE.
About AmaWaterways
Family-owned and -operated for more than 19 years, AmaWaterways offers unparalleled river cruise experiences with 26 custom-designed ships sailing Europe's Danube, Douro, Rhine, Moselle, Main, Rhône, Saône, Seine, Garonne and Dordogne Rivers, and Dutch and Belgian Waterways; Southeast Asia's Mekong River; Africa's Chobe River; Egypt's Nile River and Colombia's Magdalena River (2023).Co-founded and led by pioneering river cruise executives Rudi Schreiner and Kristin Karst, the company is renowned for its extraordinarily warm and welcoming crew; innovative and sustainable  ship design; its wellness activities including a wide choice of included small group shore excursions featuring biking and hiking options; and its award-winning, locally sourced cuisine with complimentary fine wine. Modern, spacious and tastefully decorated, most ships welcome an average of just 150 guests and feature onboard amenities such as a stunning Main Lounge, specialty Chef's Table restaurant, hair and massage salons, a Sun Deck walking track with heated outdoor swimming pools with swim-up bars. AmaWaterways leads the river cruise industry in innovation highlighted with the launch of the revolutionary AmaMagna, and the introduction of the history-making Seven River Journey itineraries. The company also offers a variety of themed sailings and brand relationships, with sailings geared towards active travelers and families as well as group and charter options.
With the highest-rated ships in Europe according to the third edition of Berlitz: River Cruising in Europe & the USA, AmaWaterways has received countless honors and accolades including Travel + Leisure's 2020 World's Best Award for "Best River Cruise Line" and Departures' 2020 Legend Award for "Best Luxury Cruising Experiences This Year." In addition, 20 ships in AmaWaterways' European fleet have received the prestigious Green Award certification for industry-leading safety, quality and environmental performance.
# # #
MEDIA CONTACTS:
Kayla Atwater/ Ella Chancellor
Hemsworth Communications
954-716-7614 or [email protected]