Unforgettable Experiences Await Travelers on Luxury River Cruise
Line's 19 European Ships with New Itineraries and Innovative Onboard Amenities

CALABASAS, Calif. – (March 21, 2023) – Luxury river cruise line AmaWaterways celebrated the opening of its 2023 European season following a successful Cruise Managers' Kickoff Meeting onboard AmaMagna hosted by Co-Founder and Executive Vice-President Kristin Karst. Guests are now welcome aboard the AmaWaterways fleet of 19 award-winning ships sailing Europe's majestic waterways including five ships cruising the scenic rivers of France, five ships dedicated to the early spring Tulip Time cruises and another 10 welcoming guests on the Rhine, Main, Moselle, Danube and Douro rivers. With warm and friendly service, an abundance of included shore excursions, luxurious accommodations and delicious food and wine local to the regions, river cruising with AmaWaterways in Europe is a personalized way to experience the world's most fascinating destinations. 
"Our cruise managers add that extra sparkle to our guests' vacations and being able to start off the 2023 European season with an in-person gathering was very special," Karst said. "We are seeing strong demand for 2023 travel and are receiving many last-minute reservations for all dates, including this summer. Traveling with the whole family creates special memories that last a lifetime and July and August departures are exquisite months to travel, when everyone is free and able to enjoy our included hiking and biking tours, wine tastings and wonderful culinary experiences." 
Introduction of Pickleball on the River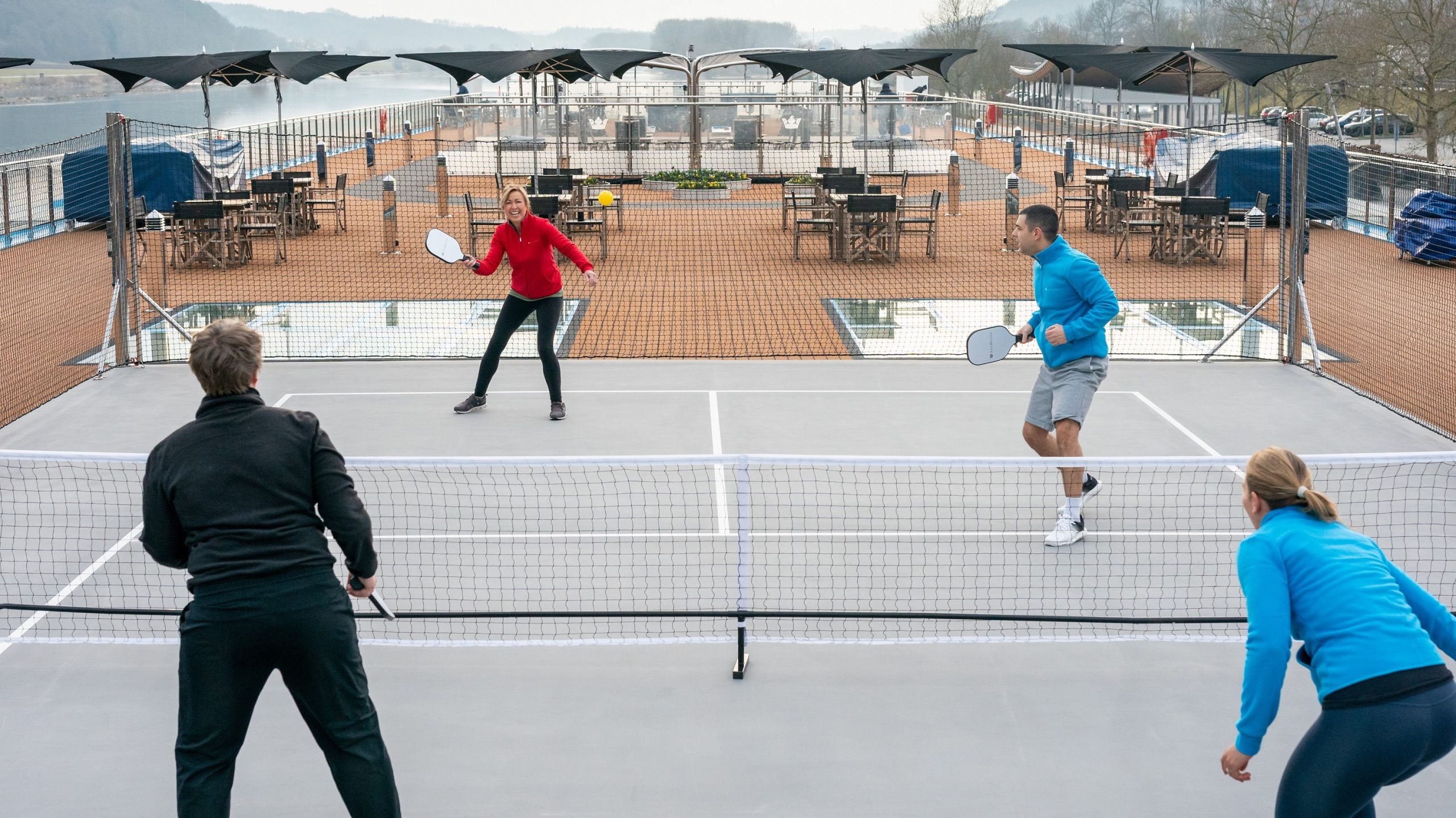 AmaWaterways has long been known for its innovation in active river cruising. From being the first to offer complimentary bicycles on each ship to featuring a complimentary onboard Wellness Program along with hiking tours and walking excursions that cater to all fitness levels, AmaWaterways is the leader in ensuring healthy lifestyles for guests. This sailing season, the company is introducing a brand-new, full-sized pickleball court on the Sun Deck of AmaMagna. Tapping into the fastest-growing sport in the United States, AmaMagna is the first river cruise ship to feature a full-sized pickleball court, allowing guests an opportunity to socialize and stay active while creating lifelong vacation memories. 
Highlights of the 2023 AmaWaterways European Season Include:
Immersive Experiences in France
With continued demand for immersive travel experiences, AmaWaterways offers a variety of unforgettable and enriching activities that connect travelers to France's rich history, culture, food, wine and people. Travelers can look forward to specially curated excursions this season, such as exclusive wine festivals, truffle treasure hunts and captivating city tours throughout France's most sought-after regions. Since many of the AmaWaterways France sailings depart on Thursdays, travelers can easily reserve combination cruises, visiting up to three different rivers during one journey, extending their adventures while exploring different regions and historical landmarks and saving 10% on consecutive cruises. 
The All-New Seven River Journeys 
In 2023, AmaWaterways is officially debuting its history-making Seven River Journeys, taking guests through 14 countries over 45 days, the longest and most epic river cruise to date. With three dates to choose from, each itinerary will include unique experiences, exceptional amenities, seamless transfers between ships, complimentary laundry and portage, all onboard gratuities, and more than 130 complimentary shore excursions. Seven River Journeys offer guests the opportunity to dive deeper into each region's distinctive history, cultural traditions, local cuisine and wine, while being treated to a variety of exclusive experiences along the way. These bucket list-worthy extended journeys are guaranteed to surprise and delight guests as they explore the grand capitals, charming villages and World Heritage Sites along some of the world's most legendary waterways. 
Extended Season on the Douro River
AmaWaterways has extended its 2023 Portugal river cruising season, with 14 additional round-trip Porto sailings onboard AmaDouro. With cruises available now through the end of December, guests have the opportunity to experience the joys of this popular destination in the early winter season with temperate weather, fewer crowds and charming Christmas Markets, complemented by stunning landscapes and delectable food and wine-tasting experiences. 
Majestic New Itineraries
Due to an increased demand for immersive cultural experiences, AmaWaterways has added new Celebration of Classical Music: The Danube cruises to its roster of 2023 itineraries. This seven-night cruise sails through Austria, Hungary and Slovakia to the music of Mozart, Strauss and other iconic musicians giving guests once-in-a-lifetime opportunities to embrace the rich history of classical music and legendary composers in the region. Classical music enthusiasts can select one of seven departures cruising between Vienna and Budapest and explore the birthplaces of famous musicians, world-renowned opera houses and experience live performances in beautiful places. 
In 2023, AmaWaterways is offering travelers short on time a new opportunity to explore the Danube with its five-night Majestic Capitals of the Danube itinerary. Guests will explore three of Europe's most spectacular capital cities – Budapest, Hungary; Bratislava, Slovakia; and Vienna, Austria – with a choice of included daily excursions, such as hilltop hikes, bike tours and tastings of local delights. These sailings take place throughout April, May and December aboard the stunning AmaLea, AmaViola and the one-of-a-kind AmaMagna featuring ultra-spacious accommodations, four restaurants and more.
With a variety of pre- and post-cruise land packages available, guests can extend their stays in Europe to explore incredible cities. Travelers have until March 31, 2023, to receive a complimentary two-, three- or four-night land package on select sailings. During pre- or post-cruise land packages, AmaWaterways guests stay at world-class four- and five-star hotels and enjoy convenient transfers and portage service between hotels and the ship, as well as the services of their AmaWaterways cruise manager throughout the journey. 
To reserve an AmaWaterways river cruise for a client, call 1-800-626-0126 or visit AmaWaterways.com. Follow AmaWaterways on Facebook at Facebook.com/AmaWaterways, Instagram @AmaWaterways, Twitter @AmaWaterways, and YouTube at YouTube.com/AmaWaterways. 
# # #
MEDIA NOTE: Hi-res image can be found HERE. 
About AmaWaterways
Family-owned and operated for 20 years, AmaWaterways offers unparalleled river cruise experiences with 28 custom-designed ships sailing Europe's Danube, Douro, Rhine, Moselle, Main, Rhône, Saône, Seine, Garonne and Dordogne Rivers, and Dutch and Belgian Waterways; Southeast Asia's Mekong River; Africa's Chobe River; Egypt's Nile River and Colombia's Magdalena River (2024). Co-founded by pioneering river cruise executives Rudi Schreiner, Kristin Karst and Jimmy Murphy, the company is renowned for its warm and welcoming crew; innovative and sustainable ship design; wellness activities (including a wide choice of included small group shore excursions featuring biking and hiking options); and award-winning, locally sourced cuisine paired with complimentary fine wine. Modern, spacious and tastefully decorated, most AmaWaterways ships welcome an average of just 150 guests and feature onboard amenities such as a stunning Main Lounge, specialty Chef's Table restaurant, hair and massage salons, Sun Deck walking track, and heated outdoor swimming pools with swim-up bars. AmaWaterways leads the river cruise industry in innovation, highlighted by the launch of the revolutionary AmaMagna, and the introduction of the history-making Seven River Journey itineraries. The company also offers a variety of themed sailings and brand relationships, with sailings geared towards active travelers and families, as well as group and charter options.
MEDIA CONTACT:
Becca Maroney or Lily Dyrsten
203-807-3450 or [email protected]