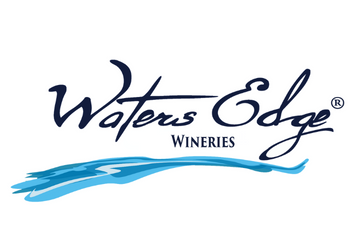 Winery Owners, Corporate Team Members, Vendors and Partners of Innovative Craft Winery
Franchise Gathered for Three Days of Seminars, Collaboration and Wine Tasting in Findlay, Ohio
RANCHO CUCAMONGA, Calif. – (May 24, 2023) – Waters Edge Wineries®, an innovative urban winery system bringing the cultural experience of wine to communities across the country, held its annual owners conference earlier this month in Findlay, Ohio. The conference brought together the brand's franchise owners for a series of educational and informational roundtables, seminars, cocktail receptions, an awards gala and more. 
"The theme of this conference was, 'Crushing It 2023,' representing the new opportunities, success and growth this year will bring our owners and the franchise," said Ken Lineberger, president and founder of Waters Edge Wineries. "I look forward to seeing Waters Edge Wineries continue to evolve with three new locations on the horizon in the coming months, and some exciting developments being planned in conjunction with several strategic partners."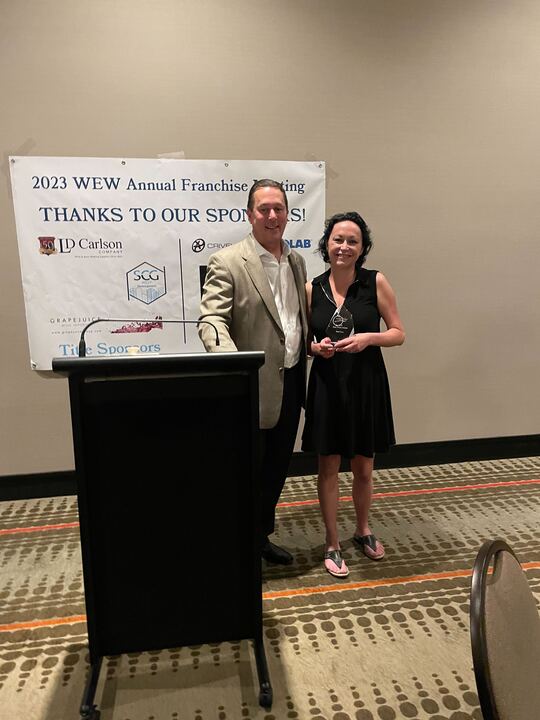 The three-day event began on Sunday, May 7, with a cocktail networking reception featuring a selection of new and existing wines from the brand. On Monday, May 8, participants enjoyed a series of informative marketing and social media sessions, followed by roundtable discussions on the brand's wine club, marketing and events, kitchen operations and the best practices for winemaking. The next day kicked off with breakfast at a Waters Edge Wineries Affiliate location, Gillig Winery, followed by a tour, training seminar and the 'best winemaker' blind tasting event, where winery owners brought their best red and white wines to be anonymously reviewed. 
The group then visited Urban Pine Winery, another Waters Edge Winery Affiliate location, where they were able to taste wines from the recently debuted international wine series partnership. Led by Scott Roughgarden from Grape Juice Group, attendees tasted wines from Baracchi Vineyard in Tuscany and Zulal Wines from Waters Edge Wineries partner Armenian Wine Importer Storica Wines. 
The conference concluded with an awards gala honoring both long-time and new franchise owners in several categories:
Operator of the Year: Angela Zuba, Waters Edge Winery & Bistro of Kalispell, Montana, acknowledged for the best exemplification of an owner employing the brand's core values, as well as her high-quality offerings, exceptional customer service, award-winning wines and ciders, growing wine club and increased number of private events.
Innovation Award: Michelle and Brian Dean, Waters Edge Winery & Bistro of Broken Arrow, Oklahoma, acknowledged as a multi-unit location in the brand opening their second location in 2022, which serves as an event space for weddings, large gatherings and social events.
Legacy Award: Nikki Gillig, Gillig Winery, acknowledged for employing the best practices and actively adopting new ideas and her willingness to communicate these successful methods throughout the system.
Noble Cause Award: Kevin and Teresa Miller, Texas Sun Winery, acknowledged for their involvement in the community participating in 15 fundraisers in 2022 and already committed to participating in six fundraising events this year.
Highest Year-Over-Year Growth: Kevin and Teresa Miller, Texas Sun Winery, with an 189% growth increase.
Highest Ticket Average: Jen McAlear, Urban Pine Winery, with an average ticket price of approximately $77.
Highest Rating in Online Reviews: Mike and Mara English, Waters Edge Winery & Bistro of Moore, Oklahoma, with a 4.9-star online ranking.
Most Wine Club Memberships: Michelle and Brian Dean, Waters Edge Winery & Bistro of Broken Arrow, Oklahoma, with nearly 1,000 members.
Winemaker of the Year (White): White Orchid by Jen McAlear, Urban Pine Winery. 
Winemaker of the Year (Red): Black Hawk by Angela Zuba, Waters Edge Winery & Bistro of Kalispell. 
This year, Waters Edge Wineries franchise owners surprised the company's founders, Ken and Angela Lineberger, with the surprise "Outstanding Oenophile Award," honoring the duo's extraordinary recognition of their leadership, vision  and dedication.
"It is always a rewarding experience to gather with our corporate team, winery owners and trusted partners, celebrating the continued success and growth of our brand," said Ken Lineberger. "We were humbled to be honored with a surprise award and are truly grateful for the commitment of our owners; without their efforts, creativity and resourcefulness, we wouldn't be where we are today. I would also like to thank our sponsors who helped to make this conference possible." 
A unique, emerging franchise concept, the Waters Edge Winery & Bistro model is ideal for entrepreneurs passionate about wine who seek a way to share their love and knowledge without being in the agriculture business. Each location combines the traditional winery experience with the popular wine bar concept offering bistro-style artisanal selections including appetizers, flatbreads, sandwiches, salads and desserts, custom bottle labeling as personalized gifts, private tasting areas for groups, a wine club and more. Franchise owners receive comprehensive training on the micro-winery tank system and are provided with pre-opening training courses, both hands-on and classroom based, to help prepare for the launch of their winery. The company also offers extensive marketing support to help franchise owners realize success. 
For more information on Waters Edge Wineries or for franchising information, contact 909-GOT-WINE, visit WatersEdgeWineries.com or email [email protected]. 
# # #
Media Note: High-resolution photos of the 2023 Franchise Owner's Conference can be found HERE.
About Waters Edge Wineries®
California-based Waters Edge Wineries is an innovative micro-winery system bringing the cultural experience of wine to communities across the country. Each Waters Edge Winery & Bistro location combines the very best of a winery and wine bar in one versatile model that can be located anywhere, regardless of topography or agricultural factors. Founded in 2004 by husband-and-wife team Ken and Angela Lineberger, Waters Edge Wineries currently operates 15 Waters Edge Winery & Bistro locations in California, Illinois, Kentucky, Montana, Ohio, Oklahoma, Texas and Virginia. The company caters to entrepreneurs who are seeking a fun, exciting career where they can share their passion for wine while creating memorable guest experiences. 
Media Contact:
Hemsworth Communications
Lacey Outten / Allie Kresek
[email protected]