Host Hotels Share Special Offers, Including 40 Percent Savings at Kimpton Overland Hotel and the AC Hotel Atlanta Airport Gateway When Booking at SpinTheDistrict.com/Lodging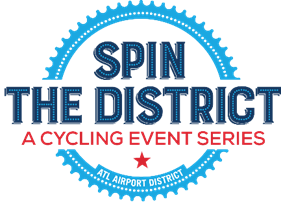 ATLANTA – March 21, 2022 – Next month, ATL Airport District will celebrate the return of its highly anticipated Spin the District – the community's fourth annual cycling race series, which provides an immersive experience for both cyclists and spectators, as the area's streets are transformed into a premier cycling destination. The events kick off with the Hapeville Crit on Saturday, April 23, followed by the College Park Crit on Sunday, May 1. New this year, the District is offering special event rates at two host hotels, with up to 40 percent savings at both the Kimpton Overland Hotel and the AC Hotel Atlanta Airport Gateway.
"Spin the District is an exciting, memorable family-friendly event and we are thrilled to mark its return, with food, entertainment and festivities for all to enjoy," said Cookie Smoak, president of ATL Airport District. "With deeply discounted hotel rates, we are hoping to provide an even more immersive experience than in past years, letting participants and fans stay for less and extend the fun."
Hapeville Crit | Saturday, April 23
Kicking off at 9 a.m., Spin the District launches during USA CRITS Speed Week with the Hapeville Crit – a fast-paced, 1.4-kilometer route through the heart of the city. Hapeville's course will feature the first and fastest cycling adventure for participants – including a seven-corner course and 150-meter straight finish. The day will include racing for all ages and levels. The crowd favorite Kid's Tricycle Race begins at approximately 3 p.m. and the day concludes with the pro men and women's races, featuring some of the best cyclists in the country. Friends, family and cycling enthusiasts can gather for a Saturday Block Party in downtown Hapeville to commemorate the weekend with frothy drinks, food and festivities throughout the afternoon. Rider registration and details are available online.
College Park Crit | Sunday, May 1
Wrapping up the initial Spin weekend and USA CRITS Speed Week, the College Park Crit will take place from 9 a.m. to 7 p.m., with a block party from noon to close. The College Park course will feature a five-corner circuit, tight turns and an uphill finish, across the historic streets of downtown College Park. Spectators are encouraged to bring lawn chairs, tents and sunscreen – and can indulge in local food trucks throughout the afternoon, alongside family-friendly games and kid's races. Cyclist registration and details can be accessed online.
For this year's series, the District has teamed up with two hotels to offer discounted rates. The Kimpton Overland Hotel, a luxury 4-star boutique hotel, is just one block from the Hapeville Crits course and offering an incredible view of the Porsche Experience racetrack. Guests can enjoy a special event rate of $139/night when booking now through April 1, 2022, on the Spin the District website.
The AC Hotel Atlanta Airport Gateway, a 4-star hotel only two blocks from the College Park Crits course, is offering a special event rate of $139/night – or $159/night with breakfast for two – when booking now through April 8, 2022. Both hotel rates are available for both weekends. For more information on lodging or to book your hotel, visitwww.spinthedistrict.com/lodging/.
For more information on how to be a part of this experience as a participant, volunteer or artist visit www.spinthedistrict.com and follow the @spinthedistrict on Instagram, Facebook and Twitter.
To access images from past events, visit https://ethic.smugmug.com/.
Save the date for the Union City Fondo on Saturday, October 22.
About ATL Airport District:
The ATL Airport District is the official destination marketing organization for the cities of College Park, East Point, Hapeville and Union City, Ga. Home to the world's busiest airport, Georgia's second largest convention center, more than 8,000 hotel rooms, an abundance of arts and culture, an eclectic mix of great restaurants, and located just minutes from downtown Atlanta, the ATL Airport District offers big-city amenities balanced with Southern charm.
For more information on the ATL Airport District, visit www.ATLdistrict.com or call 404.334.7500. For updates on everything in "The District", follow @ATLDistrict on Facebook, Twitter and Instagram.
# # #
Media Contact:
Ella Chancellor, Hemsworth Communications
347-3208-4764 or [email protected]