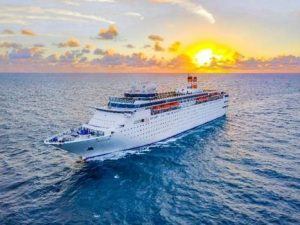 Travelers Can Save Now and Sail Later with $25 Deposits Per Person;
Offer Includes 10 Free Drinks, $50 Onboard Credit, and Kids Sail FREE
WEST PALM BEACH, Fla. – August 19, 2020 – Bahamas Paradise Cruise Line today announced the launch of its new 'Micro-Deposits for Micro-Cations' offer, allowing travelers to book future sailings to Grand Bahama Island or Nassau for early 2021 with just a $25 deposit per person. Travelers who take advantage of this offer will enjoy a host of perks, including 10 free drinks, a $50 onboard credit, free WiFi, and kids sail FREE. With the rollout of this new offer, the cruise line is providing yet another tool for travel advisors to create leads for bookings, increase customer spend, and drive revenue.
"Travel advisors have been a huge support system for us during this challenging time, so we are proud to provide a new tool for them to engage with travelers who are ready to make plans to set sail to the Bahamas in 2021," said Francis Riley, senior vice president, sales, and marketing, of Bahamas Paradise Cruise Line. "Travelers are eager to return to sea, and as the leader in two-night micro-cations, this new offer for early 2021 sailings makes booking with us easier and more affordable than ever."
As the only cruise line with daily departures from West Palm Beach, Bahamas Paradise Cruise Line lets travelers cruise to either Grand Bahama Island or Nassau while sailing aboard Grand Celebration or Grand Classica. Travelers have access to al fresco dining; full-service spas; interactive kids' programs; a variety of entertainment options; and the popular Par-a-Dice Casino. Each ship features unique dining venues – all of which exemplify the line's comfortable luxury appeal – including The Rock Grill, an interactive experience where guests can cook their own meats and veggies on a lava rock and Admiral's Steak & Seafood, with featured items such as Angus Beef Carpaccio and Peruvian Sea Bass.
In addition to these perks, travelers that choose to set sail with Bahamas Paradise Cruise Line will enjoy a safe and stress-free micro-cation. As the first to receive a "green" status from the Centers for Disease Control and Prevention, the cruise line has implemented a variety of new initiatives to ensure the health and safety of all onboard and ashore. The safety measures include newly enhanced protocols for guest accommodations, common areas, recreational facilities, and dining onboard. A few specific measures include closing two-passenger stateroom decks to reduce crowds, and reducing onboard capacity by 40 percent, as well as requiring guests to social distance from valet parking to terminal check-in.
Travel advisors who wish to take advantage of this new offer and grow their business can start by choosing a date at https://app.bahamasparadisecruise.com/select-date, calling the Global Trade Desk to book space, and visiting www.BookParadise.com to download customizable promotional flyers.
For more information on the cruise line or to book a 2021 cruise, travel advisors can call the company's Global Trade Desk at 800-995-3143, email [email protected] or visit www.BookParadise.com. For full details on Bahamas Paradise Cruise Line's improved health and safety measures, please visit www.BahamasParadiseCruise.com/COVID-19-safety-measures. Stay up-to-date on the latest news by following the cruise line on Instagram, Facebook, and Twitter.
ABOUT BAHAMAS PARADISE CRUISE LINE
Bahamas Paradise Cruise Line, the ultimate Bahamas getaway, is the only provider of two-night cruises to Grand Bahama Island and Nassau, and the originator of the unique Cruise & Stay program, letting travelers extend their Bahamas adventure with a distinctive resort stay. Recently named Best Short Cruise by Porthole Cruise Magazine's 2020 Editor-in-Chief Awards, Bahamas Paradise Cruise Line sets sail daily from West Palm Beach and operates two ships, Grand Celebration and Grand Classica – which earned Cruise Critic's 2019 Cruisers' Choice Award for Best Entertainment. The company is majority-owned by the family of former Norwegian Cruise Line President and CEO Kevin Sheehan.
###
Media Contact:
Hemsworth Communications
Adrianne Richardson/Ines Lei
(954) 716-7614 or [email protected]
This message was sent to [email protected].
Hemsworth Communications
1510 SE 17th Street, Suite 200A
Fort Lauderdale, FL 33316