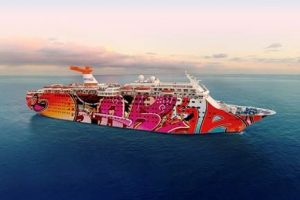 Perfect for Art Aficionados & Novices Alike, the "Ultimate Art Experience at Sea"
to Feature Nationally Acclaimed Artists, Live Performances, and More
WEST PALM BEACH, Fla. – November 13, 2019 – Bahamas Paradise Cruise Line, the only provider of two-night cruises to Grand Bahama Island and Nassau, and the originator of the unique Cruise & Stay Program, today announced details around its second ArtSea Cruise Experience, one of the largest artistic experiences at sea. Departing from West Palm Beach on November 30 onboard Grand Celebration and visiting Grand Bahama Island, the themed cruise is perfectly timed to the official kick-off of the season of the arts, returning to South Florida just days before Miami Beach's Art Basel debut. Starting at just $129 per person, ArtSea is an affordable and art-inspired Bahamas getaway.   
"ArtSea was created to provide travelers who are passionate about the arts a unique way to cultivate that passion while enjoying a getaway to paradise," said Fred Greene, vice president of Marketing of Bahamas Paradise Cruise Line. "This one of a kind floating celebration of the arts is a great option for South Florida locals – as well as those visiting the region for Art Basel – the chance to witness live art installations from popular street artists, and incredible musical performances, with breathtaking ocean views as a backdrop." 
Since its launch in April 2019 featuring EDM legends Afrobeta and DJ Wags and infamous artists Jose Sabate "PEZ" and Dasic Fernandez, ArtSea remains the only getaway of its kind. This year, thanks to the talent and expertise of Joseph Risolia, event organizer, curator, and product developer that's helped create some of South Florida's most famed events, including ULTRA Music Festival, those booking the second ArtSea experience are in for an unforgettable getaway, enjoying all of the onboard perks and amenities Bahamas Paradise Cruise Line is known for – including fine dining options, award-winning live entertainment, an onboard casino and more.  While onboard the two-day cruise, travelers will have unique up close and personal experiences with world-renowned street artists, like Wynwood Walls artists The London Police, Jordan Betten, and Ernesto Maranje. Once travelers arrive on Grand Bahama Island, they will experience live painting sessions featuring Sam El Greco, Pez Barcelona, Demsky, and Adam Neate, among others.  There will also be the chance to create unique hand-crafted masterpieces that can serve as a keepsake for family and friends. This event will also include performances by Jo Mersa Marley, as well as music by world-renowned and Grammy-nominated Reggae band, Third World.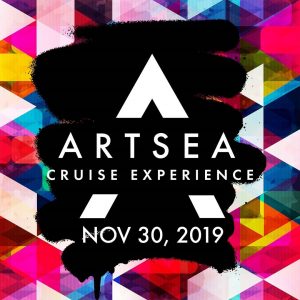 Contributing partners of the second annual ArtSea Cruise Experience include GreenSheen Paint and Brightline. GreenSheen Paint is an eco-friendly national supplier of premium latex paint that donated $20,000 worth of paint towards the event – providing guests with an ample supply of materials to create their own masterpiece or two. With Brightline now onboard, travelers can easily reach the Port of Palm Beach with the cruise line's all-new package that includes a roundtrip train ride and rideshare credit for starting at just $15 per person.
ArtSea is a unique opportunity for travelers to combine their love for travel and the arts while helping to facilitate economic recovery in the Bahamas, which were recently impacted by Hurricane Dorian.
"ArtSea is a wonderful way for us to continue giving back to Grand Bahama Island through the arts, which is something ingrained in so much of the culture of the Bahamas," said Oneil Khosa, CEO of Bahamas Paradise Cruise Line. "We can't wait to welcome everyone aboard!"
For more information on Bahamas Paradise Cruise Line or to book the ArtSea Cruise Experience, visit: https://www.BahamasParadiseCruise.com/Art-Sea.php or call 888-530-2775 (English) / 888-530-2776 (Español). Follow the company on Facebook, Twitter, and Instagram.
*Cruise fares are per person, based on double occupancy and do not include gratuities, taxes, and fees.
ABOUT BAHAMAS PARADISE CRUISE LINE
Bahamas Paradise Cruise Line, the ultimate Bahamas getaway, is the only provider of two-night cruises to Grand Bahama Island and Nassau, and the originator of the unique Cruise & Stay program, letting travelers extend their Bahamas adventure with a distinctive resort stay. Setting sail daily from Palm Beach, Bahamas Paradise Cruise Line operates two ships, Grand Celebration and Grand Classica – which recently earned Cruise Critic's 2019 Cruisers' Choice Award for Best Entertainment – doubling its capacity to more than 500,000 passengers annually. The company is majority-owned by the family of former Norwegian Cruise Line President and CEO Kevin Sheehan. 
Media Contact:         
Adrianne Richardson/Victoria Stinson
Hemsworth Communications
(954) 716-7614 or [email protected]
###
This message was sent to [email protected]
Hemsworth Communications
1510 SE 17th Street, Suite 200A
Fort Lauderdale, FL 33316