New Program Designed to Help Travel Advisors Promote Group Sales,
Rewards Partners with Up to 20 Percent Commission, No NCFs, and More!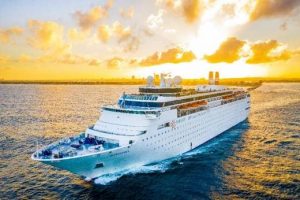 WEST PALM BEACH, Fla. – December 18, 2019 – Bahamas Paradise Cruise Line today announced the launch of its all-new 'Accelerate Groups' program to help travel advisors grow their group business! Through this program, advisors can offer clients the chance to getaway to Grand Bahama Island or Nassau with a menu of 'Perk Points' incentives and a 10 percent group discount – making it easier than ever to escape to paradise. Advisors who block group space receive several benefits, including up to 20 percent commission and no non-commissionable fares.
"We pride ourselves on our ability to offer advisors innovative incentives for partnering with Bahamas Paradise Cruise Line, and we're thrilled to officially launch the Accelerate Groups Program," said Francis Riley, senior vice president, sales and marketing, of Bahamas Paradise Cruise Line. "Booking groups can be a challenge, so we created a program to help our partners reach this audience and maintain a steady stream of business by offering an additional perk, or two, for their clients. This program also serves as a testament to our dedication to the travel advisor community, and we look forward to launching even more incentives in 2020!"
The Accelerate Groups program includes two categories: one for groups booked at least 180 days prior and another for those booked between 90-180 days prior to sailing. A group consists of eight staterooms and advisors who book in advance are eligible for additional benefits, including guaranteed 20 percent commission and the chance to secure an unlimited number of tour conductors for clients.
Recently named a winner of Cruise Critic's 2019 Cruisers' Choice Award for Best Entertainment, Bahamas Paradise Cruise Line is the only provider of two-night cruises to Grand Bahama Island and Nassau with daily departures from West Palm Beach. While sailing to paradise, guests can choose from several fine dining options, including gourmet burgers at The Bull; an intimate, candlelit dining experience at Admiral's Steak and Seafood; zesty Italian fare at A Slice Above; or experiential, interactive dining at The Rock Grill – which gives guests the opportunity to cook their own meat and seafood dishes on a lava rock.
Each night onboard offers a different experience, with several nightly shows, including the popular Celebration Nights and Let's Dance! Production. Adult cruisers are welcome to cap the night off with drinks and laughs during a late-night comedy show while younger travelers can mix and mingle at one of the Dancing Martian's glow parties.
With sailings to two destinations and a host of perks, like a base commission of 15 percent and no non-commissionable fares, now is the perfect time for travel advisors to partner with Bahamas Paradise Cruise Line and offer clients a better way to getaway.
For more information on the cruise line or to book a cruise, travel advisors can call the company's all-new Global Trade Desk at 800-995-3143, email [email protected] or visit www.BookParadise.com. Stay up-to-date on the latest news by following the cruise line on Instagram, Facebook, and Twitter.
ABOUT BAHAMAS PARADISE CRUISE LINE
Bahamas Paradise Cruise Line, the ultimate Bahamas getaway, is the only provider of two-night cruises to Grand Bahama Island and Nassau, and the originator of the unique Cruise & Stay program, letting travelers extend their Bahamas adventure with a distinctive resort stay. Setting sail daily from Palm Beach, Bahamas Paradise Cruise Line operates two ships, Grand Celebration and Grand Classica – which recently earned Cruise Critic's 2019 Cruisers' Choice Award for Best Entertainment – doubling its capacity to more than 500,000 passengers annually. The company is majority-owned by the family of former Norwegian Cruise Line President and CEO Kevin Sheehan.
Media Contact:
Hemsworth Communications
Adrianne Richardson/Allison Moraga
(954) 716-7614 or [email protected]
###
This message was sent to [[email protected]].
Hemsworth Communications
1510 SE 17th Street, Suite 200A
Fort Lauderdale, FL 33316