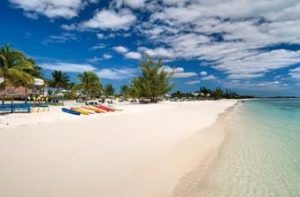 Travelers Can Enjoy Two Vacations in One with Exceptional Value on the Ultimate Bahamas Escape; Pricing Starts at $279 Per Person
DEERFIELD BEACH, Fla. – August 12, 2019 – Bahamas Paradise Cruise Line is inviting families to make the most of their vacations with an innovative way to extend the fun, enjoying a land and sea package including a stay on Grand Bahama Island starting at just $279 per person for three nights. The new Cruise & Stay package – valid only on bookings with Bahamas Paradise Cruise Line – includes a three-night package featuring a round-trip, two-night cruise from Palm Beach to Grand Bahama Island, and a one (or more) night stay at one of four beach resorts. This season is the perfect time for sun-seeking families to make memories at a more affordable price than ever.
"With stretches of white-sand shoreline, secret snorkel spots, and one of the world's largest underwater cave systems, families will find plenty of ways to spend sunny days on Grand Bahama Island," said Oneil Khosa, chief executive officer of Bahamas Paradise Cruise Line. "We're proud to be the first and only cruise line offering an opportunity like this, where guests can cruise and stay, with packages ranging from three to six nights or more, extending the fun and making the most of their escape."
With Bahamas Paradise Cruise Line's new Cruise & Stay program, guests spend one night aboard Grand Classica or Grand Celebration, discovering delectable dining, exciting entertainment options, and signature amenities while sailing to Grand Bahama Island. The next day, they disembark for a full day of fun and enjoy their choice of one to four nights at an island resort, exploring the tropical destination's wonders, before spending an additional night onboard the ship as they return to Palm Beach.
Bahamas Paradise Cruise Line's premier resort partners include:
VIVA WYNDHAM FORTUNA BEACH: Situated on a pristine stretch of palm tree-lined shore and surrounded by lush greenery, the all-inclusive resort offers unlimited food and drinks, water sports and activities of all kids, daily and nightly entertainment.
THE GRAND LUCAYAN: Located on a gorgeous stretch of white-sand beach adjacent to Port Lucaya Marketplace, the island's popular shopping and dining center, this resort offers travelers the option of accommodations only with à la carte meals or upgrading to an all-inclusive option.
PELICAN BAY HOTEL: The family-friendly Pelican Bay Hotel offers a relaxing, European-inspired setting with private harbor front balconies, three pools, and gorgeous white-sand beaches. Meals are available for purchase at the resort's dining venues.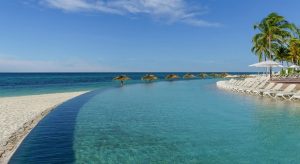 As an exceptionally unique perk, travelers booking the Cruise & Stay package have the potential to experience both ships in Bahamas Paradise Cruise Line's fleet, sailing on a different ship each way. Grand Classica and Grand Celebration both feature sprawling sun decks with swimming pools, al fresco dining with stellar sunset views; full-service spas; interactive kids' programs; and a variety of entertainment options including nightly theater performances, live bands and more; and the popular Par-a-Dice Casino, with favorite table games, and spin-to-win slot machines. Each ship features signature and unique dining venues – all of which exemplify the line's comfortable luxury appeal – including The Rock Grill, an interactive experience where guests can cook their own meats and veggies on a lava rock or Admiralty Steak and Seafood with featured items such as Angus Beef Carpaccio and Peruvian Sea Bass.
This Cruise & Stay program complements the popular year-round two-night sailings Bahamas Paradise Cruise Line offers departing daily from Palm Beach to Grand Bahama Island.
For more information on Bahamas Paradise Cruise Line or to book a cruise, please visit: www.BookParadise.com or call 800 – 995 – 3143.
*Cruise fares are per person, based on double occupancy and do not include gratuities, taxes, and fees.
ABOUT BAHAMAS PARADISE CRUISE LINE
Bahamas Paradise Cruise Line, the ultimate Bahamas getaway, is the only provider of two-night cruises to Grand Bahama Island and the originator of the unique Cruise & Stay program, letting travelers extend their Bahamas adventure with a stay at one of four distinctive beach resorts. Setting sail daily from Palm Beach, Bahamas Paradise Cruise Line operates two ships, Grand Celebration and Grand Classica – which recently earned Cruise Critic's 2019 Cruisers' Choice Award for Best Entertainment – doubling its capacity to more than 500,000 passengers annually. The company is majority-owned by the family of former Norwegian Cruise Line President and CEO Kevin Sheehan and is today the largest contributor to tourism in Grand Bahama Island. For more information on the features and amenities of the cruise line or to book a cruise, visit the company's website: www.BookParadise.com or call: 800 – 995 – 3143. Follow the company on Facebook, Twitter, and Instagram.
###
This message was sent to [email protected]
Hemsworth Communications
1510 SE 17th Street, Suite 200A
Fort Lauderdale, FL 33316
Media Contact:         
Hemsworth Communications
Adrianne Richardson/Jamie Shalek
(954) 716-7614 or [email protected]