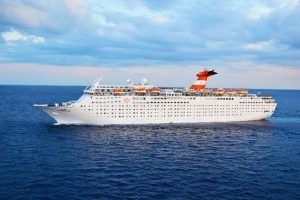 Cruise Line Offers Travel Advisors a New Way to Drive Revenue,
Increase Bookings with BOGO Cruises Starting at $69pp
WEST PALM BEACH, Fla. – November 20, 2019 – Bahamas Paradise Cruise Line, the only provider of two-night cruises to Grand Bahama Island and Nassau, today announced a Black Friday offer that gives travel advisors a new lead-generator to help drive bookings and increase revenue this holiday season. Starting November 21st, the cruise line will offer a buy one, get one free discount, with prices starting at $69 per person* for inside cabins, on sailings through February 13th, 2020. All bookings will also include the option to buy five free drinks and get five free. In return, advisors receive a base commission of 15 percent with no non-commissionable fees.
"This holiday season, we're proud to launch an exclusive promotion that simultaneously rewards our guests and our travel advisor partners," said Francis Riley, senior vice president, sales and marketing for Bahamas Paradise Cruise Line. "With this limited time offer, advisors can give clients the chance to avoid the Black Friday crowds and escape to The Bahamas for less than ever before – booking a much-needed vacation from their busy holiday schedules."
Travelers booking Bahamas Paradise Cruise Line's Black Friday offer will enjoy access to onboard dining, recreation, and entertainment while sailing to paradise, including expansive sun decks with swimming pools, al fresco restaurants, full-service spas, interactive kids' programs, and award-winning nightly shows. While parents enjoy nightly entertainment, younger travelers have the option to mix and mingle at one of the popular Dancing Martian Glow Parties. The cruise line also offers a unique Cruise & Stay Program that allows guests to extend their stay in paradise at one of several distinct beach resort and hotel options on Nassau or Grand Bahama Island.
With so many offerings and this once-in-a-lifetime Black Friday sale, there's never been a better time for advisors to encourage travelers to book a getaway to paradise with Bahamas Paradise Cruise Line.
For more information on Bahamas Paradise Cruise Line or to book a cruise, travel advisors can visit the all-new Travel Advisor Portal at www.BookParadise.com or call 800 – 995 – 3143. Stay up-to-date on the latest news by following the cruise line on Instagram, Facebook, and Twitter.
*Cruise fares are per person, based on double occupancy and do not include gratuities, taxes, and fees.
ABOUT BAHAMAS PARADISE CRUISE LINE
Bahamas Paradise Cruise Line, the ultimate Bahamas getaway, is the only provider of two-night cruises to Grand Bahama Island and Nassau, and the originator of the unique Cruise & Stay program, letting travelers extend their Bahamas adventure with a distinctive resort stay. Setting sail daily from Palm Beach, Bahamas Paradise Cruise Line operates two ships, Grand Celebration and Grand Classica – which recently earned Cruise Critic's 2019 Cruisers' Choice Award for Best Entertainment – doubling its capacity to more than 500,000 passengers annually. The company is majority-owned by the family of former Norwegian Cruise Line President and CEO Kevin Sheehan.
Media Contact:
Adrianne Richardson
Hemsworth Communications
(954) 716-7614 or [email protected]
###
This message was sent to [[email protected]].
Hemsworth Communications
1510 SE 17th Street, Suite 200A
Fort Lauderdale, FL 33316