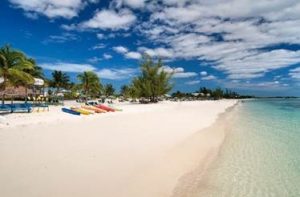 Cruise Line's New 'Hometown Heroes' Initiative Honors Essential Workers
With a Getaway to Paradise; Kids Sail FREE Included
WEST PALM BEACH, Fla. – July 20, 2021 – Bahamas Paradise Cruise Line, the originator of the two-night cruise to the Bahamas, is extending its gratitude to essential workers for their dedication and service during the COVID-19 (coronavirus) pandemic with its new Hometown Heroes initiative. Essential workers nationwide can book a FREE escape to Grand Bahama Island – departing between July 22, 2021 and September 30, 2021 – with a second guest who is paying a special price of $129.* Though not combinable with other offers, the cruise line's popular Kids Sail FREE can be applied for those who are parents – making this a safe, wonderful and affordable getaway for the whole family.
"Essential workers have always been heroes, putting their lives at risk daily to help others, but the COVID-19 pandemic has put even more strain on those on the front lines and we are so appreciative of their sacrifices," Bahamas Paradise Cruise Line CEO Oneil Khosa said. "We want to say, 'thank you' by offering a free and relaxing getaway to Grand Bahama Island, our second home. With our updated health and safety measures in place, we are able to offer essential workers and their families a stress-free, micro-cation option that will allow them to return to work refreshed and recharged."
Bahamas Paradise Cruise Line is the only cruise line offering two-night getaways to Grand Bahama Island, while sailing onboard Grand Classica, and essential workers who book a cruise through the Hometown Heroes initiative will have access to al fresco dining; full-service spas; interactive kids' programs; various entertainment options; and the popular Par-a-Dice Casino. The ship features unique dining venues – all of which exemplify the line's comfortable luxury appeal – including The Rock Grill, an unforgettable dining experience where guests can cook their own meals using hot lava rocks, and Admiral's Steak & Seafood, featuring mouth-watering dishes like Angus Beef Carpaccio and Peruvian Sea Bass.
As the fight against coronavirus is not over, the cruise line has implemented a series of protocols to ensure the health and safety of guests and crew onboard and ashore. Travelers who choose to set sail with Bahamas Paradise Cruise Line will enjoy a safe, stress-free micro-cation, preparing them to return to work motivated and energized.
Essential workers are encouraged to book their future getaway by calling 877-954-9626 or visiting www.BahamasParadiseCruise.com. For more details on the Hometown Heroes initiative, visit https://www.bahamasparadisecruise.com/hometown-heroes.php. Follow Bahamas Paradise Cruise Line on Facebook at Facebook.com/BPCruiseLine, Instagram @BahamasParadiseCruiseLine, and Twitter @BPCruiseLine.
# # #
ABOUT BAHAMAS PARADISE CRUISE LINE
Bahamas Paradise Cruise Line is the only provider of two-night cruises to Grand Bahama Island, and the originator of the unique Cruise & Stay program, letting travelers extend their Bahamas adventure with a distinctive resort stay. Named Best Short Cruise by Porthole Cruise Magazine's 2020 Editor-in-Chief Awards, Bahamas Paradise Cruise Line sets sail from West Palm Beach and operates one ship, Grand Classica – which earned Cruise Critic's 2019 Cruisers' Choice Award for Best Entertainment. The company is majority-owned by the family of former Norwegian Cruise Line President and CEO Kevin Sheehan.
Media Contact:
Hemsworth Communications
Samantha Jacobs/Carmen Arce
954-716-7614 or [email protected]