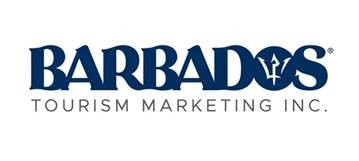 22 Local Chefs and Mixologists and Three International Chefs
Sign on for Barbados Food and Rum Festival this October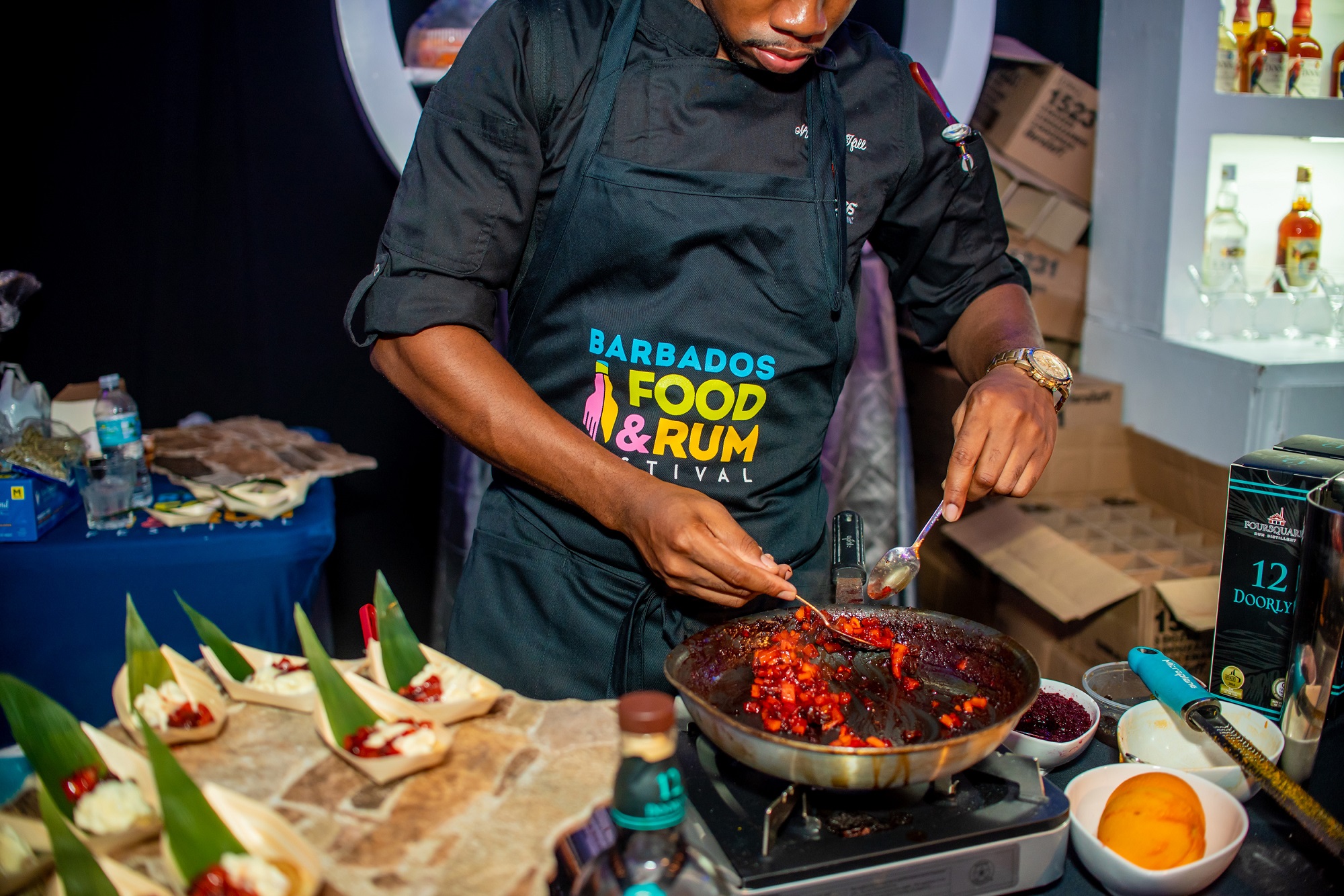 MIAMI – (July 17, 2023) – Barbados Tourism Marketing Inc. (BTMI) today announced the return of the Barbados Food and Rum Festival for 2023, as well as its partnership with 22 local chefs and mixologists to showcase the best of Barbados' culinary talent and cuisine. The Festival will take place October 19-22, 2023, under the theme 'Feed the Future,' once again showing the company's commitment to developing the future of young, local talent. In addition to the local chef line-up, the BTMI has also partnered with three international chefs as they continue to elevate the Festival on the world stage. 
Culinary Talent On Display
According to BTMI Director, Public Relations and Corporate Communications Aprille Thomas, this year's group of chefs and mixologists highlighted the diversity of Barbados' culinary talent.
"This October the best in Barbadian culinary talent will be on display," Thomas said. "From award-winning mixologists to vegan chefs; we look forward to wowing patrons with new things in Caribbean and international cuisine."
2023 Chefs Announcement
This October, the chefs were challenged to create dishes using 50% Barbadian ingredients, rum and a mystery ingredient, which they selected from the Mystery Box.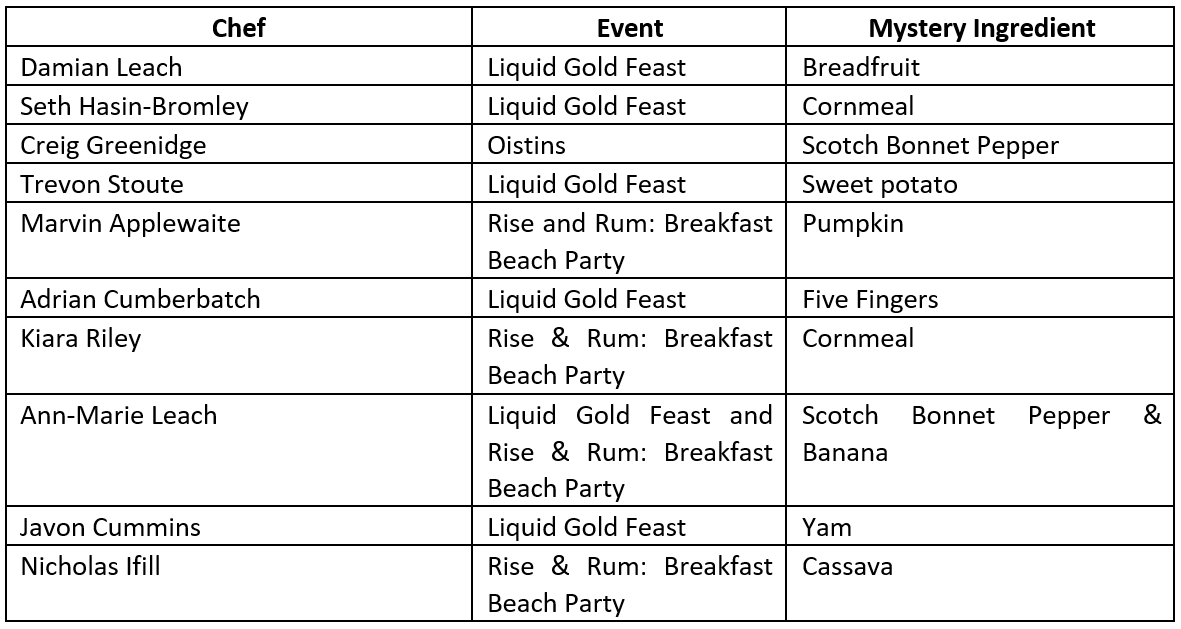 2023 Pastry Chef Announcement

2023 Mixologists Announcement
Similar to the Chefs, the mixologists selected their local mystery ingredients to incorporate in their rum cocktails.

International Chefs
Thomas also announced the names of this year's international chef line-up.
"We welcome the opportunity to once again partner with Food Network's Chef Anne Burrell from the US, who has been with us for multiple festivals and is a fan favourite," Thomas said. "We have also partnered with UK MasterChef, Chef Shelina Permalloo and from Colombia Chef Juan Diego." 
Thomas explained that the US and UK represent the largest percentage of visitors to Barbados and therefore, believed that this will be a great selling point as it markets the Festival in these markets. In fact, the BTMI will be showcasing the Barbados Food and Rum Festival at the upcoming National Geographic Food Festival in London from July 15-17. One display, two Barbadian mixologists and one chef, accompanied by UK Chef for the Festival, Shelina Permalloo. 
Furthermore, the director explained that the partnership with Chef Juan Diego was integral as the BTMI continued to focus on further establishing Barbados' presence in the Latin American market, which is considered a new and emerging market. For the BTMI, this partnership and setting up an office in Panama will help the organisation to further solidify its presence in Latin America. 
Tickets for this year's Barbados Food and Rum Festival go on sale to the public July 14, 2023, on www.FoodAndRum.com.
For more information on travel to Barbados, visit www.VisitBarbados.org, follow on Instagram @visitbarbados, Facebook @VisitBarbados, and via Twitter @Barbados. 
# # #
Media Note: Hi-res images can be found HERE. 
About Barbados
The island of Barbados offers the most authentic Caribbean experience with its exceptionally rich culture and history rooted in remarkable landscapes. Rated as one of the world's sexiest beaches in 2008 by Concierge.com; Barbados' Crane Beach in St. Philip stands as a premier destination for travelers. Barbados is also the first Zagat-rated Caribbean island and is known as the culinary capital of the Caribbean. Barbados has hosted several world class events including: The annual Barbados Food & Rum Festival; the 2006 PGA World Golf Championships-Barbados World Cup, the ICC Cricket World Cup Finals in 2007, the Sentebale Charity Polo match with Prince Harry of Wales in 2010, and the ICC Twenty20 Cricket Finals for 2010, and the Rihanna LOUD concert in 2012. Accommodations range from picturesque plantation houses and villas, to quaint bed and breakfasts and award-winning, five-star resorts. Grantley Adams International Airport offers even more non-stop and direct service from a growing number of U.S. cities, making Barbados the true gateway to the Eastern Caribbean. Barbados was voted eighth in the World by Trip Advisor's "2008 Travelers' Choice Destination Awards" in its Top 100 Destinations category. 
Media Contact:
Becca Maroney / Richard Forbes
Hemsworth Communications
203-807-3450 / [email protected]