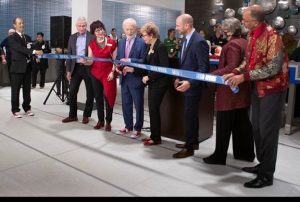 Winnipeg, Manitoba (October 25, 2019) – Best Western Hotels & Resorts announces the opening of its first Best Western Premier property in Manitoba: The Best Western Premier Winnipeg East. The newly built hotel opened its doors to guests offering modern décor, upscale amenities and superior service travelers have come to trust from the Best Western Premier Brand. An opening event was held to celebrate the upscale brand's arrival with hotel owners, local dignitaries, friends and families.   
"There has never been a more exciting time to be part of the Best Western Premier brand," said Heather Fenyes, CEO of Best Western Premier Winnipeg East. "Our newly built property will be a shining example of what the Best Western Premier brand represents: superior accommodations, exceptional service and first-rate amenities."
The property features 77 upscale guest rooms and 64 spacious suites with detailed finishes and all equipped with a large flat-screen television, microwave and refrigerators. Whether traveling for business or leisure, guests will enjoy an array of amenities, including an indoor pool with a waterslide, hot tub and state-of-the-art fitness center. Travelers can start their day with hot breakfast with made to featuring omelets, or end their day picking up an evening drink at onsite craft beer store and unwinding in the welcoming and spacious lobby and Bistro Bar.  
The Best Western Premier Winnipeg East is also ideal for business travelers with a full-service business center offering complimentary printing and scanning. Featuring three meeting rooms ranging from 300 to 1,000 square feet, the property is an ideal location for meetings, conferences, banquets or other celebrations. 
Guests staying at the hotel will enjoy easy walking access to nearby tourists spots and entertainment, including Club Regent Event Centre and Casino, Kildonan Place Shopping Centre, The Forks, The Mint and the Human Rights Museum.
Best Western Premier is one of Best Western Hotels & Resorts' most exclusive offerings, which brings a notably refined and elegant travel experience to today's discerning travelers. The brand was named #1 in the upscale segment in the J.D. Power 2019 North America Hotel Guest Satisfaction Study, setting a higher standard for travelers with stylish designs, attention to detail and personalized service.
Reservations at the Best Western Premier Winnipeg East may be booked by calling the hotel directly 204-416-1920 or by calling Best Western Hotels & Resort's 24-hour, toll-free reservations number (800) WESTERN. Reservations are also available from Best Western's website at BestWestern.com.
 # # #
About Best Western® Hotels & Resorts:
Best Western Hotels & Resorts headquartered in Phoenix, Arizona, is a privately held hotel brand within the BWH Hotel GroupSM global network. With 17 brands and approximately 4,700 hotels in over 100 countries and territories worldwide*, BWH Hotel Group suits the needs of developers and guests in every market. Brands include Best Western®, Best Western Plus®, Best Western Premier®, Executive Residency by Best Western®, Vīb®, GLō®, Aiden®, Sadie®, BW Premier Collection® and BW Signature Collection®. Through recent acquisition, WorldHotels® Luxury, WorldHotels Elite and WorldHotels Distinctive brands are also offered. Completing the portfolio is SureStay®, SureStay Plus®, SureStay Collection® and SureStay StudioSM franchises**. For more information visit www.bestwestern.com or www.bestwesterndevelopers.com.
* Numbers are approximate, may fluctuate, and include hotels currently in the development pipeline.
**All Best Western, WorldHotels and SureStay branded hotels are independently owned and operated.
This message was sent to [email protected]
Hemsworth Communications
1510 SE 17th Street, Suite 200A
Fort Lauderdale, FL 33316