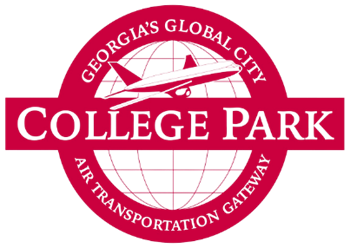 City Joining National Nonprofit Organization as Affiliate Partner as Community
Gathers with City Departments to Help Clean Up College Park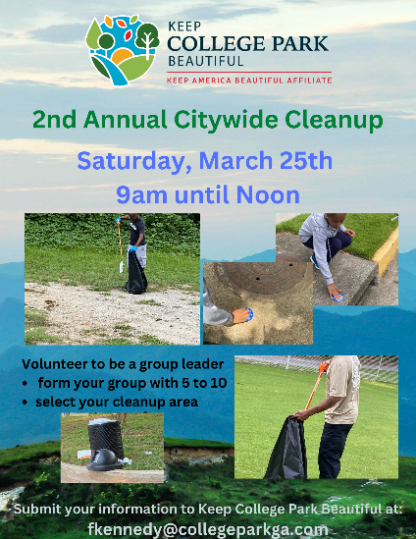 COLLEGE PARK, Ga. – March 23, 2023 – The City of College Park is now an official affiliate partner with Keep America Beautiful, a national nonprofit organization that inspires and educates people to improve and beautify their communities. To officially kickoff the new partnership, the City of College Park, together with Keep America Beautiful, is hosting a city-wide community clean-up event on Saturday, March 25, 2023.
Beginning at 9 a.m., several groups of volunteers will join in the city-wide clean-up. Each group will select a neighborhood in the City of College Park to focus on. Once the efforts are complete in their respective neighborhoods and communities, the volunteer groups will return to City Hall as the final clean-up site.
"We are so proud of the work Keep College Park Beautiful is doing to help us build the community we deserve," College Park Mayor Bianca Motley Broom said. "This event will not only beautify our city but will serve to unite all of College Park around our core values of service and advancement."
The City of College Park held its certification ceremony for Keep College Park Beautiful as an affiliate in good standing with Keep America Beautiful on March 6, 2023. During the event, Frances A. Kennedy, executive director of Keep College Park Beautiful; Natalie Johnston Russell, executive director of Keep Georgia Beautiful; and Mally Coffey, region director of affiliate operations of Keep America Beautiful, welcomed the City of College Park as an official partner.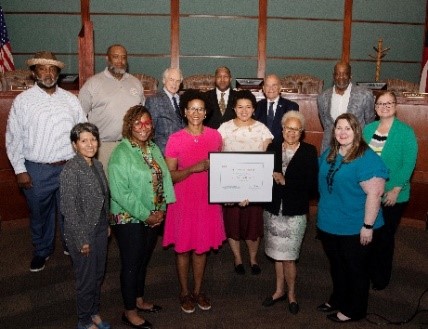 "We are so excited to focus our efforts on helping College Park become cleaner," Kennedy said. "This unique behavioral program helps educate the community on how to build and maintain clean neighborhoods. When someone volunteers to work with Keep College Park Beautiful, they are asked to not only clean up as they go through their designated neighborhood but to also beautify as they go." 
This is the second annual citywide clean-up event, but the first of many as a Keep America Beautiful affiliate. The public is invited to attend, and anyone can become a group leader to form their own groups of five to 10 participants. Information can be submitted to [email protected]. 
For more information on the City of College Park, visit CollegeParkGA.com. For general updates, follow @CityofCollegePark on Facebook, Twitter, and Instagram.
# # #
ABOUT THE CITY OF COLLEGE PARK
Encompassing 11.1 square miles, College Park, Georgia is home to the world headquarters of Chick-fil-A, the most traveled airport worldwide, Hartsfield-Jackson Atlanta International, and has the largest and one of the most prestigious K-12 private schools in the continental United States – Woodward Academy. College Park has one of Georgia's most vibrant historical communities, while the city moves boldly ahead in new technologies and alternative fuel and energy platforms. College Park's progressive mission focuses on economic development, hospitality, and entertainment. The city-operated Georgia International Convention Center boasts the largest ballroom in the state of Georgia, in addition to the Gateway Center Arena @ College Park, home to the College Park Skyhawks and the Atlanta Dream. For more information, visit www.CollegeParkGA.com.
Media Contact:
Ty Wood, Hemsworth Communications
678-334-6767 | [email protected]