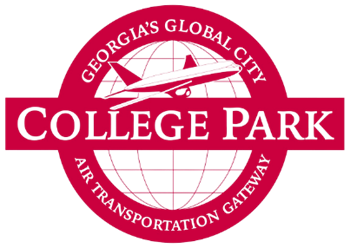 City and College Park Police Department Continue Joint Community Safety Push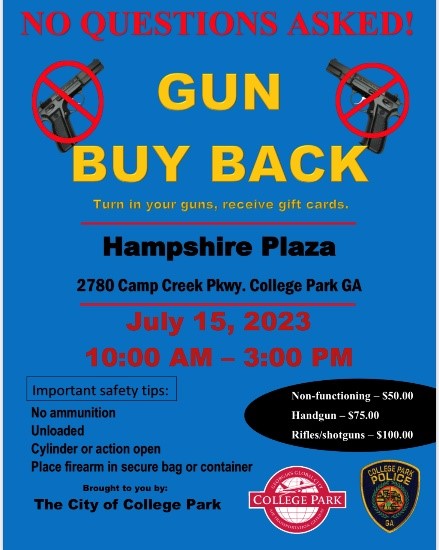 COLLEGE PARK, Ga. – July 11, 2023 – The City of College Park, in partnership with the College Park Police Department, is continuing its investment into community safety with a Gun Buy Back event on Saturday, July 15, 2023. Those who surrender firearms during the event will receive gift cards as compensation. City of College Park Councilman Joe Carn, as well as leaders from the Atlanta chapter of the NAACP and the Concerned Black Clergy of Metro Atlanta, will be in attendance during the event.
"I believe it is very important to host safety-oriented events like the Gun Buy Back in our community," College Park Police Chief Connie Rogers said. "Through initiatives like this, and others, we pledge to continue making College Park a safe place to live, work and play."
The Gun Buy Back event will be held at Hampshire Plaza, located at 2780 Camp Creek Parkway in College Park, from 10 a.m. to 3 p.m. No questions will be asked of those who participate. Firearms should be placed securely in a bag or container and must be unloaded. No ammunition is to be brought to the event and the cylinder or action on a firearm must be open. Those who surrender a firearm will receive gift cards – including $50 for a non-functioning firearm; $75 for a functioning handgun; and $100 for a functioning rifle or shotgun. The Georgia Bureau of Investigation will destroy all surrendered guns once they have been inspected.
The event will end with a press conference where keynote speakers will address questions from the media. Keynote speakers include City of College Park Councilman Joe Carn, Sheriff Patrick Labat, Georgia State Representative Kim Schofield and others.
"We say no to gun violence and yes to saving lives," Councilman Carn, who hosted the first-ever Gun Buy Back event in College Park in 2013, said.
During that event, nearly 200 firearms were surrendered and taken off the streets of College Park. 
For more information on the City of College Park, visit CollegeParkGA.com. For general updates, follow @CityofCollegePark on Facebook, Twitter, and Instagram.
# # #
ABOUT THE CITY OF COLLEGE PARK
Encompassing 11.1 square miles, College Park, Georgia is home to the world headquarters of Chick-fil-A, the most traveled airport worldwide, Hartsfield-Jackson Atlanta International, and has the largest and one of the most prestigious K-12 private schools in the continental United States – Woodward Academy. College Park has one of Georgia's most vibrant historical communities, while the city moves boldly ahead in new technologies and alternative fuel and energy platforms. College Park's progressive mission focuses on economic development, hospitality, and entertainment. The city-operated Georgia International Convention Center boasts the largest ballroom in the state of Georgia, in addition to the Gateway Center Arena @ College Park, home to the College Park Skyhawks and the Atlanta Dream. For more information, visit www.CollegeParkGA.com.
Media Contact:
Ty Wood, Hemsworth Communications
678-334-6767 | [email protected]