Community to Gather with Key Speakers to Share and Reflect on Black History
COLLEGE PARK, Ga. – (February 9, 2023) – The City of College Park will celebrate Black History Month on Saturday, February 11, 2023, with a special "Treasure Your Roots" event. Presented by the city's Recreation & Cultural Arts Department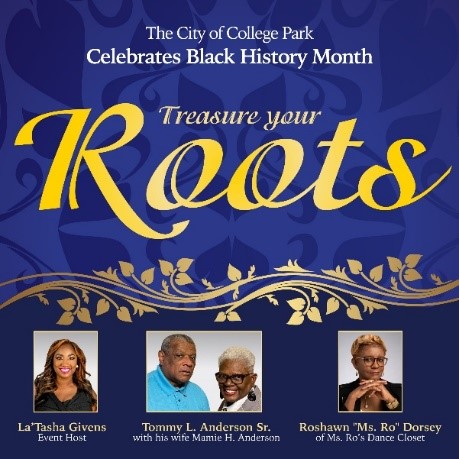 and the Cultural Arts Council, the annual event takes place each February to bring the community together to reflect on Black history. 
Beginning at 2 p.m. at the College Park Auditorium, the event will feature musical entertainment, light refreshments and special guest speakers. Hosted by two-time Emmy award-winning reporter and anchor La'Tasha Givens, Treasure Your Roots is expected to be an inspirational and unique event. During the programming, guests will hear from College Park community leader Tommy L. Anderson Sr. and his wife, Mamie H. Anderson, as well as local business leader Roshawn Dorsey of Ms. Ro's Dance Closet. 
"We are very fortunate in College Park to be able to stand on the shoulders of great civic leaders who have shaped our city," College Park Mayor Bianca Motley Broom said. "This year's Black History Month program showcases some of those amazing individuals and their efforts. They have paved the way for us to keep on building the community we deserve. Our Black History committee has worked tirelessly to make this program a resounding success and all of us are thankful for their dedication." 
Each year, the City of College Park proudly hosts events in celebration of Black History Month, bringing together both residents and visitors to learn about important aspects of American history. New this year, in collaboration with the College Park Skyhawks, all event attendees will receive up to four complimentary tickets to the February 11, 2023, game against the Long Island Nets at Gateway Center Arena. 
"The College Park Skyhawks have been an outstanding partner, and this is yet another example of their commitment," Mayor Broom said. "We thank them for their willingness to support the good work that happens throughout our city each and every day." 
This community event is free to attend, however registration is required. To learn more and to RSVP, visit: www.CollegeParkRCA.com/newsfeed/20pxviq1718ax2fgw9fwhyr97otmgk. 
For more information on the City of College Park, visit CollegeParkGA.com. For general updates regarding the city, follow @CityofCollegePark on Facebook, Twitter and Instagram. 
ABOUT COLLEGE PARK
Encompassing 11.1 square miles, College Park is home to the world headquarters of Chick-fil-A, the most traveled airport worldwide, Hartsfield-Jackson Atlanta International, and has the largest and one of the most prestigious K-12 private schools in the continental United States – Woodward Academy. College Park has one of Georgia's most vibrant historical communities, while the city moves boldly ahead in new technologies and alternative fuel and energy platforms. College Park's progressive mission focuses on economic development, hospitality, and entertainment. The city-operated Georgia International Convention Center boasts the largest ballroom in the state of Georgia, in addition to the Gateway Center Arena @ College Park, home to the College Park Skyhawks and the Atlanta Dream. For more information, visit www.CollegeParkGA.com.
###
Media Contact:
Ty Wood, Hemsworth Communications
678-334-6767 | [email protected]