Growing Atlanta Suburb Enhances Community with Updated Office Buildings, Outdoor Spaces and Dining Options for Business and Leisure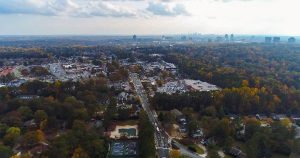 DUNWOODY, Ga. – November 2, 2021 – Dunwoody, Georgia, the thriving edge city located just north of Atlanta, is continuing its impressive growth plan, welcoming updated office spaces and new recreational spots to meet the evolving needs of both residents and visitors. As employees return to the office and business travel begins to pick back up, Dunwoody is providing modern office spaces and gathering spots for people to work and play. The addition of Iron Hill Brewery and Bar Peri will provide fun spots for happy hours and lunch breaks, while High Street and Campus 244 are two large mixed-use developments soon to break ground that will bring new office space, retail and restaurants to the Dunwoody Perimeter Market.
"We're thrilled to continue supporting projects that bolster a sense of place in the community," said Dunwoody Economic Development Director Michael Starling. "We have a great sense of pride in the ways we are continuing to recognize and meet the needs of both our residents and visitors. We know that these newest additions to the City will become very welcome gathering spots."
Bar Peri
At the top of AC Hotel Atlanta Perimeter is Dunwoody's first rooftop bar, Bar Peri, the perfect place for residents and visitors to meet for business,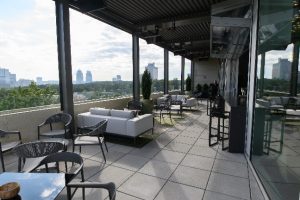 gather with friends or relax and enjoy a drink after work. Offering a modern atmosphere, Bar Peri serves signature cocktails and tapas with an unbeatable view of the surrounding skyline. An official ribbon-cutting for the AC Hotel took place on October 12, with attendees getting the chance to enjoy the rooftop bar and take in the views unique to Dunwoody.
Iron Hill Brewery
Opened in August 2021, Iron Hill Brewery is quickly becoming one of the city's most popular meeting spots, with seasonal beer on tap and award-winning specialty brews. Located on Hammond Drive near Interstate 285, Iron Hill Perimeter is the ideal spot to meet with friends or coworkers after a busy workday or to relax and unwind on the weekends. Iron Hill Brewery is sure to quench the thirst of everyone who walks through the door with something for every beer-enthusiast and delectable meals from savory chicken wings and sweet potato fries to hearth-baked pizzas and baja-style fish tacos.
High Street Atlanta
High Street is a mixed-use development that will bring a unique urban experience to Dunwoody with retail, office and residential components. GID Development Group will break ground on the first phase of High Street later this year including 150,000 square feet of retail and restaurant space, 600 luxury apartments, 90,000 square feet of loft offices and 222,000 square feet of existing office space. The development will also include Puttshack, an upscale indoor mini golf and entertainment provider with an existing location in Atlanta's Westside. A perfect blend of work and play, High Street Atlanta will serve as a meeting spot for those working on campus or nearby. Shoppers will be able to enjoy a variety of retail options, and foodies will enjoy fine dining, sidewalk cafes and specialty food vendors.
Campus 244
Conveniently located adjacent to the Dunwoody MARTA Station and near Interstate 285, Campus 244 sits on 12.8 acres. The existing three-story office building, previously known as the Gold Kist headquarters, will be re-developed and expanded, bringing it to 380,000 square feet of modern office space with additional amenities including post-COVID workspace features, like more outdoor meeting space, open staircases and operable windows throughout the five-story building. The adjoining vacant lot will be utilized to create a mixed-use space for additional office space, unique food and beverage vendors and accommodations for business travelers in the area. Campus 244 is another great example of balancing business and leisure.
For more information about the City of Dunwoody, visit DunwoodyGA.gov or call 678-382-6700.
###
Media Contact:
Ella Chancellor, Hemsworth Communications
678-631-9974 or [email protected]