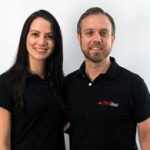 Restoration and Remediation Franchise Honors Tomas Mejia and Sonia Gonzalez for Servant Leadership, Active Collaboration, and Extreme Ownership to the Brand 
Denver, Colo. (October 21, 2020) – Tomas Mejia and Sonia Gonzalez, owners of PuroClean of Central Denver in Denver, CO, were awarded the PuroClean on the Move Award during the company's first-ever virtual PuroClean Awards Ceremony, most recently broadcast live from the PuroClean Corporate Headquarters in Tamarac, Florida. Selected from more than 300 franchise locations across North America, Mejia and Gonzalez were recognized by the PuroClean executive team as owners who represent the core of servant leadership, active collaboration, and extreme ownership among the franchise community.
"My husband and I are truly honored to be acknowledged by PuroClean for the hard work and dedication that we've placed in our business with the franchise," said Gonzalez. "While it did come as a surprise to us, we are proud that they selected our business as a whole based on our sales, how we represent the brand and how we give back to our local community."
Both Mejia and Gonzalez were involved in a number of other endeavors prior to joining PuroClean. Mejia started a business importing textile fabrics from Bangladesh and eventually moved onto other ventures, from manufacturing garments to motorcycle parts. Gonzalez worked in sales and marketing at Procter & Gamble before transitioning out of the corporate world. The duo both hold degrees in international business. Since joining PuroClean, they have been devoted to providing relentless customer service, managing customers' expectations and always making sure each property is handled effectively.
"We are proud to have driven and dedicated franchise owners like Tomas and Sonia in the PuroClean family, who exemplify the drive and commitment that it takes to get their office 'On the Move," said Steve White, President & COO of PuroClean. "As our brand grows throughout North America, we look forward to adding new franchise owners like Tomas and Sonia who will embrace our brand culture and serve people during their times of need within their local communities."
PuroClean has become one of the leading restoration franchise companies in the nation. Each year, PuroClean performs thousands of jobs throughout the United States and Canada, providing restoration services from common household mishaps to large-scale disasters.
For more information about PuroClean of  Central Denver, please call 303-993-1313, email [email protected] or visit www.puroclean.com/pcd-co/.PuroClean of Central Denver serves Denver and surrounding counties, including Adams County, Arapahoe County, and Jefferson County.
About PuroClean
Known as the "Paramedics of Property Damage®," PuroClean provides water damage remediation, flood water removal, fire and smoke damage remediation, mold removal, and biohazard cleanup to commercial and residential customers. Founded in 2001, PuroClean has a comprehensive network of more than 300 franchise offices across North America. PuroClean technicians are thoroughly screened, insured, and trained in utilizing the latest in mitigation technology and procedures while operating under a strict code of ethics. Each PuroClean office is independently owned and operated. For more information about PuroClean, contact 800-775-7876 or visit www.puroclean.com; for franchise information, visit www.purocleanfranchise.com.
###
Media Contacts:
Hemsworth Communications
Rachel Tabacnic / Paige Alonso
954-716-7614 or [email protected]
This message was sent to [email protected].
Hemsworth Communications
1510 SE 17th Street, Suite 200A
Fort Lauderdale, FL 33316