Five-Day Event to Feature Exciting Rides, Delicious Food and Live Performances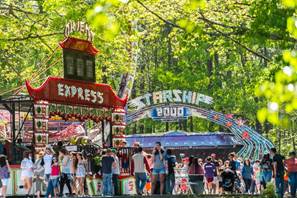 Dunwoody, Ga. – (April 14, 2022) – Discover Dunwoody, the Destination Marketing Organization (DMO) for the fun-filled suburb just north of Atlanta, today announced the return of Lemonade Days, a five-day festival with activities for teens, young children, date nights and the entire family. Taking place at Brook Run Park Wednesday, April 20 through Sunday, April 24, the event will feature carnival rides, food and beverage vendors and two days of live music on the center stage.
"Our local residents, as well as many visitors from the surrounding areas, look forward to Lemonade Days each year and we are excited to bring the event back this spring," said Discover Dunwoody Marketing Director Kimberly Franz. "With a wide variety of activities, there truly is something for everyone to enjoy at this festival!"
Founded in 1999 as a relief effort for families affected by the 1998 tornado that hit Dunwoody, the festival has since grown into a signature five-day event attracting more than 30,000 festivalgoers annually. As the Dunwoody Preservation Trust's largest fundraiser, all proceeds from the popular festival are used within the community for historic preservation, celebrations and education.
General admission is free. The festival will also include carnival rides with individual ride tickets available for $1.25 each; daily wristbands for unlimited rides will be available for $20/day on Wednesday and Thursday and $25/day Friday through Sunday. In addition, visitors can enjoy delicious cuisine from classic carnival fare like funnel cakes and fried Oreos to tasty treats like vegan BBQ and classic Italian.
Lemonade Days is an event for all ages with a variety of activities taking place throughout the festival. Young children will enjoy a petting zoo and games, while adults looking for a fun date night can enjoy live music after a day of indulging in delicious food and fun rides that make them feel like a kid again. The Dunwoody Idol contest will take place on Saturday, April 23 at 6 p.m., featuring 10 aspiring young artists who will be judged by a panel of three judges.
For additional information about Lemonade Days visit DiscoverDunwoody.com/Lemonade-Days. For more information about Discover Dunwoody, visit DiscoverDunwoody.com. Stay up-to-date on the latest Discover Dunwoody news by following @DiscoverDunwoody on Instagram or DiscoverDunwoody on Facebook.
About Dunwoody, Ga.:
Dunwoody, Ga. is a premier hub for shopping, dining, business, and culture located just north of Atlanta. From boutique to crowd favorites, wine bars to patio dining, a fine art school to a theatre company and abundant green space to hiking trails, Dunwoody has something for everyone.  With easy access to mass transit and major highways, this city offers proximity to key Georgia tourist attractions, sporting events, and festivals. A little bit metropolitan chic, a little bit small-town escape, Dunwoody is above Atlanta and beyond the expected.
###
MEDIA CONTACTS:
Hemsworth Communications
954-716-7614 or [email protected]