The Dunwoody Perimeter Market welcomes tenants for a new transit-oriented office building and existing office space.
Dunwoody, Ga. – August 24, 2020
– Despite challenging economic times due to the COVID-19 pandemic, the Dunwoody Perimeter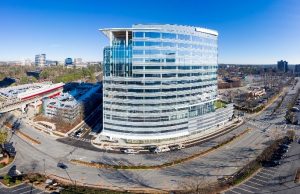 Market is seeing continued growth, marked by the completion of two high-profile projects – Twelve24 (
pictured right)
and State Farm II (
pictured
below
). The city is continuing to build on its reputation as one of the Atlanta area's top economic engines as more companies are relocating or expanding in the desirable "urban-burb,' including Zillow, who recently announced it will be bringing 200 jobs to the Southeastern hub located at Three Ravinia Drive. "In these unprecedented times, our track record is more important than ever," said Michael Starling, Dunwoody's economic development director. "Our skilled workforce continues to attract next-level developments that elevate Dunwoody's reputation as a metro-Atlanta business hub. I am confident that this growth will continue as companies look for safe, business-friendly locations with a sense of community for their employees." This month, Trammel Crow Co. celebrated the official opening of Twelve24, a multi-tenant, 16-story office tower located at 1224 Hammond Drive, which offers a sky bridge for direct access to the Dunwoody MARTA Station. Twelve24 also features 334,000 square feet of office space with 11,000 square feet of ground-floor space for retail and restaurants. Insight Global, a national staffing and services company, signed a long-term lease for more than 70 percent of Twelve24, while Iron Hill Brewery & Restaurant has preleased 7,500 square feet of ground-floor restaurant space. "We chose this location in Dunwoody for Twelve24 because we felt it contains all of the necessary elements that create a lively and easily accessible city center," said Brandon Houston, principal of Trammell Crow's Atlanta team. "The confluence of the MARTA station, Perimeter Mall, the new State Farm campus, and the future High Street development each contributes to making this intersection in Dunwoody a dynamic, mixed-use environment that is essential for Class AA office development."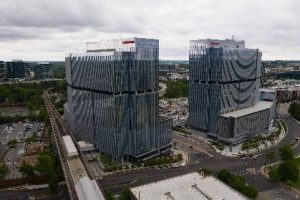 Earlier this year, State Farm completed its second of three buildings, adding 670,000 sq. ft. of office space and 50,000 sq. ft. of retail space to the dynamic skyline of Atlanta's first edge city. The third building is slated to be complete by year's end to round out a year of steady economic development for Dunwoody. Additionally, Zillow Group has most recently named the city their Southeastern hub, bringing 200 jobs to the community. Zillow's hub is in Three Ravinia, where LeaseQuery relocated last year. As one of the fastest growing small companies in Georgia, LeaseQuery moved within Dunwoody for added space. Other notable leases signed include CRH, Matrix Resources and Acoustic which together take up more than 150,000 of office space in the Terraces. Dunwoody's economic development department strives to improve the quality of life for tourists, as well residents and businesses. The city, together with Hogan Construction Group and Vision Hospitality Group, celebrated the "topping off" of the new seven-story, 156-room AC Hotel last week. Located across from Perimeter Mall, the hotel is schedule to open in summer 2021 and will feature the area's first rooftop bar. Furthermore, Trammel Crow Co. is working with Concord Hospitality Enterprises to develop a 10-story, 180-room Hyatt Place that will directly connect to Twelve24, allowing for convenient access to the building for business travelers.
For more information about the City of Dunwoody, visit
DunwoodyGA.gov
or call 678-382-6700.
###
Media Contact:
Hemsworth Communications 678-631-9974 or
[email protected]
This message was sent to
[email protected]
Hemsworth Communications 1510 SE 17
th
Street, Suite 200A Fort Lauderdale, FL 33316
Unsubscribe