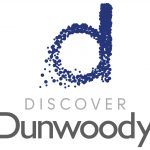 Hyatt Place Perimeter Center Opens, Welcoming First Travelers Over Labor Day Weekend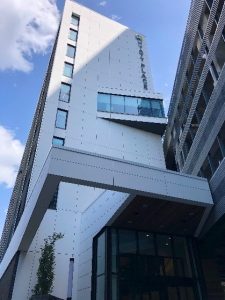 Dunwoody, Ga. – (September 9, 2020) – Dunwoody, the thriving 'urban-burb' located above Atlanta, today announced the opening of its newest hotel, Hyatt Place Perimeter Center (pictured left). Joining the destination's seven existing properties that cater to leisure and business travelers alike, the 176-room property is ideally located in the city's Perimeter Center. In addition to Hyatt Place, AC Hotel Atlanta Perimeter Center celebrated the end of vertical construction in August, marked with a socially distanced "topping off" celebration. When it opens in 2021, the hotel will feature the city's first rooftop bar.
"We are excited to officially welcome Hyatt Place Perimeter Center to Dunwoody," said Kimberly Franz, marketing director for Discover Dunwoody, the city's destination marketing organization. "We are extremely proud of the resilience and adaptability all our hotel partners have shown in pushing through challenges brought on by the pandemic. Each of these properties offer invaluable and safe experiences for travelers visiting the destination whether they are visiting for a business trip or weekend getaway, and our community looks forward to welcoming these travelers whenever they are ready to visit."
Opened just in time for Labor Day Weekend, Hyatt Place Perimeter Center features a modern design complete with a state-of-the-art fitness center, a bar serving regionally inspired food and cocktails and a market with grab-and-go items. In addition to offering top-notch amenities in a contemporary and comfortable environment, the hotel's superior cleanliness and safety protocols make it a wonderful choice for visitors from all over.
Last month, the city also celebrated the "topping off" for the new seven-story, 156-room AC Hotel (rendering pictured right) set to open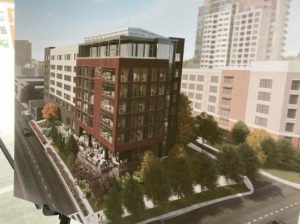 summer 2021. When it opens across from Perimeter Mall, the property will be complete with modern and inviting elements including the area's first rooftop bar that will be open year-round serving guests and locals tapas-style bites, cocktails, local craft beers and specialty wines. Guests at the hotel will also enjoy a library complete with a collection of novels handpicked by guest curators, a seventh-floor lounge for gathering with friends and colleagues, a high-quality fitness center, specialty continental breakfast and a market with locally-sourced items for on-the-go.
Despite COVID-19 challenges, the destination is perfectly positioned for a strong recovery. City hotels are reporting occupancy rates close to 35 percent, up from around 10 percent in April, showing a promising increase in the demand for travel to Atlanta's first edge city. Dunwoody expects the new hotels will continue to drive travel to the destination and position Dunwoody as a top destination for business and leisure travel near Atlanta.
For more information, visit DiscoverDunwoody.com. Stay up-to-date on the latest Discover Dunwoody news by following @DiscoverDunwoody on Instagram or DiscoverDunwoody on Facebook.
About Dunwoody, Ga.:
Dunwoody, Ga. is a premier hub for shopping, dining, business, and culture located just north of Atlanta. From boutique to crowd favorites, wine bars to patio dining, a fine art school to a theatre company and abundant green space to hiking trails, Dunwoody has something for everyone. With easy access to mass transit and major highways, this city offers proximity to key Georgia tourist attractions, sporting events, and festivals. A little bit metropolitan chic, a little bit small-town escape, Dunwoody is above Atlanta and beyond the expected.
###
MEDIA CONTACTS:
Ella Chancellor, Hemsworth Communications
678-631-9974 or [email protected]
Hemsworth Communications
1510 SE 17th Street, Suite 200A
Fort Lauderdale, FL 33316