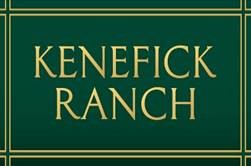 Premier Winery Adds Pickett Road Red and Cabernet Sauvignon to Signature Collection 
NAPA VALLEY, Calif. – (August 19, 2021) – Kenefick Ranch, a winery and vineyard located in Calistoga, today announced the release of two new wines for the summer including a 2018 Cabernet Sauvignon and 2017 Pickett Road Red. The family-owned and operated vineyard, established by the late Dr. Tom Kenefick, has produced grapes for premier labels including Caymus, Joseph Phelps, Shafer and Pride Mountain for nearly 25 years. In 2002, Kenefick Ranch began producing its own prestigious label of wines and continues to add to its award-winning portfolio.
"We're thrilled to share these two new, luxurious wines this summer," said Chris Kenefick, CEO and Second-Generation Proprietor of Kenefick Ranch. "My father established a tradition of passion for winemaking at Kenefick Ranch, and our dedication to our craft is evident in these vintages made only from estate-grown, hand-picked grapes."
The 2018 Kenefick Ranch Cabernet Sauvignon, Chris's Cuvée, is an exquisite blend of Cabernet Sauvignon, Petit Verdot and Malbec. Heavier crop loads and a very cool growing season have allowed for ideal extended hanging time for the grapes, and the perfect fall weather resulted in a ripeness of grapes throughout the valley of the ranch. Aged 18 months and bottled for 12 months, this rich cuvée will cellar for the next 15-25 years and pair well with heavier red meats, like steak or lamb, and cheeses, such as aged cheddar or gouda.
In addition to the 2018 Cabernet Sauvignon, Kenefick Ranch will soon release a 2017 Pickett Road Red. At first sip, consumers will note elements of fresh berry preserve, spicy French oak, fresh cream and notes of vanilla bean. Intense but fine tannins underline tamarind and tart boysenberry with an extensive finish that pairs well with beef, lamb or heartily seasoned chicken. This vintage will age beautifully and can be enjoyed now or cellar for the next 15-25 years. The 2017 Pickett Road Red will be available for online orders beginning in mid-August of 2021.
To purchase individual bottles of the 2018 Cabernet Sauvignon, visit the Kenefick Ranch online shop at www.KenefickRanch.com/Shop. Stay up-to-date on the latest news and release of the 2017 Pickett Road Red by following Kenefick Ranch on Facebook and Instagram.
 # # #
About Kenefick Ranch
Kenefick Ranch is a family-owned vineyard located in Calistoga, California. The vineyard was founded when the late Dr. Tom Kenefick, a practicing neurosurgeon in San Francisco, first visited – and fell in love with – the Napa Valley. In 1980, he purchased a 250-acre ranch located in the region's northernmost American Viticultural Area (AVA) – Calistoga, where half the land is planted with grapevines. In 2002, Dr. Kenefick retired from neurosurgery and Kenefick Ranch began producing and selling its own portfolio of award-winning wines. Today, Kenefick Ranch sells its own label, and 90 percent of its grapes to such prestigious labels as Caymus Vineyards, Cade Estate Winery, Eisele Vineyard, and Nickel + Nickel, and winemakers Thomas Rivers Brown and Heidi Barrett. Kenefick Ranch boasts a dynamic wine club, giving oenophiles and novices alike access to an array of benefits including discounts, first notifications of limited releases, invitations to private events, complimentary tastings, vineyard tours, and incentive savings on shipments and anniversary gifts. For more information or to sign up, visit www.KenefickRanch.com/Wine-Club.
Media Contacts (and for samples):
Hemsworth Communications
Lacey Outten/Grace Counts
864-918-1089 or [email protected]