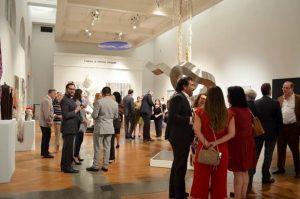 70 Art Aficionados, Artists Visited the Miami Beach Showcase,
Celebrating Latin Culture and the Spirit of Unity
  Coral Gables, Fla. – December 11, 2019 – First American Bank, a privately held, $5.3 billion, full-service bank, collaborated with Coral Gables Museum to sponsor an invitation-only, exclusive unveiling of two Latin-American art exhibitions introduced as a part of this year's Art Basel program. First American Bank's most elite clients were invited to the event for a night of art, Latin culture, and conversation. The exhibitions, "El Viaje…" and "For Now: Contemporary Venezuelan Art of the Miami Diaspora," were created by a multitude of varying Latin-American artists to share their personal stories as expatriates and celebrate their rich culture through the arts. The exhibitions made their debut in the United States and showcased the impact of the Miami Diaspora for the Venezuelan community. An intimate number of 70, the museum curator, museum board members, and members of the local media attended the private reveal at the historic venue.
"Since our initial expansion into South Florida in 2004, we have gained a deep appreciation and respect for the Latin community, and we're proud to have played a role in promoting Latin artists as a part of Art Basel this year," said Florida Market President Brian Hagan. "We are grateful for our partnership with The Coral Gables Museum and we look forward to participating in similar community-centric projects in 2020."
"El Viaje…" is a book-portfolio exhibition featuring eighteen Latin American artists whose reflections on personal exile and diaspora are expressed through their graphic works. Each piece is accompanied by a poem written by renowned writers addressing complex emotions accompanying the diaspora. For all participants, the meaning of journey is both physical and spiritual. Popular Venezuelan artists carefully crafted "For Now" to provide insight into their lives as nomads that have settled in Miami within the last 20 years. From different generations, and working across a variety of mediums and topics, these creators are part of a complex, ever-growing art scene that has made a huge impact in South Florida.
First American Bank officially became a part of the South Florida market in 2014 with the acquisition of The Bank of Coral Gables. Most recently, the bank finalized its acquisition of Continental National Bank, Miami's first Cuban American-owned community bank. Thus, resulting in a stronger presence in South Florida, as the bank now serves small and mid-market businesses in the Doral, Hialeah, Sweetwater, and Downtown Miami areas by providing specialized services, including trust services, wealth management, pension, and 401(k) planning.
For more information on First American Bank, please visit www.FirstAmBank.com.
ABOUT FIRST AMERICAN BANK
For more than 40 years, First American Bank has been focusing on building long-term relationships with customers through high-quality solutions and exceptional personalized service. With services ranging from personal products to commercial banking and wealth management, First American Bank is the largest privately held bank in Illinois with 59 locations in Illinois, Wisconsin, and Florida. First American Bank's size and management philosophy allow the bank to offer clients top-tier financial services tailor-made to support each customer's goals and potential for growth. First American Bank is a Member FDIC.
###
Media Contacts:
Adrianne Richardson/Andrea Alvarez
Hemsworth Communications
954-716-7614; [email protected]
This message was sent to [email protected]
Hemsworth Communications
1510 SE 17th Street, Suite 200A
Fort Lauderdale, FL 33316