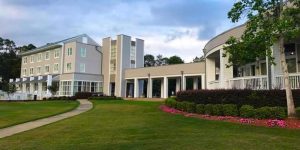 Florida Residents Receive 20% Off Nightly Room Rates
ATLANTA – March 21, 2019 – Coral Hospitality-GA, LLC today announced a special offer giving Florida residents 20% off at Lake Blackshear Resort & Golf Club. Encouraging Georgia's Sunshine State neighbors to experience the beauty of Georgia Veterans Memorial State Park, the Florida Resident Special, which is valid all year long, creates the perfect South Georgia escape.
"We are excited to offer our neighbors special savings to enjoy everything Lake Blackshear Resort & Golf Club has to offer," said Heath Carter, regional vice president of sales and marketing at Coral Hospitality. "We encourage Floridians to use this as an opportunity to spend some quality time together with a trip to one of Georgia's most picturesque lakeside destinations."
Located within a day's drive of Florida's major metropolitan areas, Lake Blackshear Resort & Golf Club rests quietly on the shores of Lake Blackshear in Cordele, Georgia, within Georgia Veterans Memorial State Park. Guests can partake in a variety of activities such as boating, fishing, kayaking, canoeing and hiking; take aim at the archery and air rifle range; visit the Military Museum; or play a round on 'Vet's Course,' one of middle and south Georgia's finest courses and best value for play, ranked four stars by Golf Digest.
Lake Blackshear Resort boasts a variety of accommodations including 14 charming guest rooms, 64 spacious Villa guest rooms and 10 scenic lakeside cabins, as well as 82 campsites equipped for both tents and RVs. Recently, Lake Blackshear Resort & Golf Club underwent a multimilliondollar renovation, updating the guestrooms and other resort features to reflect a soothing lakeside ambiance.
To book a stay using the Florida Resident Rate, use online promo code 'FLOR20' or mention 'Florida Resident Rate' at time of booking. Guests must present a valid Florida driver's license at check-in . For additional information about Lake Blackshear Resort & Golf Club, visit LakeBlackshearResort.com or call 800-459-1230.
For additional information about Coral Hospitality, visit www.CoralHospitality.com or call 239-449-1800.  
* Based on availability, may not be combined with other offers. Blackout dates apply. Resort fee, taxes, resort activities and food and beverage not included.
About Lake Blackshear Resort & Golf Club
Approximately two hours south of Atlanta, Georgia, guests will find the charming Lake Blackshear
Resort & Golf Club. Situated within Georgia Veterans Memorial State Park in the historic town of Cordele, Ga., the resort serves as a popular destination for both local and long-distance travelers.  The state park's 1,300 acres serves as a playground for a variety of outdoor activities and houses the SAM Shortline Excursion Train and the Military Museum, which pays tribute to veterans from the Revolutionary War through the present day. Activities include golf, archery and air rifle, biking, disc golf, volleyball, hiking and a variety of water activities: boating, jet skiing, paddling by kayak or canoe, fishing and swimming.
 Lake Blackshear Resort is outfitted with 14 main lodge guest rooms, 64 villa guestrooms and ten lakeside cabins. In 2016, the resort underwent a multimillion-dollar renovation which incorporated cool colors and soft finishes in the guest rooms, in addition to new furnishings, wall coverings, carpeting, lighting and upgraded linens. The common area renovations included updates to the lobby, restaurant and 12,000 square-feet of meeting and event space. Additionally, the property is home to 87 campsites and two pioneer camps, for use by non-profit organizations such as scouts, school groups and church groups.
 About Coral Hospitality
Founded in 1999, Coral Hospitality is a full-service hospitality management and investment company with three distinctive divisions – Coral Hotels & Resorts, Coral Golf & Country Clubs and Coral Residences & Associations. A market leader that delivers unparalleled service to guests and generates exceptional financial results for clients and investors, Coral takes a unique, full-service approach to the management of its portfolio of hotels, resorts, golf clubs, residences and spas.  As a result, Coral is consistently ranked in Top 5 in REVPAR growth among independent management companies. Coral Hospitality…leveraging powerful, world-class partnerships to create experiences that innovate and inspire.
###
Media Contact:
Hilari Barton or Julie Hong
678-631-9974 or [email protected]