Tickets on Sale Now to Discover Talented Up-and-Coming Artists, Enjoy Show-Stopping
Performance by Grammy-Nominated Recording Headliner Moneybagg Yo
ATLANTA – (June 14, 2023) – The Gateway Center Arena, a state-of-the-art 5,000-seat venue, will welcome music fans and independent artists on Thursday, July 6, 2023, for the final day of the three-day music extravaganza, IndieFest Atlanta 2K23. Headlined by Grammy-nominated recording artist Moneybagg Yo, the festival serves as a platform for up-and-coming artists to perform in front of real fans, expand their audience and gain more exposure. 
"We are thrilled to welcome so much undiscovered talent to the Gateway Center Arena," said Mercedes Miller, executive director of the Gateway Center Campus. "This is a wonderful opportunity for artists to reach new heights in their career and we are excited to celebrate the remarkable talent that will fill the arena."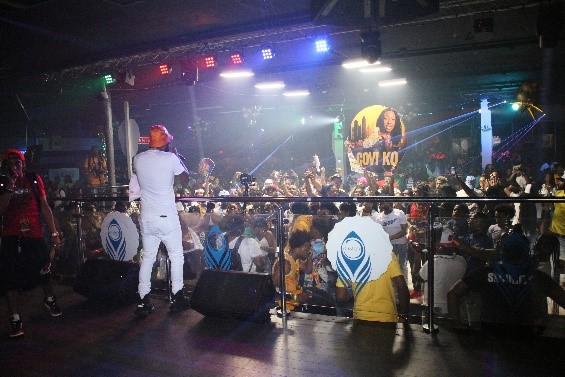 IndieFest Atlanta 2K23 will showcase an impressive lineup of up to 250 performances throughout the three-day festival. Authentic Empire Music Group will select the top artists from each day, who will then advance to the 16-artist finalist bracket. On the final day, a crowd of over 3,000 attendees will vote for the winning artist, who will receive a $100,000 advance, Big Æ chain and a distribution deal under Authentic Entertainment Group.
"IndieFest Atlanta 2K23 is the biggest stage an independent artist has ever stepped foot on," said LaVour "Boomman" Sanders, CEO of Authentic Empire Music Group. "This is not only history for Atlanta but history for the culture. With Moneybagg Yo headlining, independent artists will have the opportunity to perform in front of real fans. This event is brought to you by Authentic Entertainment Group and All in 1 Entertainment." 
The final day of IndieFest Atlanta 2K23 is set for Thursday, July 6, 2023, from 10 a.m. to 11:30 p.m. at the Gateway Center Arena. 
Tickets are available for purchase online at www.Ticketmaster.com/indiefest-2k23-college-park-georgia. To stay up to date on all things IndieFest, follow @IndieFestAtlanta on Instagram. 
Those interested in purchasing tickets to events at the Gateway Center Arena, visit www.Ticketmaster.com/gateway-center-arena-college-park-venue. For more information on Gateway Center Arena, visit GatewayCenterArena.com or follow @GatewayArena on Facebook, Twitter and Instagram.
# # #
About Gateway Center Campus
Gateway Center Campus, located in College Park, Georgia, is comprised of the Georgia International Convention Center (GICC), the Gateway Center Arena, the Historic College Park Golf Course and four hotels, all connected by the ATL SkyTrain, a complimentary 2-minute ride to and from Hartsfield-Jackson Atlanta International Airport and the Centralized Rental Car Center (Con-RAC). The GICC is Georgia's second-largest convention center and the world's only convention center directly connected to a major airport. The Gateway Center Arena is a state-of-the-art, 5,000-seat venue, serving as the home arena for the Atlanta Dream and the College Park Skyhawks, and also hosts a variety of sporting and entertainment events throughout the year. The Historic College Park Golf Course, originally built in 1929, features undulating fairways and elevated greens, making it one of the most challenging courses in the greater Atlanta metropolitan area. For more information, visit GatewayCenterCampus.com.
Media Contact
Cameron Trice, Hemsworth Communications
770-286-2207 | [email protected]